Blue Jackets beat Red Wings 5-4 to bolster playoff hunt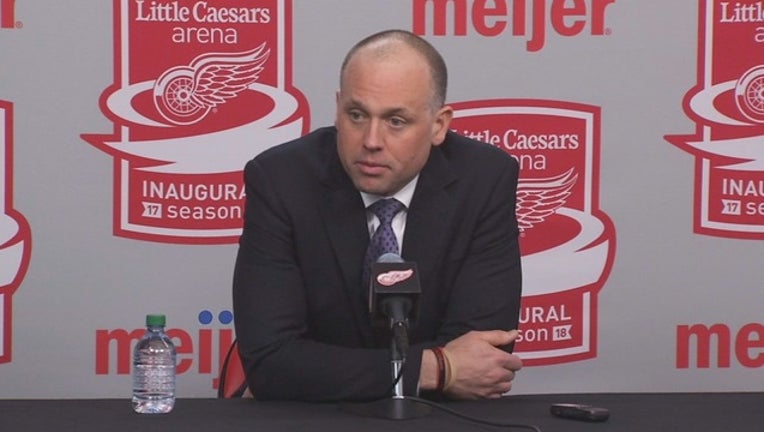 article
COLUMBUS, Ohio (AP) - The Columbus Blue Jackets rallied from a three-goal deficit to beat Detroit in overtime and move within a point of clinching a playoff spot with two games left.
Artemi Panarin put back his own rebound late in the game to tie it, setting up Pierre-Luc Dubois' shot from the slot 2:55 into the extra period for a 5-4 win over the Red Wings before a raucous sellout crowd Tuesday night.
Columbus is one point or a loss by Florida shy of clinching at least a wild-card spot. The Panthers beat Nashville 2-1 on Tuesday night.
"I think it says a lot when you're able to come back like that and keep playing," Dubois said after overcoming a 4-1 deficit. "I think we (hit) five or six posts in the first two periods. We're really confident now, and we want to keep it going."
The Blue Jackets are trying to get to the playoffs in consecutive years for the first time in franchise history, and for most of the game it looked as if Detroit would put a crimp in their plans.
"It's a resilient group that we have, and we're never out of the fight," said forward Cam Atkinson, who scored twice for Columbus.
Sonny Milano also had a goal for the Blue Jackets, who have won 13 of 15. Sergei Bobrovsky had 23 saves. Seth Jones had three assists, and Panarin added two, claiming the Columbus franchise single-season points record with 80. Rick Nash had 79 in 2008-09.
Jimmy Howard had 36 saves and Tyler Bertuzzi had two goals for the Red Wings, who ended a three-game winning streak. Gustav Nyquist had a goal and an assist, Darren Helm also scored and Henrik Zetterberg had three assists for Detroit.
Bertuzzi put the Red Wings up four minutes into the game when he redirected Zetterberg's shot from the left corner. Atkinson tied it on a power play a few minutes later when he waited next to the net and stuffed in a pass from Jones.
Detroit went up 2-1 later in the period when Bobrovsky and defenseman Jones got tangled up in front of the goal and a bouncing shot from Helm went into the net off Jones. Bertuzzi got his second of the evening late in the period on a power play, beating Bobrovsky on a rush.
Nyquist gave Detroit a three-goal edge on a power play just 31 seconds into the second period.
Atkinson pulled it to 4-2 later in the period on a power play when he scored from the right circle as Alexander Wennberg screened out Howard. Detroit wanted goalie interference but didn't the call. Milano poked in a loose puck from the doorstep to make it 4-3 midway through the third, and then Panarin tied it with 2:16 left in regulation.
"They got a couple there and you could see the crowd got them into it," Bertuzzi said. "They gained momentum from that, and we just got away from what we were doing right."
NOTES: Columbus D Zach Werenski left the ice in the second period after taking a puck to the back of the head blocking a shot from Andreas Athanasiou. He came back later in the period. ... Columbus F Alex Broadhurst made his NHL debut. He went to the penalty box in the first period for high-sticking, which led to a Detroit's third goal. ... Detroit C Dylan Larkin has six points in the past three games. ... Dubois has seven points in the last four games. ... Atkinson has seven goals and five assists in an eight-game point streak.
UP NEXT:
Detroit: Hosts Montreal on Thursday night.
Columbus: Hosts Pittsburgh on Thursday night.