Boyd struggles, Napoli homers as Texas rolls 5-2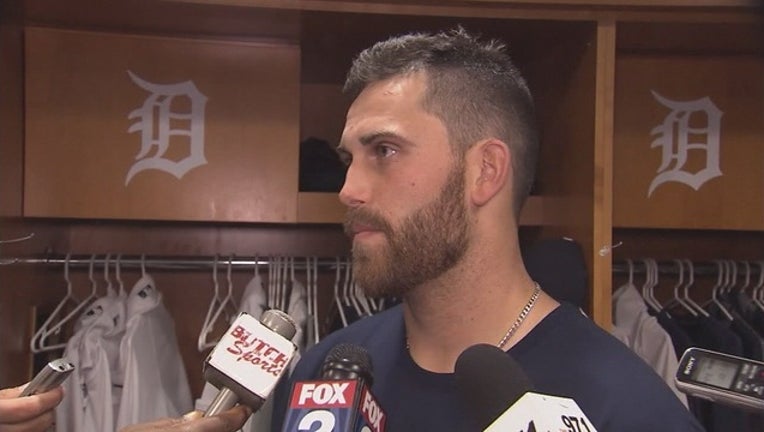 article
DETROIT (AP) - Mike Napoli and Yu Darvish are still tormenting the Tigers.
Napoli homered to the camera platform beyond center field, and Darvish picked up yet another win over Detroit, helping the Texas Rangers to a 5-2 victory over the Tigers on Sunday night. Darvish has won all seven of his starts against the Tigers, and Napoli's fifth-inning drive was reminiscent of a home run he hit in Detroit in the playoffs a few years back.
"Anyone knows when they come here, and you go out to center here, you hit a ball pretty well," Napoli said.
The home run Sunday went 446 feet, according to Statcast . It carried to almost the same spot as his long home run against the Tigers in Game 5 of the 2013 AL Championship Series. Napoli was playing for Boston then.
Darvish (5-2) struggled a bit, allowing two runs and five hits in five innings, but Napoli put the Rangers ahead 3-2 with his solo shot off Matthew Boyd (2-4).
"I just tried to go back-door slider and it spun," Boyd said. "It didn't do what I wanted to."
Pete Kozma also went deep for Texas, and the Rangers shut down Detroit after Darvish exited. Relievers Alex Claudio and Sam Dyson allowed one hit apiece, and Keone Kela pitched a perfect ninth for his first save.
Ian Kinsler homered for the Tigers.
One night after their 10-game winning streak was snapped by Detroit, the Rangers never trailed. Jonathan Lucroy opened the scoring with an RBI single, only for Kinsler to tie it with his home run leading off the bottom of the first.
Nomar Mazara tripled and scored on a single by Robinson Chirinos in the second, then Miguel Cabrera answered in the bottom of that inning with an RBI single.
Kozma's home run in the sixth was his first since 2013. Lucroy added a run-scoring double in the ninth.
Darvish is the first pitcher to win his first seven starts against Detroit since Boston's Frank Sullivan won his first 11 from 1954-56. He's the first Texas pitcher to pull it off against any opponent since Charlie Hough beat Minnesota in nine straight from 1981-84.
Darvish walked four and struck out seven. Boyd allowed four runs and 12 hits in 5 1/3 innings.
TENSIONS
Dyson downplayed an exchange with Cabrera in the seventh when the Detroit slugger was on second after hitting a double.
"I told him he was too smart. So I said three words: 'You're too smart.' And he said: 'What did you say?'" Dyson said. "He was telling the dugout what I was throwing - the changeup. I don't think he was stealing signs or anything of that nature. I wasn't really angry. I was just telling him he was too smart. ... It wasn't a big deal. I thought he may have been picking signs, but he wasn't."
That was consistent with how Detroit manager Brad Ausmus described it.
"I think it was a misunderstanding," Ausmus said. "Miggy wasn't stealing signs. If he was stealing signs, he certainly wouldn't be that blatant about it. Miggy was just trying to let the bench know that he has a changeup."
TRAINER'S ROOM
Rangers: Manager Jeff Banister said 3B Adrian Beltre (right calf) felt good the day after running the bases before Saturday's game.
Tigers: Kinsler was back in the starting lineup after leaving Saturday night's game with left hamstring tightness.
UP NEXT
Rangers: Texas is off Monday, then starts a three-game series at Boston on Tuesday night. The Rangers send RHP Andrew Cashner (1-3) to the mound against RHP Rick Porcello (2-5).
Tigers: Detroit begins a season-long, 11-game road trip Monday night at Houston. The Tigers start RHP Michael Fulmer (5-1) against RHP Brad Peacock (2-0).