Drummond's double-double leads Pistons past Nets 114-80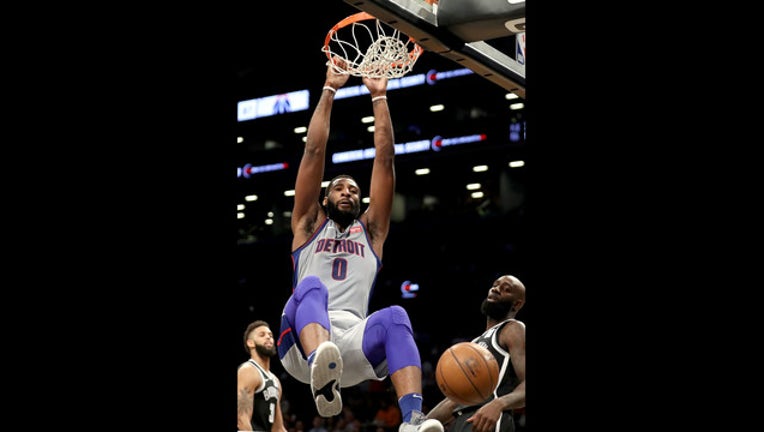 article
NEW YORK (AP) - Andre Drummond scored 22 points and grabbed 20 rebounds, Tobias Harris had 22 points, and the Detroit Pistons blew past the Brooklyn Nets 114-80 on Wednesday night.
Dwight Buycks added 17 points for the Pistons.
Allen Crabbe scored 20 points and Rondae Hollis-Jefferson had 15 points for the Nets, who have lost three in a row.
Detroit took a 90-61 lead heading into the fourth quarter and led by as many as 40 points, 104-64, with 8:20 remaining.
Drummond led Detroit with 18 points and 13 rebounds at the half as the Pistons took a 63-41 lead into the locker room. Crabbe led Brooklyn with 14 points at the half.
Harris led Detroit with 14 points in the first quarter as the Pistons took a 34-26 lead.
TIP-INS
Pistons: Coach Stan Van Gundy praised Buycks' play in the past five games after being inactive for the first 32 games of the season. "I think he's played well. He's attacked, he's played aggressively and he can score the ball." . Jon Leuer (sprained left ankle) and Reggie Jackson (sprained right ankle) were out.
Nets: Coach Kenny Atkinson was asked about Brooklyn earning the respect from officials after several controversial calls recently. "I think you earn respect with your play," he said. "It's like when you were a seventh grader and you go to the playground, and the big kids are pushing you around or maybe making all the calls. As you get better, as you improve your game somehow that turns the other way. We've got to earn our respect through our play. That's the way we feel." . DeMarre Carroll (right knee sprain), D'Angelo Russell (left knee surgery), Isaiah Whitehead (G-League assignment) and Jeremy Lin (ruptured patella tendon, right knee) were out.
UP NEXT
Pistons: Visit Chicago on Saturday. It's the final game of a three-game road trip for Detroit.
Nets: Visit Atlanta on Friday. It's the start of a two-game road trip for Brooklyn.