Harbaugh gives pope a helmet, pair of Jordans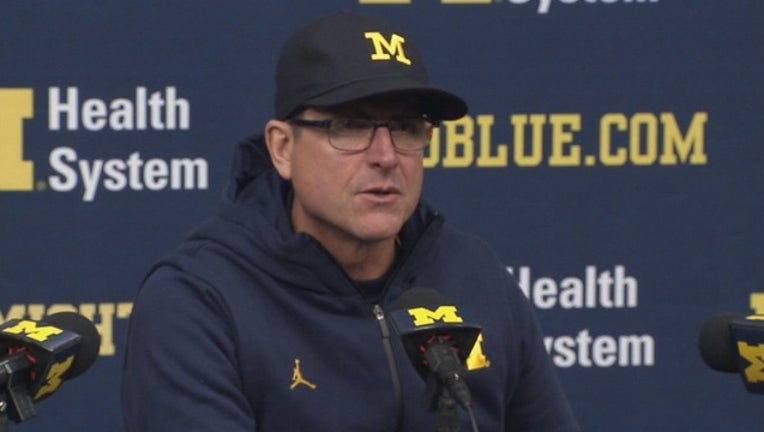 article
VATICAN CITY (AP) - Jim Harbaugh stood near the steps of St. Peter's Basilica with a Michigan football helmet and a box of Wolverine-themed Jordan sneakers held high above his head.
Members of Michigan's 150-plus contingent all came on this unusual trip to Italy for a variety of reasons. For some, it was their first chance to leave the United States. Others had never been to Rome.
Harbaugh? He came for all the reasons one could dream up. But especially for this one. Inside Vatican City. Standing inches away from Pope Francis.
"If I accomplish nothing more in my life, if I go right now," Harbaugh said, "I'll be going out a blessed man."
Michigan's coach, flanked by his wife, Sarah, had an opportunity to greet the pope Wednesday after a weekly papal address inside St. Peter's Square.
Sarah Harbaugh reached for the pope's hands, told him "I love you" and eventually kissed his hands. Harbaugh, after delivering a personalized winged helmet - complete with the pope's name and number (226) and a pair of size 11 Jordan Brand sneakers - listened as the holy father asked for his prayers.
It was a moment neither will ever forget and one both said they'll need some time for it to all sink in.
Harbaugh's late grandfather, Joe Cipiti, came to the United States from Italy at the age of 4. He described the experience to his grandchildren in great detail. Asked Wednesday what "Grandpa Joe" might think now that his grandson has met and touched the pope, Harbaugh was almost at a loss for words.
"I think he'd be very proud, I know I am," Harbaugh said. "I knew it'd be emotional coming to Italy after hearing the stories of him coming to America when he was 4 years old, the ship he was on, having education until he was only 13 and then having to support his whole family from then on.
"But it's been more emotional than I had anticipated. I'm just very, very happy. I'm living in a cloud of grace right now, I can't describe it."
The rest of the Wolverines watched from roughly 30 feet away as Pope Francis entered St. Peter's Square in his personal motorcade. For players like Jack Wangler and Mike Wroblewski, two lifelong Catholics, it was a moment they never thought they'd see.
"I went to Catholic school K-12 and you learn about all these things your whole life," Wroblewski said. "And to be able to see it all and watch it come together, it's just great. It was awesome."
Michigan's week in Italy is not over. The Wolverines will go through their first of three practices in Rome beginning Thursday.
After most of the party departs, the Harbaughs will stay behind and have their newborn son, John Paul, baptized during a public mass at The Vatican on Sunday. Harbaugh's daughter, Addie, will take her first communion, too.
"This is as good as it gets," Harbaugh said. "This has been the experience of my lifetime."