How to watch Detroit Lions vs. Baltimore Ravens on FOX 2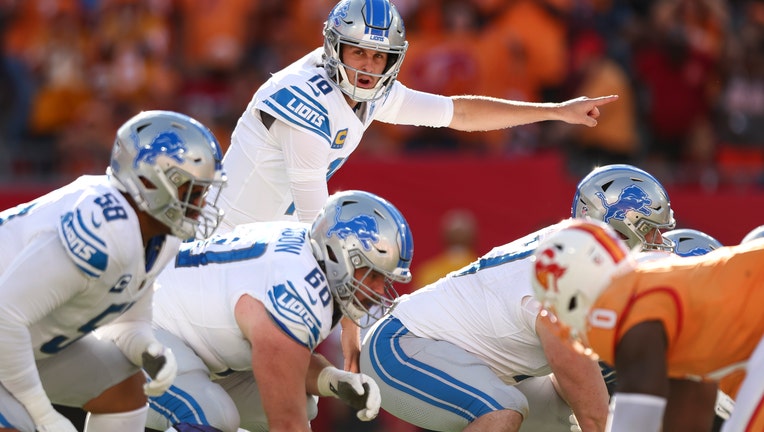 article
DETROIT (FOX 2) - The Detroit Lions aren't just leading the division, they're tied for the top spot in the entire NFC at 5-1. They're hot, RED HOT, and have won 4 straight to take a stranglehold on the division. But this week, they've got a tough challenge as they go up against an AFC Division leader in the Baltimore Ravens.
The Lions have lost quite a few players to injuries this year – notably cornerbacks C.J. Gardner-Johnson, Emmanuel Moseley, linebacker James Houston, and, more recently, running backs Jahmyr Gibbs and David Montgomery. They were also missing starting wide receiver Amon-Ra St. Brown for a week. And they're still holding strong at 5-1.
This is thanks, in large part, to quarterback Jared Goff. Ya know, the guy the Rams made Detroit take in the Matthew Stafford deal and the Rams had to send Detroit extra picks just to take Goff and his salary. It seems Detroit can thank Los Angeles for the QB and the picks.
Goff has returned to his elite-level play that helped elevate Los Angeles to their first Super Bowl appearance and is now directing the Lions' offense with surgical precision. He has 1,618 yards passing with 11 TDs, 3 interceptions and a 105.1 passer rating in six games. Last season, he had 29 TD passes and only seven picks.
"It's awesome playing with someone like Goff," wideout Jameson Williams said. "He gets it done and makes the right decisions all the time and we (are) just looking to keep going right now."
This past week, he threw for 353 yards and two TDs against the Buccaneers in Tampa Bay. 
"Jared Goff had an outstanding day," Lions coach Dan Campbell said. "I thought he really helped us win this game, on offense. That's a damn good defense that we faced and we knew that coming in here and they made it hard on us."
The Lions, who entered the season with high expectations after going 8-2 in the final 10 games in 2022, beat the defending Super Bowl champion Chiefs on the road to kick off the season and have lived up to the preseason hype so far.
"We know who we are," Goff said. "We feel like we can go beat anyone right now."
They face a tough challenge this week against the Baltimore Ravens (4-2). They have one of the toughest defenses in the league and Goff is going to be tested again.
How to watch the Lions vs Panthers
We'll start our coverage at 10 a.m. with Lions Gameday Live from Ford Field. Then we'll hand over to FOX Sports for two hours of NFL previews ahead of the kickoff.
The game will air live at 1 p.m. on FOX 2. 
You can watch every play on FOX 2 or on the FOX Sports app – with TV authentication required.
IMPORTANT: As much as we want to stream the game on FOX2Detroit.com, our app, or FOX LOCAL, we cannot. You can only watch the game for free on FOX 2 or stream it online with your paid TV subscription.
Information from the Associated Press was used in this report.