Illinois holds off Michigan 91-87 in double overtime
CHAMPAIGN, Ill. - CHAMPAIGN, Ill. (AP) — Matthew Mayer scored 24 points, Terrence Shannon Jr. added 21 and Illinois held off Michigan 91-87 in double overtime on Thursday night.
Mayer opened the second overtime with a 3-pointer and a layup and the Fighting Illini (20-10, 11-8 Big Ten Conference) never trailed again.
Mayer made 8 of 20 shots with four 3-pointers and added seven rebounds. Shannon sank only 4 of 14 shots — missing all five of his 3-point attempts — but he made 13 of 16 free throws, including 3 of 4 in the final 10 seconds to preserve the win. He also snagged seven rebounds and had four assists. Ty Rodgers pitched in with 14 points and seven boards off the bench, while RJ Melendez scored 10 of his 12 in the second half.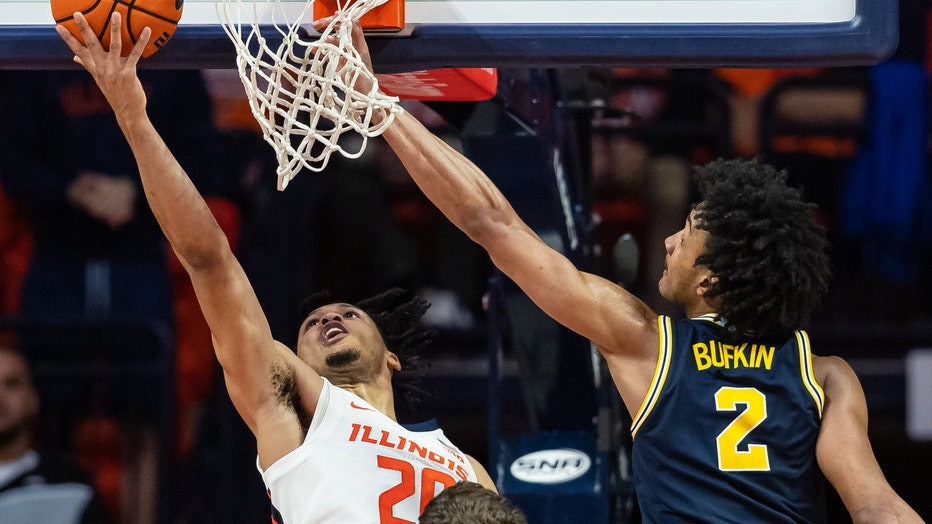 CHAMPAIGN, IL - MARCH 02: Ty Rodgers #20 of the Illinois Fighting Illini shoots the ball against Kobe Bufkin #2 of the Michigan Wolverines during the second half at State Farm Center on March 2, 2023 in Champaign, Illinois. (Photo by Michael Hickey/G
Hunter Dickinson finished with 31 points and a career-high 16 rebounds to lead the Wolverines (17-13, 11-8). The 7-foot-1 junior has 12 double-doubles this season. Kobe Bufkin added 23 points and six rebounds. Jett Howard, the son of Michigan coach Juwan Howard, contributed 15 points and five boards before fouling out.
Michigan scored the first six points of the game and held the lead until a Dain Dainja layup and a dunk by Sencire Harris put Illinois on top 29-27 with 2:12 left in the half. Rodgers' dunk with 15 seconds remaining gave the Fighting Illini a 33-31 advantage at halftime.
Illinois built a nine-point leads three times in the first 9:30 of the second half. Michigan used a 7-0 run, capped by Howard's 3-pointer with 47 seconds left, to tie the game at 70 and force overtime. Illinois scored the final seven points of the extra five-minute period — five by Shannon — to force a second overtime tied at 81.
Mayer grabbed a rebound and hit a 3-pointer, followed a missed 3-pointer by Bufkin with a layup, and Illinois took an 86-81 lead with 3:43 left and never trailed again.
The Fighting Illini shot 42% overall, 28% from distance (5 of 18) and made 26 of 34 free throws. Michigan shot 44%, made 8 of 21 from distance (38%) and hit 17 of 24 attempts at the foul line.
UP NEXT
Michigan: The Wolverines close out the regular season at No. 15 Indiana on Sunday.
Illinois: The Fighting Illini end the regular season at No. 5 Purdue on Sunday.