Islanders rally from 2-goal deficit, beat Red Wings 3-2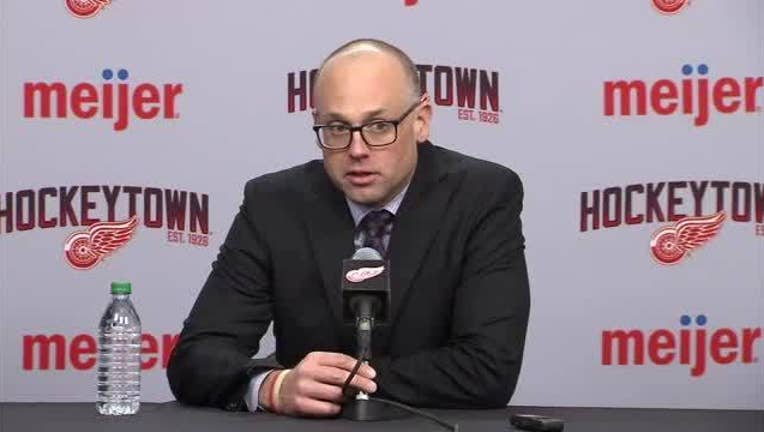 article
DETROIT (AP) - Niklas Kronwall scored to give Detroit a two-goal lead, and later in the first period, he knocked Anders Lee off his feet with a high, hard hit.
After that, the New York Islanders began asserting themselves.
Matt Martin scored a tiebreaking goal with 16:36 remaining in the third period, capping an impressive comeback for the Islanders in a 3-2 victory over the Red Wings on Saturday night. New York trailed 2-0 after the first period but rallied with goals by Casey Cizikas, Ryan Pulock and Martin.
Tempers flared after Kronwall's hit on Lee. Moments later, Josh Bailey of the Islanders took Kronwall down in the corner. Then Bailey and Larkin had a scrap that earned fighting majors for both.
"I thought when that hit happened, with Bailey going over there and answering the bell, I thought from that standpoint, he pulled the rest of the group in," New York coach Barry Trotz said. "Our leadership, the guys were really good."
Lee was able to return to the game after getting stitched up, and he didn't seem to have much of an issue with the hit.
"I had my head down, looking for the puck in my skates, and he hit me with a good shoulder check," Lee said. "That's hockey."
There was no penalty assessed on the play.
"The hard part when you're coming north-south is to not touch the head at all," Kronwall said. "I think when you're skating, you're in a position where your head is basically the point of your body that's the most forward. You try to go through the chest or shoulder. Sometimes you end up catching the head. That's basically all I can say about it."
Justin Abdelkader and Kronwall scored for Detroit in the first, but the Islanders came all the way back. The game winner came when Luke Witkowski of the Red Wings wasn't able to handle the puck cleanly when it bounced off the boards behind the net. It ended up on Martin's stick in front of the goal, and he capitalized for his fourth goal of the season.
"I loved the way we responded tonight," Martin said. "We were 2-0 down and our captain is down and bleeding - that's a pretty bad start, but we talked about it after the first period and we decided we weren't going to let this one get away that easily. We had to step up. Our leading scorer got into a fight, which you don't see very often, but that's the kind of player Josh is."
Detroit opened the scoring when Larkin split two New York players and forced a save by goalie Thomas Greiss. Abdelkader scored on the rebound.
Seconds later, the Red Wings had a goal called back for offside, but they eventually went up 2-0 on Kronwall's tally. The Islanders gave the 37-year-old defenseman plenty of time to skate to the middle and shoot past a screened Greiss from just inside the blue line. It was his first goal of the season.
The Islanders quickly rallied to tie it in the second. After Cizikas made it 2-1, Pulock scored on a slap shot from the right circle while the Islanders had a two-man advantage.
"We had an excellent first period, and we could have had more goals," Red Wings coach Jeff Blashill said. "We needed to either score at least one more or not take the 5-on-3, because you are always likely to give up a goal on those and then it was a new game."
Later that period, there was another fight, this one between Abdelkader and Johnny Boychuk.
NOTES: Greiss made 23 saves, and Jonathan Bernier made 16 for Detroit. ... Lee's four-game goal streak was snapped. ... Bailey earned an assist on the goal by Pulock for his 400th career point. ... Kronwall's 81st career goal moved him past Marcel Pronovost for fourth on Detroit's career list among defensemen. ... Red Wings F Tyler Bertuzzi returned after a two-game suspension for unsportsmanlike conduct and roughing against the Colorado Avalanche on Sunday.
UP NEXT
Islanders: Host Pittsburgh on Monday night.
Red Wings: Host Los Angeles on Monday night.