Kane, Blackhawks beat Red Wings 4-1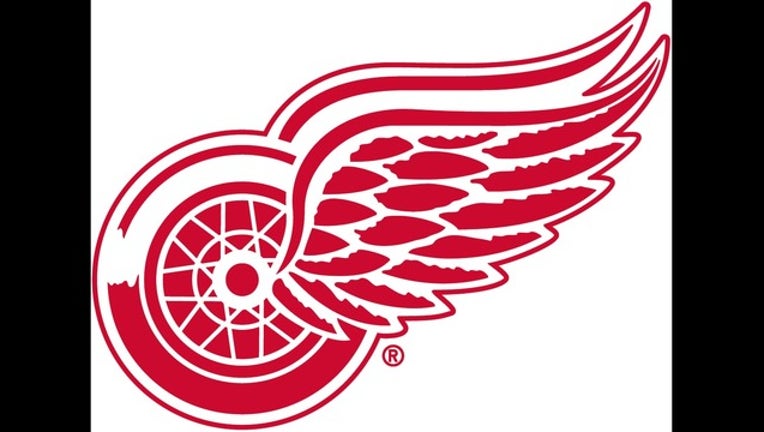 article
CHICAGO (AP) - The special teams were quite special once again. Patrick Kane got the Chicago Blackhawks off to a fast start, and Corey Crawford stepped up when they struggled in the second period.
Not a bad little tuneup for a crucial two-game trip.
Kane scored his 38th goal on the first shot of the game and Crawford made 33 saves, helping the Blackhawks beat the Detroit Red Wings 4-1 on Sunday.
"That was another fast game against them," Crawford said. "They've got a lot of speed. I thought we got better as the game went on. A big kill to start the third, and some big insurance goals after that."
Artem Anisimov and Duncan Keith each had a power-play goal as Chicago won for the third time in four games, including a 5-2 victory at Detroit on Wednesday. The Blackhawks went 2 for 3 with the man advantage and have at least one power-play goal in each of their last four games.
Next up for the Stanley Cup champions is St. Louis on Wednesday night, and then a visit to Dallas on Friday night. The Blackhawks (41-21-5) and Stars are on top of the Western Conference with 87 points apiece, and the Blues also are in the mix for the Central Division title.
"We've got a lot of division games coming up," said captain Jonathan Toews, who tacked on his 24th goal in the third. "Those aren't going to be easy ones. It'll be good preparation for the end of the year. We don't want to look too far ahead."
The season-high crowd of 22,247 had just started its usual derisive Detroit chant when Kane skated up the right side and beat Petr Mrazek with a wrist shot under the goaltender's glove just 21 seconds into the game. Kane's eighth goal in his last 13 games ran his NHL-best point total to a career-high 89.
The Red Wings (32-22-11) played without center Pavel Datsyuk, who was scratched due to an illness. Datsyuk has 13 goals and 23 assists in 49 games.
Mrazek also allowed Keith's ninth goal before he was replaced by Jimmy Howard at 6:19 of the first. Howard finished with 19 saves.
"I didn't think the first goal was one that should have went in," Detroit coach Jeff Blashill said. "That's one that Petr normally has and so then you're kind of down right away. The second goal was one that might have been unfortunate a little bit, but it went in nonetheless. Then the next thing you know you're down 2-0 right away.
"You have to change momentum in the game and that's why we made that decision.
The goaltender change sparked Detroit for a while. Gustav Nyquist's 16th goal trimmed Chicago's lead to 2-1 at 8:34 of the opening period, and the Red Wings outshot the Blackhawks 13-3 in the second.
With Toews in the box for slashing, Crawford made a terrific kick save on rookie Dylan Larkin early in the third. The Red Wings went 0 for 3 on the power play.
"I think it really comes down to special teams," Nyquist said. "They scored two and we don't score any, so that's the game right there."
Crawford also made a great stop on Tomas Tatar at 3:53 before the Blackhawks put it away. Anisimov was parked in front when he tipped Artemi Panarin's shot past Howard for his 19th goal. Toews added another goalmouth tip-in for a 4-1 lead at 12:23.
NOTES: Blackhawks F Marian Hossa (lower body) is expected to travel with the team for Wednesday's game at St. Louis. Hossa has been out since he was hit on his lower left leg in the second period of an overtime loss to Anaheim on Feb. 13. ... Red Wings C Brad Richards got a standing ovation when he was recognized on the overhead videoboard during the first period in his return to Chicago after helping the Blackhawks win the Stanley Cup last season. He acknowledged the cheers with a wave. ... Blackhawks F Brandon Mashinter was scratched due to an illness. ... Musician and actress Lady Gaga and her fiancé, actor Taylor Kinney, got a big ovation when they smooched when they were shown on the videoboard during the "Kiss Cam" segment in the second period.