Knicks Hand Pistons 4th Straight Loss, 109-95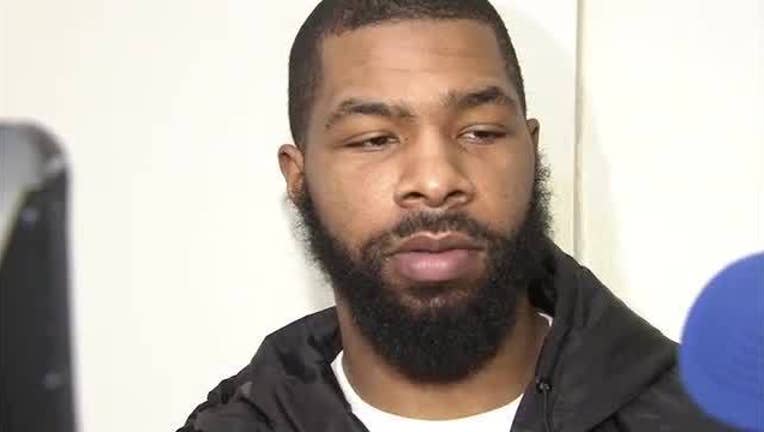 article
NEW YORK (AP) - Just in time to delay playoff elimination, the New York Knicks showed they have some spunk left.
"Guys, they keep playing, keep fighting," coach Jeff Hornacek.
The Detroit Pistons better hurry up and do the same.
Derrick Rose scored 27 points, Kristaps Porzingis had 25 and New York handed the Pistons another damaging defeat with a 109-95 victory Monday night.
Carmelo Anthony returned from a two-game absence due to a sore left knee and added 21 points as the Knicks snapped a five-game losing streak.
Marcus Morris scored 20 points but Detroit dropped its fourth straight and fell 1½ games behind Miami for the eighth and final postseason spot in the Eastern Conference. Ish Smith had 15 points while former starting point guard Reggie Jackson didn't play.
"I think we've let up a little bit on the fighting side of the aspect of the game," center Andre Drummond said. "These past four, five games have definitely been tough. We really haven't shown a lot of fight down the stretch of games."
The Knicks shot 60 percent in the first half and turned it over to their defense to start the second, pitching a shutout for more than seven minutes to start the third quarter.
Rose believed the Knicks would be a playoff team but they instead are 28-46. He said they would drive themselves crazy if they thought about why there weren't more performances like the one they turned in Monday.
"You've just got to take these wins and roll with them," he said. "I know that the feeling that we have right now is good, but we've just got to go out there and finish the season strong, take it game by game."
The Pistons had already lost to Brooklyn, Chicago and Orlando during what should have been a favorable portion of their schedule to mount a playoff push, and coach Stan Van Gundy said his players were frustrated because of how badly their offense was struggling.
It was downright inept in the third quarter. Van Gundy burned a timeout 35 seconds into the period with the Knicks on their way to a 15-0 run that turned a five-point halftime lead into a 79-59 bulge. Detroit missed its first 10 shots before Kentavious Caldwell-Pope made a 3-pointer with 4:52 left in the third.
TIP-INS
Pistons: Detroit has lost seven of eight. ... Drummond had 10 points and 15 rebounds.
Knicks: New York avoided matching its longest skid of the season. The Knicks lost six in a row from Dec. 25 to Jan. 4. ... The Knicks have won the last four meetings at Madison Square Garden.
NOAH NEAR?
Hornacek said Joakim Noah was meeting with team doctors Monday in hopes he could be cleared to return to practice Tuesday and potentially begin his 20-game suspension for violating the NBA's anti-drug policy with Wednesday's game. Noah is recovering from left knee surgery and on Saturday was suspended by the league for testing positive for a substance found in some over-the-counter supplements. The suspension begins when Noah is healthy enough to play, so the Knicks would consult with the league to determine if he has reached that point.
THE GUY FOR GEORGETOWN?
Van Gundy backed Hall of Famer and former Georgetown star Patrick Ewing for the school's vacant head coaching job. Ewing, currently working under Steve Clifford in Charlotte, was an assistant to Van Gundy in Orlando.
"Listen, I cannot imagine that you're at Georgetown and you don't hire Patrick Ewing. I think that they're incredibly fortunate that he would think about leaving the NBA to take that job," said Van Gundy, who believes Ewing should've had an NBA head coaching opportunity by now.
"He's got the full package. I can't imagine even what he'd be missing in that package. He's got everything. He's got the connection to the school, he's got the coaching ability, he's got the name recognition that will get him in any home in America recruiting and allow him to close the deal with just about anybody."
UP NEXT
Pistons: Host Miami on Tuesday. The Pistons have won two of three meetings this season.
Knicks: Host the Heat on Wednesday to open a home-and-home series.