Kopitar and Kings hand Red Wings 8th straight loss, 4-1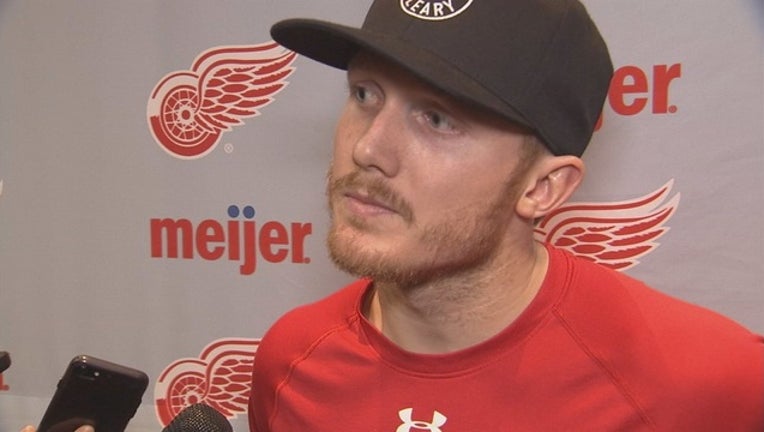 article
LOS ANGELES (AP) - Anze Kopitar broke a third-period tie with a fluke goal and the Los Angeles Kings beat Detroit 4-1 on Thursday night to hand the Red Wings their eighth consecutive defeat.
Los Angeles moved two points in front of idle Anaheim for third place in the Pacific Division. Paul LaDue, Tyler Toffoli and Dustin Brown also scored for the Kings, who are one point behind second-place San Jose.
Jonathan Quick made 20 saves as Los Angeles won for the sixth time in nine games.
Gustav Nyquist scored for Detroit, and Jared Coreau stopped 18 shots.
The Kings got a bit lucky to go ahead 2-1 at 8:22 of the third.
Kopitar and Brown were battling with the Red Wings for control of the puck along the wall behind the Red Wings net when Kopitar flicked the puck up high.
It landed on the roof of the net, trickled over the crossbar and dropped on the back of an unsuspecting Coreau before lightly falling off his jersey and beyond the goal line when it hit the ice.
No matter, it counted as Kopitar's 29th goal of the season.
Toffoli scored on a rebound with 1:30 left for his 23rd goal and Brown added an empty-netter.
Detroit tied it at 1 just 45 seconds into the third period on a power play.
Nyquist took a long pass from Frans Nielsen near the net. Nyquist's first shot hit the post but ricocheted back to him and he tapped it in for his 18th goal.
Neither team could score in the second period. The Kings came up empty despite three power plays.
Los Angeles opened the scoring at 8:55 into the first after Kopitar won a faceoff in the Detroit end.
Kopitar passed the puck out to Alex Iafallo and he quickly sent it to LaDue, who slapped it by Coreau. LaDue was recalled from the minors Jan. 29 but hadn't been active since Feb. 13. It was his third goal of the season.
UP NEXT
Red Wings: Head down the freeway to play Anaheim on Friday.
Kings: Host the New Jersey Devils on Saturday.