Lions beat Packers 35-11 and Caldwell stays calm, collected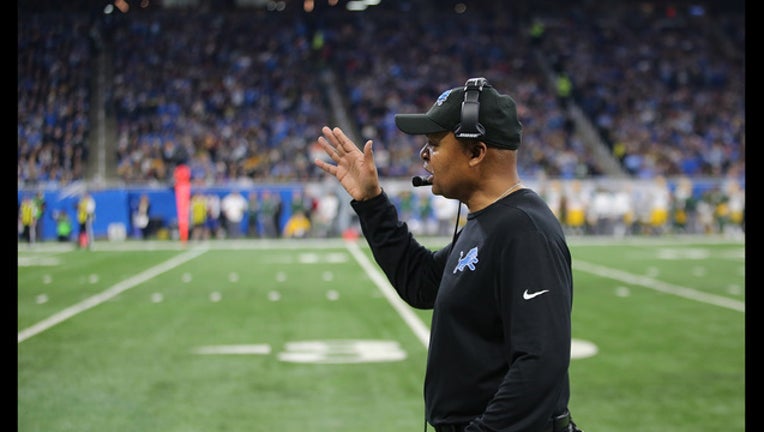 article
DETROIT (AP) - Jim Caldwell's cool and calm demeanor was on display in what might've been his last game as coach of the Detroit Lions.
Caldwell chatted with each of his players as they stretched before the game, as he always does. And after it, he didn't seem to give anyone an indication his future with the franchise was in doubt.
Matthew Stafford threw three touchdown passes and Detroit beat the turnover-prone and short-handed Green Bay Packers 35-11 Sunday in a matchup of teams out of the playoff race.
The Lions (9-7) finished with a winning record in consecutive seasons for the first time since doing it three years in a row from 1993-95. That relative feat, along with a 36-28 record and two postseason appearances over four seasons in Detroit, may not be enough for Caldwell to keep his job.
"I'm not done yet," Caldwell said with a slight grin.
Detroit linebacker Tahir Whitehead said Caldwell didn't look or sound like he was coaching him for the final time.
"He's the same guy, win, lose or draw. Same tone," Whitehead said. "That's what you've got to love about him."
The Packers (7-9) have a losing record for the first time since 2008, which is also the last time they didn't earn a spot in the playoffs. Their chances this season were crushed by Aaron Rodgers missing nine games with a collarbone injury,
Green Bay, without several banged-up players, gave away its chances to close with a win by turning it over three times in the first half to help the Lions lead 20-3 at halftime.
"The way we took care of the football today was unacceptable, and obviously had a big impact on the game," Packers coach Mike McCarthy said
The Packers surprised Detroit by opening with an onside kick they recovered, but didn't take advantage because Jamaal Williams bobbled a pass that was picked off by Jarrad Davis. They did take a 3-0 lead on Mason Crosby's 41-yard field goal late in the first quarter, but Detroit tied it on the ensuing possession and took control in the second quarter.
Stafford threw a go-ahead, 54-yard pass to Kenny Golladay. After Green Bay's Donatello Brown allowed a punt to hit him, the Lions recovered to set up Stafford's 3-yard pass to Marvin Jones to put Detroit up 17-3. Stafford threw a 71-yard TD pass to Golden Tate late in the third, giving the Lions a 27-3 lead.
Brett Hundley threw 17-yard TD pass and 2-point conversion to Randall Cobb to pull the Packers within 16 early in the fourth period. Hundley was 14 of 24 for 172 yards with two interceptions and a fumble. He was replaced by Joe Callahan late in the game.
"We had a lot of opportunities," Hundley said. "We just stopped ourselves."
Stafford was 20 of 29 for 323 yards without a turnover. He caught a 2-point conversion pass after Ameer Abdullah, who had just run for a TD, took a direct snap and pitched it to Tate, who easily connected with Stafford in the end zone to put Detroit up 35-11 midway through the fourth quarter.
HE SAID IT
McCarthy may make changes on his coaching staff this offseason, but he refused to talk about anything not related to the season-ending loss.
"I'm here to answer questions about the game, so let's not waste each other's time," he said.
STAT-STUFFERS
Lions defensive end Ezekiel Ansah, in the last year of his contract, had three sacks for the second straight week to give him 12 this season and 44 in his five-year career. Detroit cornerback Darius Slay, who started Week 17 leading the NFL in interceptions, picked off his eighth pass of the season.
TAKE A SEAT
Detroit rookie tight end Michael Roberts was inactive because of conduct detrimental to the team, Caldwell said.
INJURIES
Packers: WR Geronimo Allison left in the first quarter with a finger injury and returned to play for a banged-up team minus receivers Davante Adams, who signed a contract extension Friday, and Jordy Nelson because of injuries. CB Damarious Randall, TE Richard Rodgers, G Jahri Evans and RB Aaron Jones were also inactive. CB Davon House had a shoulder injury and Williams was evaluated for a concussion late in the game.
Lions: RB Theo Riddick (ribs), CB Teez Tabor (shoulder) and S Don Carey (knee) were hurt during the game.