Mariners ride big seventh inning to 5-4 win over Tigers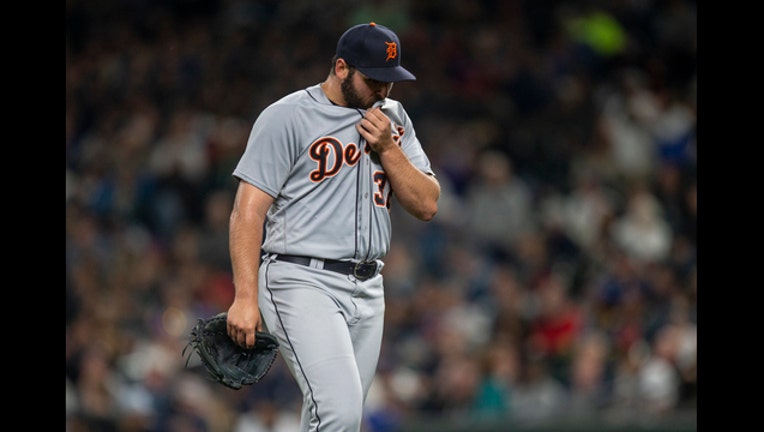 article
SEATTLE (AP) - Whether it comes in the last at-bat, or in a late inning, catcher Mike Zunino said there is stern belief in the Seattle Mariners dugout that a decisive rally will happen.
And it did Friday night with a five-run seventh inning.
Mitch Haniger's RBI double capped the comeback as Seattle rallied for a 5-4 victory over the Detroit Tigers.
"This one was exciting," Zunino said. "There's been a fun sense around this club that we never feel we are out of a game. Obviously it is a big blow losing Robbie (Cano), but we still feel very confident in our lineup."
Even when it is bottled up by six dominant innings by Detroit right-hander Michael Fulmer, who at one point retired 13 Mariners in a row.
Trailing 4-0 entering the seventh, the Mariners coaxed four walks in their first six at-bats - including back-to-back walks by Nelson Cruz and Kyle Seager off Fulmer to start the inning.
"I still felt good in the seventh," said Fulmer, who had allowed just two hits while striking out seven. "I just got a little picky to Cruz and Seager."
Two batters later, Ben Gamel's ground ball squirted past second baseman Dixon Machado into center field for a two-run single, ending Fulmer's night.
"I tell you what, (Fulmer) had some great stuff today, and he was commanding it well early," Zunino said. "Sometimes you just have to wait him out . and we did a good job of that the third time through (the lineup)."
Dee Gordon's sacrifice fly to right field cut Detroit's lead to 4-3 with two outs. Jean Segura followed with a run-scoring single on a grounder up the middle off reliever Warwick Saupold, scoring Zunino to tie the game at 4-all.
Haniger gave the Mariners their first lead, 5-4, by lining Saupold's curve ball down the left field line, scoring Guillermo Heredia.
"We've talked a lot here recently about getting back to controlling the strike zone," Mariners manager Scott Servais said. "Some of the guys . were getting a little too aggressive and not letting the game come to them. I saw some really good signs."
Dan Altavilla (3-2) picked up the win in relief, and closer Edwin Diaz notched his AL-leading 15th save. Reliever Buck Farmer (0-2) took the loss, walking the two batters he faced.
It was the fifth time Seattle had scored a season-high five runs in an inning. The last time came April 28 in a 12-4 victory at Cleveland.
Detroit tallied three runs in the first inning off Felix Hernandez, all with two outs. John Hicks started it with a two-run double in the left-center gap, and Nico Goodrum followed with an RBI double to the center-field wall.
The Tigers added an unearned run off Hernandez in the fifth on Victor Martinez's run-scoring double over Gamel's head in left field to make it 4-0.
MARTIN RETURNS
A depleted Tigers lineup got a boost Friday when outfielder Leonys Martin (left hamstring) was activated from the 10-day disabled list, and immediately inserted as the starting leadoff hitter.
To make room, left-handed pitcher Ryan Carpenter was sent to Triple-A Toledo.
Martin ran the bases hours before the game before talking to the Tigers' medical staff.
"He is fine," Detroit manager Ron Gardenhire said. "He's been driving us crazy in here. He feels great. He wants to play."
HICKS A DIFFERENT HITTER
Hicks vividly remembers his big-league debut with the Mariners in August of 2015: A single in his first at-bat.
The rest of the season was pretty forgettable.
Now with Detroit, the backup catcher is filling in for injured Miguel Cabrera as the starting first baseman. He his hit safely in 13 of 16 games in May, including Friday's 1-for-4 effort, batting .344 with five doubles and two home runs.
"I feel comfortable and feel really good," Hicks said. "I've slowed everything down."
Back in his rookie season in Seattle, he admits he was lost at the plate, hitting .063 and striking out 18 times in 32 at-bats.
Hicks went to then-teammate Seager for help.
"I went up to him one day and I am like, 'Man, I am searching, and I don't know what I am searching for,'" Hicks said.
They watched film, and compared swings. Seager talked to him about regaining the "feeling" he wanted in the batter's box.
After that 2015 season, Hicks retooled his swing, and finally found that sensation the two talked about. And he hasn't lost it since then.
"He has taken advantage of (more at-bats) right now, and put a lot of good swings on it," Gardenhire said. "He has really done well."
TRAINER'S ROOM
Mariners: After sitting out the past two games, designed hitter Nelson Cruz (bruised foot) returned to the lineup Friday, hitting cleanup.
UP NEXT
Tigers: RHP Mike Fiers (4-2, 4.23 ERA) is the only Detroit pitcher to win back-to-back starts this season, winning at Texas (5.1 innings, two earned runs) on May 8, then against Cleveland (6.0 IP, earned run) on Monday. His only win against Seattle came at Safeco Field in 2016.
Mariners: Paxton (2-1, 3.52 ERA) faced the TIgers in his last start, collecting a no-decision in a 5-4 Mariners loss in Detroit on Sunday. In six career starts against the Tigers, he is 2-1 with a 3.41 ERA.