Martinez's Throw Gives Tigers 6-5 Win over Mets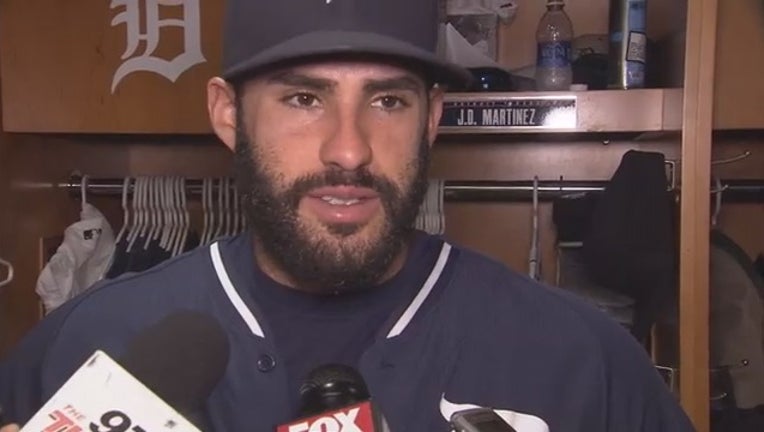 article
DETROIT (AP) - J.D. Martinez was playing reasonably shallow in right field, willing to risk a ball hit over his head.
That decision paid off when Travis d'Arnaud poked a single right to him.
Martinez threw Jay Bruce out at the plate on the final play of the game, enabling the Detroit Tigers to hold on for a pulsating 6-5 victory over the New York Mets on Saturday night. Bruce was trying to score from second on d'Arnaud's hit, and Martinez was ready.
"I was kind of in a way anticipating it a little bit," Martinez said. "I wasn't confident that he was really going to drive something over my head, so I kind of just shaded in a little bit more than perhaps they say you should."
New York trailed 6-1 before rallying with two runs each in the fifth and seventh, and with men on first and second and two out in the ninth, d'Arnaud hit a single to right. Martinez charged the ball, and his one-hop throw home was in time to get Bruce.
Miguel Cabrera drove in three runs for the Tigers, who have won 10 of 11 and trail AL Central-leading Cleveland by two games.
Detroit's Matt Boyd (3-2) allowed three runs and six hits in five innings, and New York's Logan Verrett (3-7) yielded six runs and seven hits in 3 2/3 innings.
Martinez's throw gave Francisco Rodriguez his 32nd save in 34 chances.
"J.D. picked me up big time," Rodriguez said. "I guess when everything's going well, you catch those types of breaks."
Bruce and Curtis Granderson homered for the Mets, but New York went 2 of 12 with men in scoring position — and one of the hits was d'Arnaud's on the last play of the game.
"It's really tough to lose this one, because we had so many good at-bats in the last few innings, and we just couldn't get the one big hit," Mets manager Terry Collins said. "Then, when we finally get one, J.D. Martinez makes a great throw and we don't get anything out of it."
After Bruce's fourth-inning homer tied the game at 1, the Tigers answered with five runs in the bottom of the inning. Jarrod Saltalamacchia hit a two-run single, and Ian Kinsler drove in another run with a single. Cabrera's two-run single gave Detroit a five-run lead.
It was 6-3 in the seventh when Bruce came up with men on first and second and nobody out. Cabrera fielded his grounder and threw toward second, but the ball hit runner Neil Walker in the head and bounced toward center field. A run came home, and the Mets scored another when Wilmer Flores hit a grounder to third that Mike Aviles misplayed for an error.
With men on first and second and still nobody out, d'Arnaud grounded into a double play, and Detroit was able to get out of the inning up 6-5.
The Mets also hit into double plays in the sixth and the eighth.
ROSTER MOVES
The Tigers could celebrate the win, but they announced afterward that RHP Jordan Zimmermann and 3B Nick Castellanos were headed to the DL. Castellanos left Saturday's game with a non-displaced fracture of his left hand. He was hit by a pitch during Detroit's big fourth inning.
"Probably a minimum of four weeks," manager Brad Ausmus said. "Certainly not good news for us. The important thing is for him to get healthy. We're looking really some point in early September that we'd get him back."
The Tigers will call up INF Casey McGehee and LHP Kyle Ryan. LHP Daniel Norris will eventually take Zimmermann's spot in the rotation.
CONCESSION
The Mets had nothing to lose by challenging the final play at the plate, but they were satisfied that Bruce was indeed out and didn't ask for a review.
"Our guys said he was out on the replay, so we didn't bother," Collins said. "Maybe that's a play that you challenge no matter what, because the worst that can happen is you still lose the game."
TRAINER'S ROOM
Mets: RHP Zack Wheeler (Tommy John surgery) pitched an inning in his first rehab start with Class A St. Lucie.
UP NEXT
Mets: RHP Jacob deGrom (7-5) takes the mound Sunday as New York tries to avoid a three-game sweep.
Tigers: RHP Anibal Sanchez (6-11) starts for Detroit in the finale of this nine-game homestand.