Michigan beats Iowa 75-68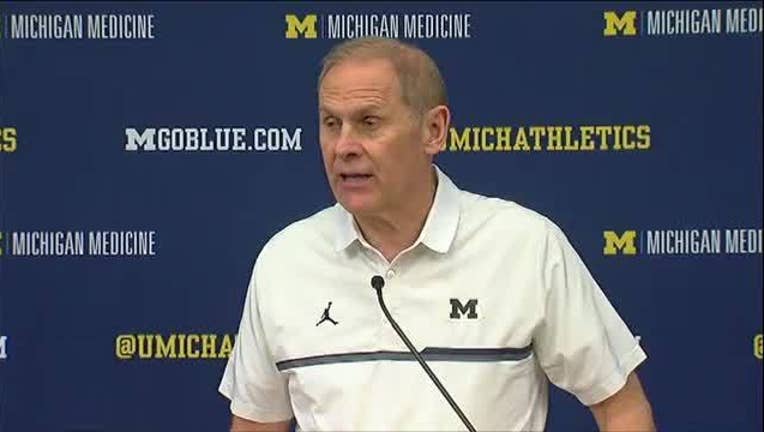 article
IOWA CITY, Iowa (AP) - Michigan has leaned heavily on its starters all season.
But Big Blue got a huge lift from its bench on Tuesday night - an encouraging sign now that Big Ten play has resumed.
Zavier Simpson and Muhammad-Ali Abdur-Rahkman each scored 15 points and Michigan beat host Iowa 75-68, extending its winning streak to six games.
Charles Matthews scored 14 points and Isaiah Livers had 13 for the Wolverines (13-3, 2-1 Big Ten), who won in Iowa City for the first time since 2011 thanks in part to the 37 points they got from the bench.
Starters Duncan Robinson and Moritz Wagner struggled, combining for just nine points. But Simpson added seven assists and Livers hit five of his six shots in 27 minutes.
"Our bench came in and just did a great job," Michigan coach John Beilein said.
What was supposed to be a close game never really was - not after the blistering start that Michigan got off to.
The Wolverines made eight of their first 11 3s, and an early 19-4 run helped put it ahead by as much as 18 late in the first half.
Iowa (9-7, 0-3) briefly closed to within seven early in the second half. But it kept leaving Michigan open for easy 3s, including one from Abdur-Rahkman that made it 69-54 with 6:49 left.
"We couldn't miss," Beilein said. "We really shot the ball well. If we had missed some of those shots, I might have a different story to tell."
The Wolverines finished 11 of 25 on 3s.
Tyler Cook had 28 for the Hawkeyes. They went 15 of 37 from the floor on shots not taken by Cook, but went on a late 9-0 run that made the score seem closer than the game actually was.
"It was kind of like, 'Go ahead (Cook). Go score,'" Iowa coach Fran McCaffery said. "We've got to make sure we can play off of him a little bit more."
THE BIG PICTURE
Michigan: Getting so many points from the bench was an encouraging sign for a team that leans as much on its starters as Michigan does. It was also a milestone night for coach John Beilein. He now has 100 Big Ten wins, and he's 20 shy of tying Johnny Orr for the school record.
Iowa: The strides the Hawkeyes made during their recent five-game winning streak? They were nowhere to be found. Iowa's defense was abysmal in the opening half, turnovers (13 on Tuesday) continue to be a huge problem and there weren't any consistent scoring options beyond Cook. "It was a variety of things. It wasn't just our defense. It certainly appeared that way," McCaffery said. "We weren't connected."
A HALF TO REMEMBER
Michigan's offense in the first 20 minutes was often sublime. Big Blue shot 18 of 29 from the field with 15 assists, and eight different players made at least one bucket. Michigan's ball movement was excellent for most of the night - though the Wolverines got so caught up in making the extra pass that they racked up shot clock violations on back-to-back possessions late in the second half. But by then, the game was well in hand.
IOWA'S NUMBERS
Jordan Bohannon had 12 points on 4-of-11 shooting. "Bohannon was really the key ... and Zavier Simpson did a great job of him," Beilein said. ... The Hawkeyes shot 48 percent from the floor, just one point shy of what Michigan finished with, but they had six 3s compared to Michigan's 11. ...The Hawkeyes finished with just two fast-break points.
HE SAID IT
"As a unit our mindset wasn't there to come out and take the game," Cook said. "I'm not in every guy's head individually. But as a unit we've got to get better. If we see guys that are not there energy wise, we've got to be able to pick guys up."
UP NEXT
Michigan hosts Illinois on Saturday.
Iowa will face Ohio State in Iowa City on Thursday.