Michigan State's Winston aims for singles against Syracuse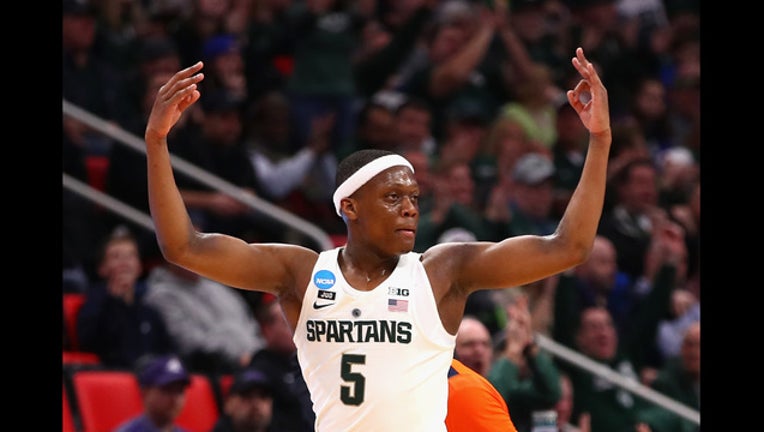 article
DETROIT (AP) - Michigan State's Cassius Winston likes to swing for the fences, throwing alley-oop passes to fire up his teammates and fans.
Sometimes,, Winston goes for a high-flying play and it backfires as he did twice against Bucknell.
"I get in the habit of trying to make a big play or a home run play, which I got better at," he acknowledged. "But I've got to break that habit. I tried to make an alley-oop to Miles (Bridges) and one to Nick (Ward) that almost got him hurt. I've got to do a better job just playing smarter."
His final numbers were really good - scoring 11 points, making 10 passes and turning the ball over twice - in the first-round win . But if Tom Izzo's team is going to make a deep run, it needs Winston to play more cautiously at times because it rises and falls depending on how their pivotal point guard plays
Winston insisted he's going to settle for more singles when the third-seeded Spartans (30-4) play 11th-seeed Syracuse (22-13) on Sunday in the Motor City with a shot to advance to the semifinals of the Midwest Region. He will have to do that against a tall team that plays a zone defense, a staple of Jim Boeheim's Hall of Fame career.
"Sometimes you let the game get to you so you think there's something that you can make a play," he said. "So if I keep it on the back of my mind and focus on the simple play, then that problem will be fixed."
The 6-foot, 185-pound Winston might have a problem at the other end of the court, too. He's 5 inches shorter and 20 pounds lighter than Syracuse's Frank Howard, a point guard who is part of Boeheim's Big Three.
"He's going to have his work cut out for him because Howard is a very good," Izzo said. "He's big. He's athletic. This will be a great test for Cassius. We're going to have to guard him with multiple guys, and hopefully we can keep him in front of us. I think that will be the big key to the game."
Howard, Tyus Battle and Oshae Brissett are each averaging 38-plus minutes and combined to account for 73 percent of Syracuse's scoring.
The 6-5, 205-pound Howard led the ACC with nearly two steals per game and is among conference leaders with 4.8 assists, but also averages almost 3.5 turnovers a game. The junior from Maryland had more turnovers than assists in some games early in the season, including when he gave Colgate the ball nine times and had five assists.
"He started out the year at a horrific rate," Boeheim said "But he's been really good over the last half, three-quarters of the season."
Winston, a sophomore from Detroit, has been one of Michigan State's best players throughout the season.
He ranks second on the team in scoring with 12.6 points per game and is among the nation's leaders with almost seven assists per game and a 51-percent shooting percentage of 3-pointers. While Winston is known to make ill-advised passes at times, he is averaging just 2.5 turnovers per game.
"I've had him with USA Basketball when I was the chairman of that committee," Boeheim said. "He's a tremendous player. Really, really good player. But he's one of 10. Michigan State's a team you can't focus on one guy or two or three or four. You have to play the whole team."
Winston, though, is usually the player Izzo wants with the ball to direct the offense even though his decisions are questionable at times. He threw one lob against Bucknell that led to Ward tumbling on his nose, and another that was mishandled between Ward and Miles Bridges.
"Man, you had to bring that up, huh? " Winston asked a reporter after the 82-78 win over the Bison.
Izzo insisted he was just happy with the final result.
"I don't care right now," he said. "No big deal."
If a similar pass leads to a setback, Izzo will likely feel differently privately at least.
OUT WEST IN THE MIDWEST: In San Diego, fifth-seeded Clemson (24-9) will face fourth-seeded Auburn (26-7) Sunday night with the winner advancing to the round of 16 in the Midwest Region.
That game may also hinge on guard play, and how well Auburn can keep Clemson from making plays off the dribble.
"Just being able to contain them, keeping them in front, and not allowing them to get their shot at the same time is going to be a tough matchup for us," Auburn guard Bryce Brown said.
Clemson point guard Jared Harper, who has started 63 of 65 games in two years, averages 5.6 assists - nearly three times more than any of his teammates.
Auburn, meanwhile, shares the ball with multiple players. Marcquise Reed makes a team-high 3.6 assists and three of his teammates average at least two assists.
"They have good guards," Clemson guard Gabe DeVoe. "We have to limit their offensive rebounds, second-chance points and do a good job on their three guards."
Both teams, with Tigers for nicknames, are looking to show there's more to their schools than football.