Michigan's 93-57 Win Is Cornhuskers' Worst Home Loss Ever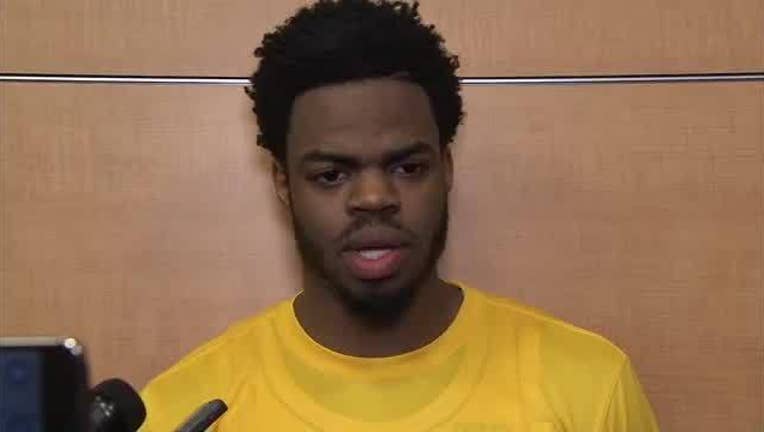 article
LINCOLN, Neb. (AP) - It turned out Michigan coach John Beilein didn't need to worry about how his team would respond to last week's devastating loss to Northwestern.
The Wolverines turned in one of their best performances of the season Sunday night, with Derrick Walton Jr. scoring 18 points and setting a school record with 16 assists in a 93-57 rout of Nebraska - the Cornhuskers' worst home loss in program history.
Michigan set the Pinnacle Bank Arena record for points by an opponent and matched the arena record with 14 made 13-pointers. It was the Wolverines' largest margin of victory over a Big Ten opponent since they beat Indiana 112-64 in February 1998.
"I said twice in the locker room I have no idea how we were going to play tonight," Beilein said. "That Northwestern loss was so disappointing for these guys. But they handled it like they always handle it. They wanted to bounce back. They went out and they were just absolutely excellent from beginning to end."
The Wolverines (20-11, 10-8 Big Ten) led by as many as 38 points, and the final margin was the biggest in a Nebraska home loss since Ohio State won 79-45 at the old Devaney Center in January 2012.
Zak Irvin added 15 points, and three other players scored in double figures.
The Huskers (12-18, 6-12) finished the regular season with losses of 16, 16, 15 and 36 points. Fifth-year coach Tim Miles is now 75-85 overall and 33-57 in Big Ten games.
"I'm not worried about my job," Miles said. "My administrators have supported me the whole time and have been there to support us whether at the games or practice. I'm not worried about that. I'm worried about this team and getting their butts in gear, and that's what we have to do."
Ed Morrow Jr. and Isaiah Roby each scored 10 points for the Huskers, who finished with 16 turnovers and shot just 28.6 percent in the second half. The Huskers were 2 of 15 on 3s.
The Wolverines are 8-0 against the Huskers since Nebraska joined the Big Ten in 2011-12 and have won 10 straight in the series.
They came into the game off a 67-65 loss at Northwestern, where it gave up Dererk Pardon's winning layup on an 85-foot baseball pass. The Wolverines shot 63 percent against Nebraska, 51.9 percent on 3s (14 of 27).
"We just had a bounce-back mentality," Irvin said. "We really wanted come out and have a great start and we did that, especially on the defensive end. We were shooting lights out. Derrick had a great game, being able to find everyone, and he shot the ball well, too."
The Huskers scored the first basket, and then the Wolverines rolled off 14 straight points with the help of six Nebraska turnovers to go up by double digits. A 13-2 run made it 39-19 late in the half.
"We talked after last game (at Minnesota) about having a crisis of confidence. This is beyond that," Miles said. "There is a defeatism. As soon as the first thing goes wrong, we expect the worst to happen. We have to be mentally stronger. It looks to me like it's a team walking around getting ready to get hit by lightning, and that can't be us."
BIG PICTURE
Michigan: The Wolverines roll into the Big Ten Tournament with Walton leading and playing at a high level and scoring coming from all over the court.
Nebraska: The Huskers once again are staggering into the conference tournament. Two years ago they came out of the regular season off eight straight losses, last season they dropped four of their last five, and Sunday's loss was their fourth in a row.
MEANINGFUL MARK
Walton's school-record 16 assists doubled his previous season high and were three more than his career best.
"It means a lot to me," he said. "I'm a guy that loves to make other people better - to see my guys so happy making shots and me being one of the reasons why."
SO LONG, TAI
Tai Webster, the Huskers' only senior, played his last home game. He came out with 3:46 left to a standing ovation from the remaining fans. Webster scored eight points, marking the first time in 31 games he didn't reach double figures.
UP NEXT
Michigan is the No. 8 seed for the Big Ten Tournament and plays No. 9 Illinois on Thursday.
Nebraska is the No. 12 seed and plays Penn State on Wednesday.