Move to right field suits Tigers, Castellanos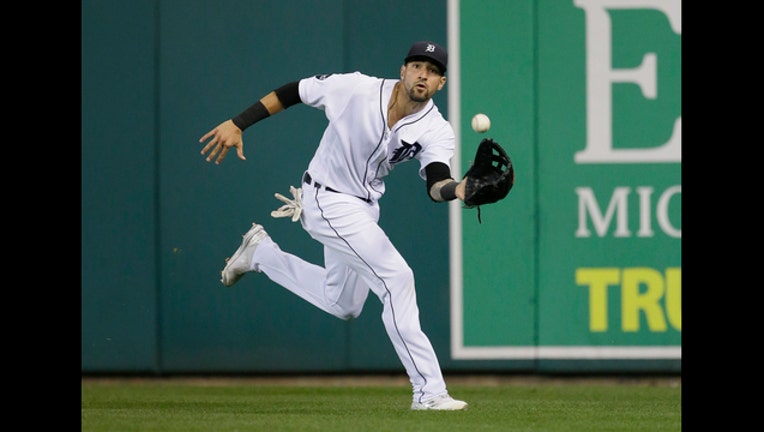 article
LAKELAND, Fla. (AP) - Nicholas Castellanos went into his fifth major league season as an established third baseman. He came out of it as the Detroit Tigers' right fielder.
"Because of all the trades and the way the team was going, and building for the future and acquiring other infielders, it's kind of the way it worked," he said Tuesday. "I'll do whatever they need me to do. Right now they've asked me to go out there and catch flyballs so that's what I'm doing."
Castellanos was most of the way through his fourth season as Detroit's third baseman when the Tigers made a series of moves that prompted his shift.
"People came up to me and talked about it, but I also brought it up myself just because I saw how everything was happening," he said. "If you work, what happens if your boss was like: 'Hey, we need you to go over here; that's going to benefit the company.' Same thing."
Some players might be hesitant to make such a drastic change in the middle of their careers.
"He's not in the middle of his career. He's only 25," observed general manager Al Avila, who saw Castellanos as a hitter looking for a position.
"Hitting is the hardest thing in baseball," Avila said. "Usually a guy comes up and plays a position and you hope he learns how to be a hitter. There are a lot of guys like that. This guy can hit, and last year he became a legitimate middle-of-the order hitter."
Castellanos hit .272 with 26 home runs and 101 RBIs. Most of it was as a third baseman. He hit .359 with seven homers after August, with third base in his rear-view mirror.
"The first time I had a conversation with him, he walked over to me and I asked him what he thought of this right-field thing," said new Tiger manager Ron Gardenhire. "He said, 'I absolutely love it, I feel so much more comfortable. It took so much pressure off me.'
"Well that's the way to play baseball. We all know there's more pressure in the infield. That is the hot spot, they don't call it the hot corner for nothing," he said.
The Tigers acquired young third baseman Jeimer Candelario from the Chicago Cubs on July 31, the same day they traded right fielder J.D. Martinez to Arizona. A month later they traded outfielder Justin Upton to the Los Angeles Angels and brought up Candelario to play third base.
After a few days of being a designated hitter and shagging flyballs, Castellanos was installed in right field. A return to the infield is unlikely.
"I think we've made that decision as an organization so we're going to stay with that," Gardenhire said. "I would never say never, but my plan is for him to be our right fielder every day and that's where I want him to stay. I don't want to see him bounce back and forth."
Castellanos, two years away from free agency, sees it as a win-win.
"Now I'm an infielder and I can play outfield, and I can hit," he said. "Whatever makes me play baseball for as long as possible. I'm a low-maintenance kind of guy. I just hang out in the shadows, just kind of do my thing."
NOTES: LHP Daniel Norris returned from Philadelphia, where he visited Dr. William Myers to get clearance on a groin strain that bothered him last season. "Structurally, everything was great," Norris said. "I feel good. I threw a bullpen today." . . . RHP Alex Wilson will pitch the first inning of Thursday's spring opener against Florida Southern College. . . . The Tigers play the New York Yankees at Tampa in their Grapefruit League opener Friday.