No. 15 Michigan moves on to No. 2 MSU, takes Nebraska 77-58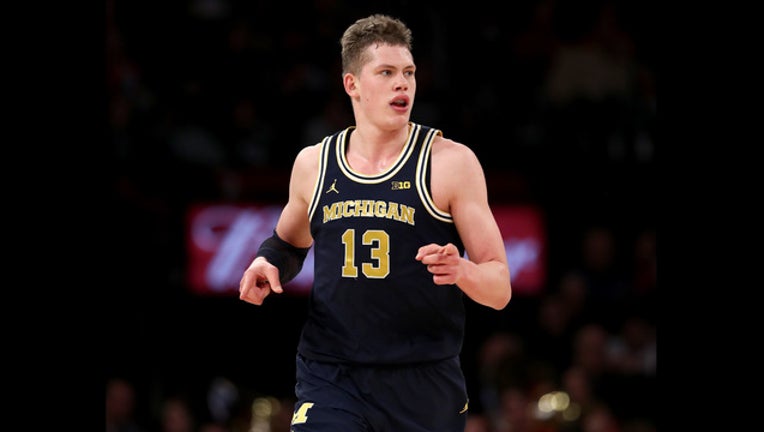 article
NEW YORK (AP) - Maybe the most familiar fight song in college sports filled Madison Square Garden as Michigan turned the last six minutes of its Big Ten Tournament quarterfinal against Nebraska into garbage time.
"Hail to the victors valiant," the many Michigan fans sang as they were able to start turning their attention to a semifinal on Saturday that will bring a little extra juice to the Garden. For just the second time, Michigan and Michigan State will meet in the Big Ten Tournament.
"It's a rivalry game, even though it's postseason you want to come out and have a sense of urgency and be ready for a fight," Michigan guard Muhammad-Ali Abdur-Rahkman said after the 15th-ranked Wolverines eliminated the fourth-seeded Cornhuskers 77-58 on Friday.
Abdur-Rahkman scored 21 points and Moe Wagner had 20 as fifth-seeded Michigan (26-7) dealt a significant blow to Nebraska's NCAA hopes.
Michigan and Michigan State's only other meeting in the Big Ten Tournament came in the 2014 championship game at Indianapolis. The Spartans won 69-55.
"I expect it to be really exciting," Michigan coach John Beilein said. "I think there will be a lot of Michigan fans here, but I expect Michigan State fans to travel well. I don't know the numbers, but we are in New York City. Our alums and our fans are."
The Michigan fans had plenty of time to sit back and enjoy Friday's game against Nebraska.
Wagner and Abdur-Rahkman were both limited by foul trouble in Michigan's opening tournament victory against Iowa on Thursday. The Wolverines' stars fouled out in the overtime game against the Hawkeyes, but Michigan survived without them.
Against the Huskers (22-10), Wagner and Abdur-Rahkman were full-go and Nebraska could not do much to stop them. Wagner drove the baseline for a dunk late in the first half that helped the Michigan go up 34-24 at the break.
Abdur-Rahkman's 3 with 6:01 left in the second half made it 61-42 for the Wolverines, giving their fans the opportunity to sing and chant "N-I-T" at Nebraska.
Isaiah Roby and James Palmer Jr. led Nebraska with 16 points each.
BIG PICTURE
Michigan: The Wolverines lost by 20 at Nebraska back in January in one of their worst offensive showings of the season. Abdur-Rahkman said Michigan failed to adjust to the Huskers' defensive switches. "I think we just seen it a lot more. As of late, teams have been trying to switch out their defenses against us," Abdur-Rahkman said.
Whatever the issue was in Lincoln, it was solved the second time around. The Wolverines got to the basket effectively in the first half, and the 3-point shooting that was off against Iowa (3 for 19) was on against Nebraska (11 for 23).
Nebraska: Selection Sunday is more than a week away with the Big Ten playing its tournament earlier than usual to get it into the Garden. It figures to be an uneasy wait for coach Tim Miles and his Huskers.
"I think we're just going to wait to see what happens," Palmer said. "Whether it's the NCAA - which I think we should be. But we're just going to wait this week and see what happens."
Despite a fourth-place finish in the Big Ten, and winning eight of nine to end the regular season, many projections have Nebraska firmly on the bubble for an at-large NCAA bid.
"Well, I believe we're an NCAA Tournament team now," Miles said. "That was - we just ran into a buzz saw with Michigan, but I don't think that undoes what we've already accomplished."
The Huskers best regular-season victory is probably against Michigan. They had a close loss against Kansas and the Big Ten schedule did them no favors, giving them road games at Michigan State, Purdue and Ohio State with no return home games.
If Nebraska is left out, the Big Ten is looking at getting only four teams in the tournament, barring an upset winner at the Garden.
UP NEXT
Michigan: The Wolverines beat the Spartans 82-72 in January at East Lansing.
Nebraska: NCAA or NIT?