No. 3 Purdue holds off No. 25 Michigan 92-88 for 16th straight win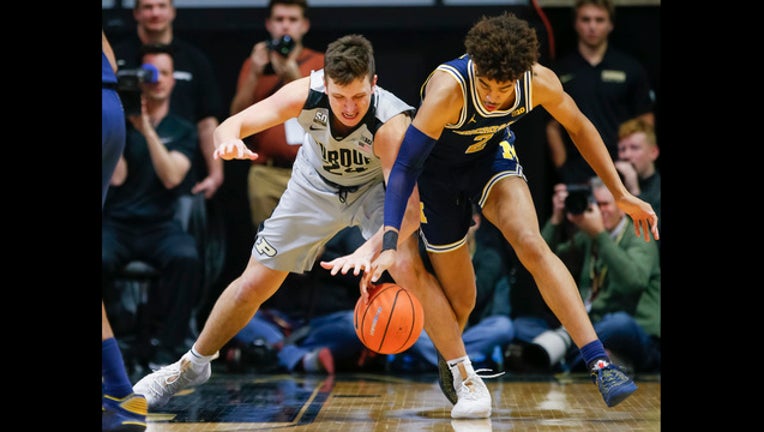 article
WEST LAFAYETTE, Ind. (AP) - Purdue's Isaac Haas stood his ground Thursday night.
If he saw one defender in the post, the 7-foot-2 center went straight to the rim. If he was double-teamed, he let teammates make the plays. The strategy worked perfectly, again.
Vincent Edwards scored a career-high 30 points, Haas added 24 and No. 3 Purdue used one late charge to finally get past No. 25 Michigan 92-88 for a school-record tying 16th consecutive win.
"I knew going into the game that Michigan wasn't going to try to double that much because we have too many good shooters and I figured they'd take their chances going one-on-one in the paint," Haas said after celebrating the milestone with Edwards near midcourt. "I capitalized on it a lot today."
Meanwhile, Purdue (20-2, 9-0 Big Ten) just keeps stacking its resume.
For the first time in 30 years and the fourth time overall, the Boilermakers have won 16 in a row.
The defending Big Ten champs extended their home-court winning streak to 20 and their winning streak over conference foes to 11. They are 9-0 in league play for the first time in the NCAA Tournament era and completed their first regular-season sweep of the Wolverines (17-6, 6-4) in 10 years.
And now they have a win in one of this season's most entertaining games - courtesy of a 9-0 run midway through the second half.
"Who has five guys who can shoot on the run? And you ask about trying to guard Haas, well you guys go try and guard him," Michigan coach John Beilein said. "He's a difficult matchup for us."
For anyone, really. Haas also had six rebounds, three assists and three blocks.
Muhammad-Ali Abdur-Rahkman had career-high 26 points, and Zavier Simpson added 16 to lead Michigan.
But after a 20-minute slugfest, the final 20 turned into a shootout.
By the time the third media timeout came, with 7:45 to go, both teams were still shooting over 75 percent from the field and at least 75 percent on 3-pointers in the half. Only seven of 32 shots were missed and at one point, the lead changed on 13 consecutive baskets.
When the streak finally ended, Edwards and Haas took charge.
Edwards made a 3 to tie it at 68, then broke the tie with two free throws before scoring on a putback. Haas' layup with 7:23 to go made it 74-68.
Duncan Robinson's layup on the ensuing possession finally ended Michigan's scoring drought, but Haas answered with a three-point and Carsen Edwards sank two free throws to make it 79-70 with 5:38 left.
Michigan played catch-up the rest of the game but never get closer than three.
"Isaac's been great," Purdue coach Matt Painter said. "The last couple games he hasn't always had the same amount of opportunities because teams loaded up on him, and that opened up the 3 for us. So I understand what (Michigan) was doing."
BIG PICTURE
Michigan: The Wolverines can play with the best in the Big Ten. They upset No. 4 Michigan State on the road two weeks ago and now have gone toe-to-toe twice with the Boilermakers. But with four conference losses already, they'll need some major help to contend for a conference crown.
Purdue: Right now, the Boilers look unbeatable. They've been knocking down 3s at an incredible rate and playing terrific defense. They are so versatile and experienced nothing seems to faze them, even when things don't go according to script as was the case Thursday.
KEY STATS
Michigan: Adbur-Rahkman also had six 3s. ... Moritz Wagner had 15 points and Charles Matthews added 10.... The Wolverines shot 66.7 percent in the second half and 60.3 percent for the game. ... They were 13 of 23 on 3s.
Purdue: Vincent Edwards also had five rebounds and five assists while Carsen Edwards had 13 points. ... The Boilermakers shot 62.0 percent in the game and were 11 of 20 on 3s. ... It's the first time Purdue gave up more than 70 points to an opponent since Dec. 1.
ROUGH AND TUMBLE
Purdue center Matt Haarms made an unscheduled wardrobe change at halftime after his No. 32 jersey got ripped. The 7-foot-3 redshirt freshman finished the game wearing No. 34.
UP NEXT
Michigan: Will try to rebound from its second straight road loss when it hosts Northwestern on Monday.
Purdue: Can set a school record for longest winning streak with a win at rival Indiana on Sunday.