Nuggets beat Pistons 120-113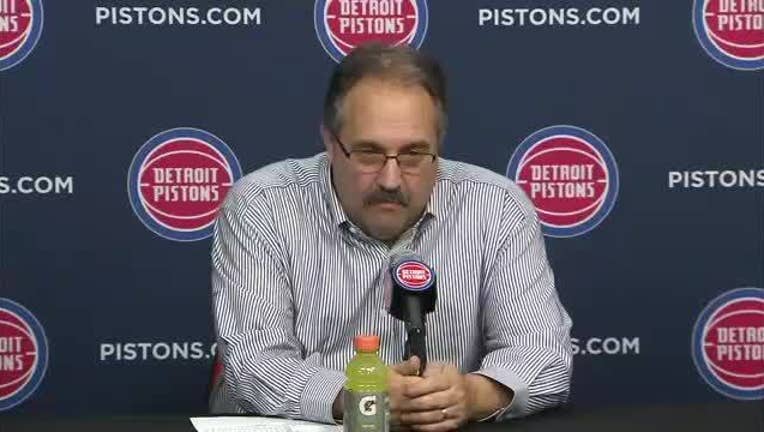 article
DENVER (AP) - Nikola Jokic was cool after his eighth triple-double of the season.
With good reason: He was covered in ice packs - one on his right wrist and another on his back, no doubt courtesy of his tussle with big man counterpart Andre Drummond. Then, off to the hot tub.
Jokic's hot hand accounted for 23 points, 12 rebounds and 10 assists, Jamal Murray added 26 points and the Denver Nuggets' playoff hopes received a much-needed boost with a 120-113 victory over the Detroit Pistons on Thursday night.
"He had a hell of a game - triple-double and a win, too," Drummond said of Jokic.
It was far from easy, though, even if it looked like things were headed for a blowout. Down by as many as 26 points in the third quarter, Detroit sliced it to five before Will Barton took over and hit big basket after big basket down the stretch.
Giving up big leads is a trend Denver would like to curb. It's happened too often for the team's liking.
"We've got to figure out a way to buckle down," said Murray, whose team now hits the road for a pivotal seven-game trip. "We can't get complacent, get relaxed. We've got to take every possession the same."
In a game where the Nuggets won categories such as points in the paint (52-40), second-chance points (21-6) and rebounds (45-41), the number that troubled coach Michael Malone was 27-6- the run that allowed Detroit to climb back into the game.
"It's unfortunate we allowed that run to take away what could've been an even better win," Malone said.
The fading Pistons dropped their 11th straight road game despite Drummond scoring 21 points and grabbing 17 rebounds. Blake Griffin added 26 points and nine assists.
"We knew we dug ourselves a hole so it was like, 'Are we going to fight or let up?'" said Dwight Buycks, who had 19 of his 22 points in the second half. "We needed that same energy in the first when we got down."
Denver's big lead melted away with the Pistons hitting eight 3-pointers in the second half. Detroit cut the deficit to 102-97 with 6:55 remaining. Gary Harris hit a scoop shot and then had a fast-break dunk in which he was fouled. He landed awkwardly on his right leg and after a timeout he hit the free throw. He then left the game.
"It's a little sore right now," Harris said. "See how I feel in the morning."
Jokic was a handful for Drummond - and vice versa. Jokic had trouble with Drummond's strength down low, and Drummond struggled with Jokic's range as he frequently took Drummond outside.
"I took it to his chest every time and tried to just score," Drummond said. "He wasn't trying to block any shots, he just wanted to stand there and get a bailout foul and get back on offense.
"They had their run, they played very well throughout the whole game, but that fourth quarter we woke up and played very well - but not enough to win the game."
TIP-INS
Pistons: G Reggie Bullock returned to score 17 points after missing a game with a sore back. ... It was Drummond's 51st double-double of the season. ... Detroit's last road victory was Jan. 10 at Brooklyn.
Nuggets: F Paul Millsap added 14 points. ... NBA Commissioner Adam Silver was in attendance. ... The Nuggets improve to 27-10 at the Pepsi Center.
TRIPLE-DOUBLE
Jokic's eight triple-doubles are the most by a Nuggets player in a season since Fat Lever had nine in 1988-89. This one almost seemed, well, quiet.
"It's not quiet - you're so used to it," Murray explained. "It's something you shouldn't be surprised by him doing."
BARTON STEPS UP
Barton finished with 23 points after struggling his last two games. Malone said he had a recent conversation with his guard.
"''I asked him, 'What can I do to help you?'" Malone said. "This team needs Will Barton to play Will Barton basketball. I thought Will Barton was great tonight."
UP NEXT
Pistons: At Portland on Saturday in stop No. 3 on a six-game trip.
Nuggets: Their long trip begins at Memphis on Saturday.