OPINION: Opening weekend a mixed bag for these Tigers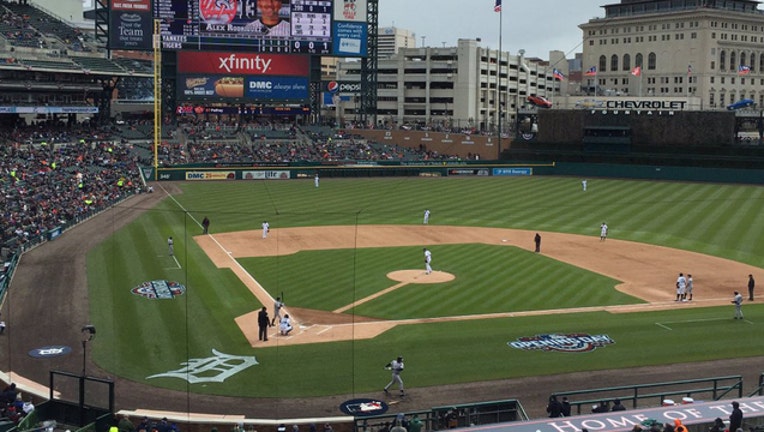 article
Can I please get some kudos for my dead-on prediction of Mike Pelfrey and what would happen in his first start? I know it was against the Yankees but that is no excuse.
Detroit, now 3-1 at least got the loss monkey off their back after being dominated by the Evil Empire on Saturday 8-4. I say dominated because the Yankees were up 8-2 before the halfway point of the ballgame. I don't know what else to call it?
Pelfrey lasted not even 4 innings and gave up 6 runs. His sinker wasn't sinking and he looked like the worn out pitcher everyone knew we'd be getting. To play devil's advocate, I know it was his first start of the year but us Tigers fans are critical, we will give you another shot but you have to bring it better than that.
Ok, rant over.
The Tigers split the weather shortened series with the Yankees after defeating the Yanks 4-0 on Opening Day. Another newly acquired Tiger Jordan Zimmerman did live up to the hype and was impressive.
Zimmerman pitched 7 masterful innings, allowing only 2 hits and no earned runs. He looked great and has restored a little bit of my faith in thinking the signing of him may actually have been worth it. But, once again, one start doesn't mean a whole lot at this point. 
The 4-0 win on Opening Day should make people excited (let's just forget about Saturday). The Tigers had 13 hits, 11 of them singles. When you look at the team's makeup, it doesn't look like a team made for small ball but on Friday that's how they played and that's why they won. 
As always, there is an Opening Day stud at the plate it seems for the Tigers. This year it was Nick Castellanos. He went 4-4 with quality at-bats.
Enjoy that sight folks, because if I was a betting man, I'd say he will not have another 4 hit game this year. Actually I will even put my neck out on the line and say he will not bat over .250 this year, thus creating another issue at a position (third base) the Tigers have not been able to fill with a quality player for the last decade.
Don't believe me? Shall I take you down memory lane with the thoughts of guys like Shane Halter and Dean Palmer? I didn't think so. I don't want to go through that either.
All-in-all, Opening Day was fun, it served its purpose: the fair-weather fans got to go downtown and have a good time while the diehard fans know that it's a long season and one game does not indicate how the team will play or where they will be in 2 months.
3-1 is a good start, it sure could be the other way around. But as I said last article and will echo again, with series against teams like the Pirates and Royals around the corner, you have to be on your A game every day, not just one day.
I think the Tigers got a dose of the logic this weekend when Saturday rolled around and every one saw Alex Rodriguez hit a homerun off Pelfrey. I don't know about you but when I saw that, I knew it was going to be a long day.
Oh, and just to circle back on my Justin Upton comment which I have received much criticism for – he's had 19 official at-bats, 8 strikeouts and he is batting .211. It is early I know, but stats are stats.
Let's get to some predictions for our baseball team this week:
Justin Verlander gets roughed up on Monday against the Pirates. Pelfrey has another rough outing while Sanchez, Greene and Zimmerman shine.
Jose Iglesias and Ian Kinsler will keep the bats going while Castellanos and Anthony Gose will continue to struggle.
I expect a big week from Miguel Cabrera who just has not looked like himself yet. I will say he hits 2 homers this week and officially starts his path towards his next MVP.
Cheers to another fun filled week of Tiger baseball. Until next time.
ABOUT THE AUTHOR
Who am I? I'm just a guy who loves the game of baseball that has opinions and thoughts just like you. Like what you see? Don't like what you see? Let me have it. Email me at john.shull@foxtv.com or follow me on twitter, handle is @the_real_shull