Patrik Laine scores twice, Jets past Red Wings 4-3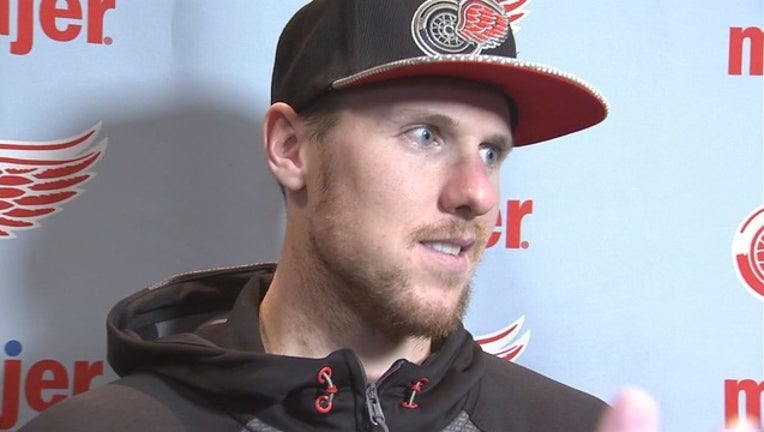 article
WINNIPEG, Manitoba (AP) - Winnipeg coach Paul Maurice pointed to 19-year-old scoring star Patrik Laine's feet.
"His feet. His skating. He's driving harder," Maurice said. "He's skating better with and without the puck and, because of that, his timing is right and everything else is falling into place for him. It's all in his feet."
Laine scored his 32rd and 33rd goals of the season to help the Jets beat the Detroit Red Wings 4-3 on Friday night. He has eight goals and five assists in a seven-game points streak.
"I think I've just started to skate more," said Laine, who leads the NHL with 16 power-play goals. "I'm just trying to work hard and play as simple as I can, and that's the biggest reason why I'm getting rewarded. It's just the skating that's the biggest reason."
Dustin Byfuglien and Ben Chiarot also scored and Connor Hellebuyck made 30 saves for his 33rd victory of the season. Winnipeg has won six of its last eight games to improve to 38-17-9.
Niklas Kronwall, Anthony Mantha and Trevor Daley scored for Detroit, and Jimmy Howard stopped 38 shots.
"It's another one-goal loss here. We can say that we were close and that we battled hard in the third but there's no reason for us to be in that situation," Red Wings captain Henrik Zetterberg said. "We're not consistent enough."
Kronwall opened the scoring midway through the first period on Detroit's only power play.
Winnipeg responded with two goals in a 26-second span to take the lead.
Just 38 seconds after Kronwall's goal, Laine scored his first with a wrist shot following a Detroit turnover. Chiarot added his first goal of the season with a soaring shot from the perimeter.
"I thought we started off pretty good, came out with a lot of energy," Kronwall said. "We made it too hard on ourselves, kept turning the puck over. They're a good team. When you give them the space and give them the puck back all of the time, they're going to make you pay."
Byfuglien's chip-in put Winnipeg up 4-2, but Detroit responded with Mantha's 21st of the season and Daley's eighth. Laine broke the tie midway through the second with a quick wrister.
"It's always nice to finish the homestand with a win," Laine said. "We needed that."
NOTES: Winnipeg was 0 for 3 on the power play. ... After playing 12 of their last 14 at home, the Jets head out on a six-game trip
UP NEXT:
Red Wings: At Minnesota on Sunday night.
Jets: At Carolina on Sunday night.