Pistons owner says he's undecided on Van Gundy's future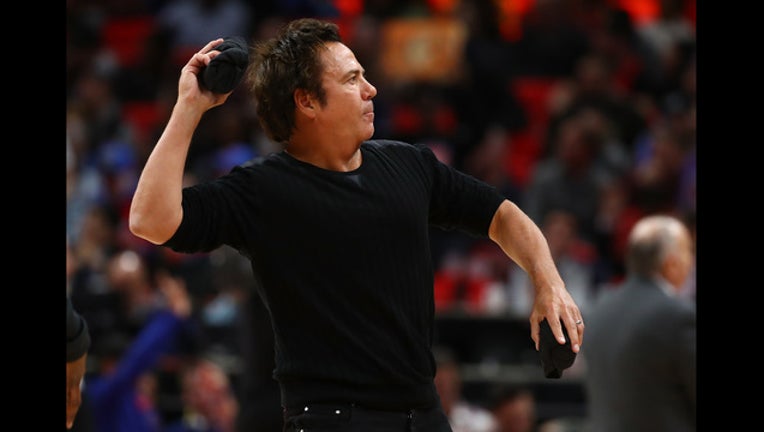 article
DETROIT (AP) - Detroit Pistons owner Tom Gores says he's undecided about Stan Van Gundy's future with the franchise.
"I wouldn't make a decision without Stan," Gores said at halftime of Monday night's 108-98 loss to the Toronto Raptors. "He's been our partner for four years."
Gores said changes need to be made because the team isn't winning enough, adding none will happen until he speaks with Van Gundy. The two are expected to meet next week.
"I think he deserves the conversation," Gore said. "He's been good for us."
The Pistons are 151-176 under Van Gundy as their coach and president of basketball operations. His 2016 team was swept in the first round of the playoffs.
Detroit (38-43) will finish the season Wednesday night at Chicago, failing to make earn a spot in the postseason for the third time in Van Gundy's four years.
Injuries were a big problem. Blake Griffin, Andre Drummond and Reggie Jackson were only in the lineup together for four games.
"We probably need a few more games with them playing on the same team if we're going to be good," Van Gundy said. "Still have to own the 38 wins right now. You can't run from that."
Gores isn't necessarily against allowing Van Gundy to lead both the front office and the bench.
"I see value in the front office and the court being connected," he said.
The Pistons made a major move trying to shake up their lackluster franchise by sending players and a first-round pick to the Los Angeles Clippers for Griffin. The trade didn't pan out this season, and the 29-year-old forward will have to produce a lot to live up to the $171 million, five-year deal he signed with the Clippers last summer. Griffin has been out with an injured right ankle, following a recent pattern in his career in which he struggled to stay healthy.
Gores defended the deal, saying the franchise now has a superstar. He also said Van Gundy didn't make the move without input from him.
"There's not a big move that Stan made without me," Gores said.