Red Wings' Lose Badly to Lightning 6-2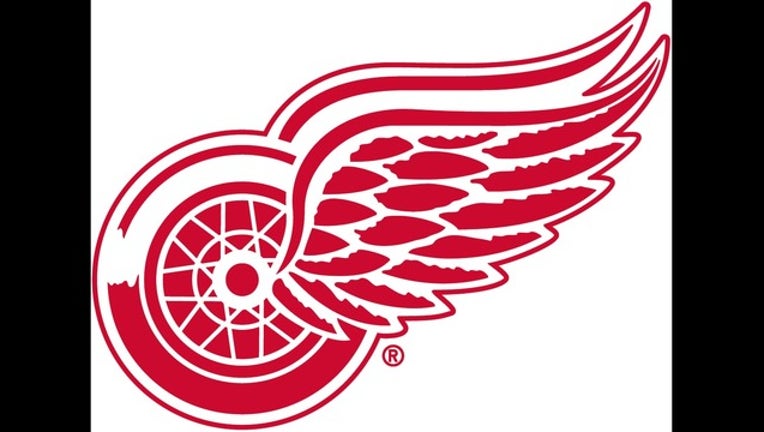 article
TAMPA, Fla. (AP) - As the only newcomer to last year's Eastern Conference champions, Erik Condra has been looking to fit in with the Tampa Bay Lightning.
He was a perfect fit Tuesday night.
Condra ended a 20-game drought with a pair of goals that sent the Lightning to a 6-2 victory over the Detroit Red Wings.
Tampa Bay tied the Florida Panthers atop the Atlantic Division with 89 points. Both teams have nine games remaining, and the Lightning own the tiebreaker with more non-shootout victories (39-33).
"The whole team played a good game," Condra said. "If we keep that going, we will be a scary team to play against."
Condra's previous goal came on Dec. 5 in San Jose. These were his first two for the Lightning on home ice.
Steven Stamkos, Nikita Kucherov and Ondrej Palat each had a goal and an assist, and Vladislav Namestnikov also scored for the Lightning. Brian Boyle, Tyler Johnson and Victor Hedman added two assists apiece.
Condra's last two-goal game was on Dec. 20, 2011, with Ottawa against Buffalo.
"That's what you need the depth for," Lightning coach Jon Cooper said. "There's been some times he hasn't been in the lineup. It's tough to come in when you're the only new guy to the organization."
Justin Abdelkader and Darren Helm scored for the Red Wings, who were outshot 34-25.
Coupled with Philadelphia's shootout loss at Columbus, Detroit fell into a tie with the Flyers for the second wild card in the Eastern Conference, two points behind the New York Islanders. The Red Wings own the tiebreaker with Philadelphia.
Leading 4-2 after two periods, Tampa Bay restored its three-goal edge 63 seconds into the third when Palat tapped home a rebound of Johnson's shot.
Tampa Bay scored in the first 2 minutes of each period.
"It's a deflator for them," Cooper said. "We never gave up the lead, but we never really let them get that close."
Condra put home his own rebound with 3:04 left to complete the scoring.
Getting two goals against the Red Wings made it more special for the Michigan native.
"It's always fun to get one or a couple against your hometown team," Condra said.
Tampa Bay got a favorable bounce 33 seconds into the second when Stamkos' centering pass went off the skate of Detroit's Jonathan Ericsson to make it 3-0. Red Wings coach Jeff Blashill lifted goalie Jimmy Howard in favor of Petr Mrazek.
Abdelkader got the Red Wings on the board, putting in a rebound of a blocked shot at 8:08.
Helm sped down the ice and beat Ben Bishop with 4:35 left in the second to get Detroit within a goal, but the Red Wings committed three minor penalties in the final 3:20 of the period.
"Both teams were a little sloppy from the beginning," Detroit captain Henrik Zetterberg said. "We gave each other easy chances. They scored on them, and we didn't."
The Lightning converted a two-man advantage when Kucherov slammed Johnson's goal-mouth feed past Mrazek with 2:18 left.
Tampa Bay opened the scoring 1:47 into the game when Condra scored on a snap shot from the hash marks on a nice feed from Palat.
The Lightning stretched the lead to 2-0 midway through the opening period when Namestnikov put home a rebound after Howard made a save on J.T. Brown.
"Sometimes our team uses our skill a little too much," Johnson said. "We just have to get back to the mentality of shooting the puck. We did that and we got rewarded."
NOTES: Anthony Mantha got his first NHL point on Helm's goal late in the second. ... Detroit has not won at Tampa Bay since Feb. 17, 2011, when the Red Wings posted a 6-2 victory. They are 0-4 against the Lightning in Amalie Arena since moving to the Eastern Conference. ... Detroit re-signed Eric Tangredi, currently with Grand Rapids of the AHL, to a two-year, two-way contract extension. ... Tampa Bay signed D Ben Thomas, a fourth-round pick in 2014, to a three-year, entry-level contract. ... Tampa Bay's six goals tied a season high. It was the fifth time the Lightning scored six in a game. ... Detroit heads home to play Montreal on Thursday. Tampa Bay continues its six-game homestand Friday against the Islanders.