Red Wings snap 11-game road skid with 6-3 win over Sabres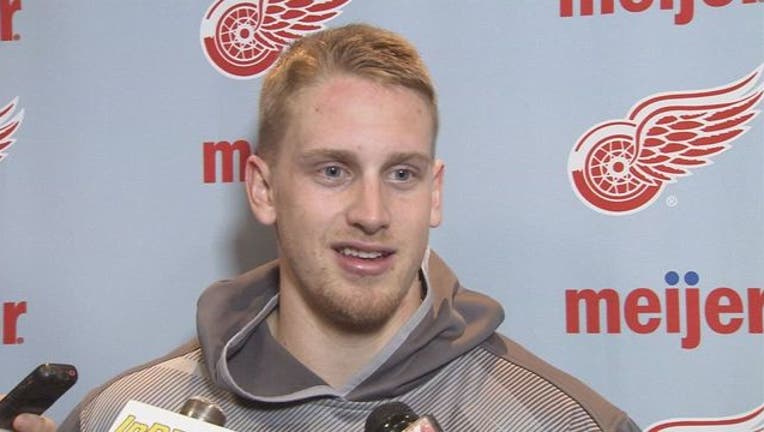 article
BUFFALO, N.Y. (AP) - Red Wings captain Henrik Zetterberg isn't sure how many more milestones he has left as he prepares to complete his 15th season in Detroit.
The 37-year-old is eager to find out.
"I hope so," Zetterberg said after picking up his 954th career point to match Sergei Fedorov for fifth on the franchise list following 6-3 win over the Buffalo Sabres on Wednesday. "I think this is the one that was kind of in reach. The next big one in my point production, it'll take a while. So we'll see."
Next on the list: Nicklas Lidstrom at 1,142.
Zetterberg earned the secondary assist on Danny DeKeyser's goal that put Detroit up 5-3 with 9:50 remaining.
In closing a season in which Detroit will miss the playoffs for a second consecutive year, Zetterberg and his teammates finally had something to feel good about.
The Red Wings won on the road for the first time in more than a month by snapping an 0-10-1 skid - their worst since the 1981-82 season.
And they did it with a balanced attack, while overcoming a 2-0 first-period deficit.
Though the Red Wings' offensive production came mostly from their youngster, goalie Jimmy Howard said Zetterberg deserves the credit for being a role model.
"He's awesome. He's one of those leaders you can't say enough about," said Howard, who stopped 29 shots. "It doesn't matter what the situation is, whether we're in the playoffs or not, he leads by example. And I think that's what our young guys need right now."
Anthony Mantha, with his team-leading 24th, scored the go-ahead goal by converting a rebound off a shot he deflected with 3:34 left in the second period.
Dylan Larkin and rookie first-round pick Evgeny Svechnikov had a goal and assist each. Darren Helm, with a short-handed goal, and Andreas Athanasiou also scored for Detroit, which hadn't won on the road since a 3-2 overtime victory against the New York Rangers 3-2 on Feb. 25.
The NHL's last-place Sabres endured yet another familiar collapse at home, where they are now assured of finishing with the fewest wins in an 82-game season in franchise history. With an 11-24-5 home record, and one game at Buffalo left, the Sabres can't match their previous low win total of 13 set in 2012-13.
Rookie Sabres coach Phil Housley blamed the loss on too many lapses.
Jack Eichel simply called it, "frustrating."
Added Eichel: "You're not going to win hockey games playing like we did."
Eichel set a single-season career high by scoring his team-leading 25th goal. Ryan O'Reilly also scored, and center Casey Mittelstadt set up Evan Rodrigues' goal by winning a faceoff in the third period for his first career assist in his NHL debut.
Selected with the eighth pick in last year's draft, Mittelstadt signed with Buffalo this week after electing to skip his final three college season at Minnesota.
Sabres goalie Robin Lehner did not return for the start of the third period after sustaining an undisclosed injury. He allowed three goals on 20 shots through two periods. Chad Johnson gave up three goals on 12 shots.
Mantha scored just after a faceoff violation penalty called against Mittelstadt expired. Mantha was allowed to stand alone in front, where he deflected Joe Hicketts' shot from the blue line. Lehner got a piece of the shot, though Mantha was still untouched while easily converting the rebound.
Athanasiou's scored a 1:50 into the third period to put the Red Wings up 4-2 by capping an exceptional series of passes. Niklas Kronwall broke up the left wing and flipped a pass through the middle to Justin Abdelkader, who tapped the puck through his legs in setting up Athanasiou in the slot.
NOTES: Detroit won for the third time in 16 games (3-12-1). ... Coming of a 5-2 win over Pittsburgh on Tuesday, the Red Wings 11 combined goals matched the total of their previous five games. ... Rather than having the starting goalie lead the Sabres out for pre-game warm-ups, Mittelstadt got the honor in skating out on his own for 20 seconds before being joined by his teammates. The 19-year-old drew applause upon jumping the boards and hitting the ice for his first shift 1:27 into the game.
UP NEXT
Red Wings: Host Ottawa Senators on Saturday.
Sabres: At Nashville on Saturday.