Saltalamacchia's Homer Helps Tigers over Astros 5-3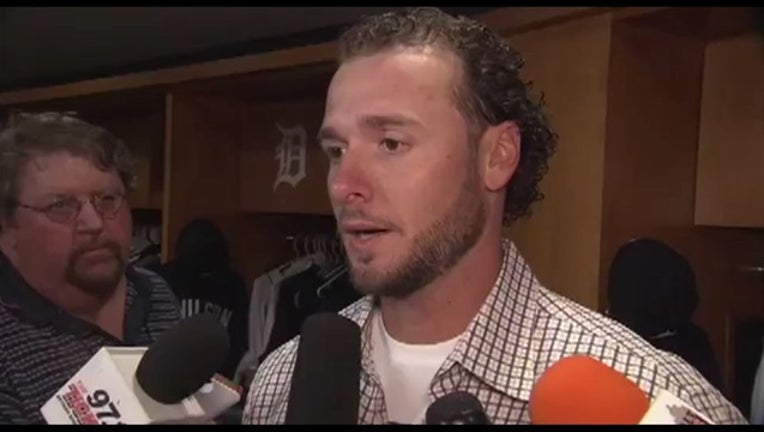 article
HOUSTON (AP) - Jarrod Saltalamacchia is proving to be a valuable offseason pickup for the Detroit Tigers.
Saltalamacchia hit a go-ahead two-run homer in the sixth inning and the Tigers rallied for a 5-3 win over the Houston Astros on Saturday night.
Detroit trailed 3-0 after George Springer and Tyler White both homered off Justin Verlander (1-1) in the first inning. Detroit scored a run in the second and cut the lead to 1 in the fifth when White was charged with an error after a throw busted through the webbing of his glove, allowing another run to score.
There was one out in the sixth when Saltalamacchia connected against Collin McHugh (1-2), launching his two-strike shot off the foul pole in right field to make it 4-3. Victor Martinez added an insurance run with an RBI double in the ninth inning.
Saltalamacchia joined the Tigers this offseason to back up James McCann. But he was placed on the disabled list on Tuesday with an ankle injury, making Saltalamacchia their everyday catcher. He's taken advantage of the opportunity, hitting two homers, including a grand slam, in four games since McCann's injury.
"He's come up with some big hits," manager Brad Ausmus said. "We knew he had some power and he's shown it to us early and I'm hoping he continues to do something similar to what he's been doing while (McCann) is on the DL."
Saltalamacchia already feels comfortable with his new team and is happy to be off to a good start.
"I'm loving every chance I get," he said. "I'm in a great situation here with a great group of guys, great organization, couldn't ask for anything better. So I'm excited to be able to contribute."
Verlander settled down after his tough first inning, only allowing singles through the next five innings for his first win this season.
"It's obviously good to open up with the lead but it's not how you start," Springer said. "We understand that we have to keep scoring some runs. He did a good job slowing us down."
He struck out eight to improve to 3-0 with 45 strikeouts in his career against Houston. Francisco Rodriguez pitched a perfect ninth for his third save.
McHugh allowed 10 hits and four runs in 5 1/3 innings in the loss.
Saltalamacchia hit one of six doubles by the Tigers and Nick Castellanos and Miguel Cabrera had three hits apiece on a night Detroit finished with a season-high 15 hits.
Jose Altuve hit a leadoff single before Springer's two-run shot, which clanged off the foul pole in left field, made it 2-0. White's two-out homer pushed the lead to 3-0. The rookie leads the Astros with four homers and he tied a franchise record for most homers in a player's first 12 career games.
Martinez doubled to start the second and scored on a double with one out by Castellanos that got Detroit within 3-1. But Castellanos was thrown out trying to stretch it into a triple.
Jose Iglesias doubled to start the fifth and cut the lead to 3-2 when he scored on the error by White with one out. The error came when a throw from Luis Valbuena went through the webbing of White's glove, allowing Justin Upton to get to second and Iglesias to casually trot home.
Upton went 0 for 5 with three strikeouts to snap a six-game hitting streak and Houston's Colby Rasmus failed to reach safely for the first time this season after going 0 for 4 and striking out three times.
DOUBLE 'EM UP
The Tigers turned two double plays on Saturday night to give them nine straight games with at least one double play. The last time they had a double play in nine straight games was from June 17-27 of 2008.
TRAINER'S ROOM
Astros: The next rehabilitation start for RHP Lance McCullers (right shoulder soreness) is on hold while he deals with lingering soreness from his first start on Monday night with Double-A Corpus Christi. Manager A.J. Hinch said they'll evaluate him daily and reschedule his start as soon as he feels better.
UP NEXT
Tigers: Anibal Sanchez (2-0, 3.38) will try to improve to 3-0 when he starts on Sunday. It's the first time in his career that he's been 2-0 after his first two starts.
Astros: Mike Fiers (0-1, 6.55) looks for his first win in his third start of the season. He allowed a three-run homer in the first inning of his last start before settling down to pitch five scoreless innings in a loss to the Royals on Tuesday.