Skoglund wins big league debut, beats Verlander, Tigers 1-0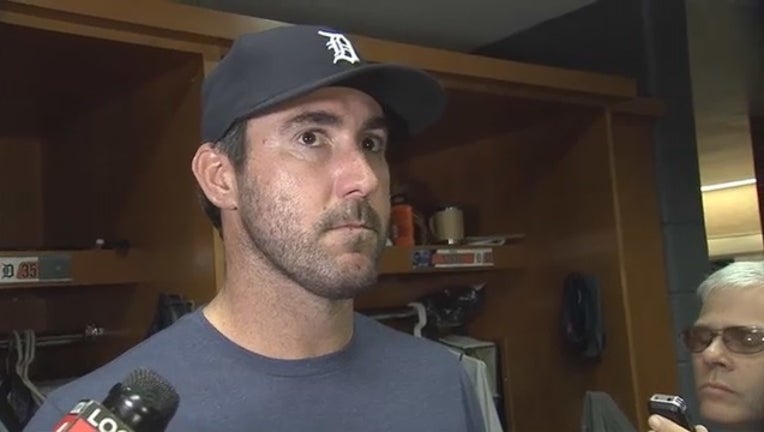 article
KANSAS CITY, Mo. (AP) - Eric Skoglund wasn't sure what was going on when he was scratched from his start for Triple-A Omaha.
He quickly found out he was headed to the majors.
Skoglund pitched 6 1/3 innings of two-hit ball in his big league debut, helping the Kansas City Royals beat Justin Verlander and the Detroit Tigers 1-0 on Tuesday night.
"Once I found out I was facing Verlander, it was like, 'Bring it on baby,'" Skoglund said. "That's something I've always dreamed about. The guy is going to be a Hall of Famer one day. It's a special night for sure."
Skoglund, a 2014 third-round draft pick out of Central Florida, struck out five and walked one. The 6-foot-7 left-hander was promoted from Omaha when the Royals placed Danny Duffy on the disabled list Monday with an oblique strain.
"I think he was a little sneaky," Tigers manager Brad Ausmus said of Skoglund. "It looked like he had two-seam, four-seam, slider, curve, for the most part. He hides the ball well so he can get in on righties."
Verlander (4-4) left after seven innings, allowing one run and six hits. He struck out five and walked one.
The Royals jumped in front in the sixth. Alcides Escobar and Mike Moustakas began the inning with singles, but Lorenzo Cain rolled into a double play. Eric Hosmer got Escobar home with a single to center.
"I didn't talk to our lineup about what he (Skoglund) was doing, but I knew he was putting up zeros in a hurry," Verlander said. "It was kind of a back and forth and the first person that blinked was me, unfortunately. You've got to tip your cap."
Skoglund walked Miguel Cabrera and yielded a single to Victor Martinez with two out in the first. J.D. Martinez went down swinging to end the inning for Skoglund's first big league strikeout.
"He's so tall, when he throws 89, 90, it looked like 93, 94," Cabrera said. "When he throws 93, 94, it looked like 97. But he's so tall and he leaves the ball like, so close. He was good."
The Tigers did not have another runner touch second base. Skoglund retired the next 14 batters before Dixon Machado's one-out single in the sixth.
After Victor Martinez flied out to left to begin the seventh on Skoglund's 90th pitch, manager Ned Yost summoned Peter Moylan from the bullpen.
Skoglund walked off the mound to a standing ovation and doffed his cap to the Kauffman Stadium crowd before going into the dugout.
"Walking off the mound is when it all hit me," Skoglund said. "All the guys embraced me, all the infielders. It was a very special moment for me. They just told me to take it all in and enjoy the moment. I definitely did that."
Moylan struck out J.D. Martinez and Justin Upton on six pitches to end the seventh. Mike Minor worked around a single in the eighth. Kelvin Herrera pitched a spotless ninth for his 12th save in 14 opportunities.
NOT BAD AT ALL
Royals second baseman Whit Merrifield extended his hitting streak to a career-high 15 games with an infield single in the fifth. Merrifield also forced Verlander to throw 12 pitches before walking in the third.
TRAINER'S ROOM
Tigers: OF Jim Adduci, who went on the disabled list May 12 with a right oblique strain, tried hitting off a tee. "He still feels it," Ausmus said. "He's still a ways away."
Royals: RHP Nathan Karns went on the disabled list with a forearm strain retroactive to May 21, but has yet to throw off a mound. "Everything is going well," Karns said. "I'm playing catch right now. I'm building it up. We'll see (what) the timetable is from the training staff is and what they feel is appropriate and go from there."
UP NEXT
Tigers: LHP Matt Boyd is 0-4 in his past six starts since an April 16 victory at Cleveland.
Royals: RHP Ian Kennedy is 0-2 with a 3.04 ERA in four home starts this season.