Tigers' Martinez moved by Cleveland ovation for 2,000th hit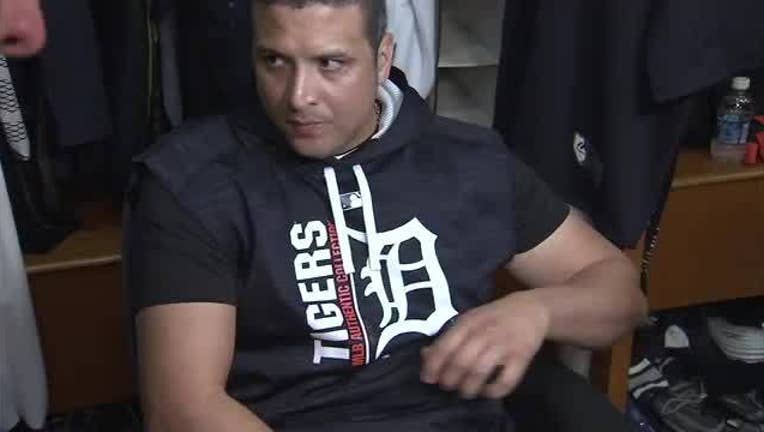 article
CLEVELAND (AP) - Victor Martinez heard the crowd roar and felt his heart swell.
On the same field where he began his major league career, Martinez had a moment he'll cherish forever.
Martinez reached 2,000 career hits on Friday night, getting it against the franchise that signed him as a teenager out of Venezuela.
Detroit's switch-hitter singled in the second inning off Cleveland's Carlos Carrasco to reach the plateau. After reaching first base, Martinez received a lengthy standing ovation from the large Cleveland crowd, fans that adored him during his eight seasons with the Indians from 2002-09.
Martinez hugged Detroit first-base coach Omar Vizquel, his teammate in Cleveland and a fellow Venezuelan, before tipping his cap to the crowd. Players on both benches applauded and the game was briefly halted to acknowledge the feat.
"It's special to have it done here," Martinez said following the Tigers' 11-2 loss. "For me, it was even better. Nothing against the Indians, I feel like it's where everything started for me. I will always remember this day, until I die. What the fans did to me with that ovation. It made me feel so proud and so good that they stand up for me. I just want to let them know too that I will always have the Indians in my heart, always."
Martinez is the ninth active player to reach 2,000 hits, joining Ichiro Suzuki, Adrian Beltre, Albert Pujols, Carlos Beltran, Miguel Cabrera, Robinson Cano, Matt Holliday and Jose Reyes.
To attain the milestone in Cleveland and with Vizquel, the career hits leader among Venezuelan-born players, at his side made it even more meaningful for Martinez.
"He congratulated me and told me it was awesome, and at the same time, I wasn't hearing and stuff," Martinez said. "It was a pretty cool moment."
The 38-year-old was a three-time All-Star with the Indians, who signed him in 1996. He broke down in tears when Cleveland traded him to Boston at the deadline in 2009 for three pitchers.
And although he's had a long run with the Tigers, Cleveland will remain dear to Martinez.
"This is my seventh year in Detroit, but this was a place that I called home, and I'm always going to have Cleveland in my heart," he said. "It was the team that gave me a chance to be a professional baseball player, gave me a chance to become a major leaguer. It's a pretty special place."
Martinez, too, is a pretty special hitter.
He entered the season with a .301 career average and the five-time All-Star has been one of the game's toughest outs from the day he broke into the big leagues.
"There aren't a lot of people who can say they got 2,000 major league hits," Tigers manager Brad Ausmus said. "He probably grinded out every single one of those at-bats to get those hits. It's something he should be proud of."