Tigers postpone Saturday's game against Yankees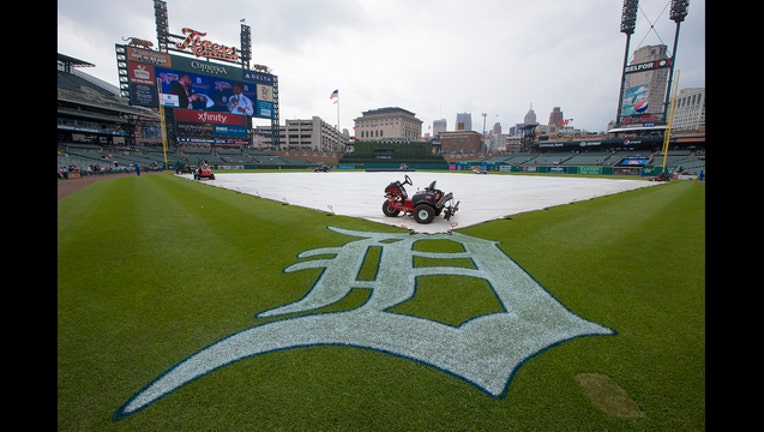 article
DETROIT (WJBK/AP) - It may take a while for the New York Yankees to finish their three games in Detroit this season.
The Yankees and Tigers were rained out Saturday, with bad weather threatening to wash away most of New York's only scheduled visit to the Motor City this year. The Yankees beat the Tigers 8-6 on Friday night, and the teams will try to play a split doubleheader Sunday to finish this three-game series - but the weather then might not be any better.
"It doesn't look very good, but we'll just try and have a good day of rest today," New York manager Aaron Boone said. "Some guys getting a little bit of work in now, and prepare ourselves like we are getting ready to go tomorrow, and then we'll see what Mother Nature has for us."
The Tigers would send left-handers Francisco Liriano (1-1) and Matthew Boyd (0-1) to the mound Sunday against New York right-handers Luis Severino (2-1) and Luis Cessa (0-0). The games are scheduled for 1:10 and 7:10 p.m.
If one or both games are postponed Sunday, the scramble could be on to find a time when the Yankees can come back to Detroit. The teams have a mutual off day June 4, for example, when New York would be traveling anyway between road games at Baltimore and Toronto.
Early-season postponements come with the territory in places like Detroit, but this is a particularly tough situation given the possibility of more rain Sunday and the fact that the Yankees aren't scheduled to return.
"Especially this year, starting the season in March, there's a lot of teams - actually, with some of the bad weather we've had, we've been pretty fortunate that we've been able to get most of them in," Boone said. "I know other teams have a lot of makeups to do now, so that makes it a challenge."
The Yankees are only 7-7, but New York has shown some of the power expected when it added Giancarlo Stanton to the lineup. The Yankees are the first team in major league history to have five different players with multihomer games in the first 14 games of a season. Aaron Hicks hit two home runs Friday, joining Stanton, Tyler Austin, Didi Gregorius and Gary Sanchez in that group.
Aaron Judge does not have a multihomer game yet, but he does have three home runs, a .340 average and an 11-game hitting streak.
"I don't put a ceiling on Aaron," Boone said. "He's a great player, and I think between the ears he's really good and understands what teams are trying to do to him. I think he develops a great plan going into the games. I think he really is in tune with his swing and all that goes into making him successful as, obviously, a big guy."
The Tigers have lost five in a row, a bit of a reality check after Detroit swept a three-game set in Chicago against the White Sox. The Tigers fought back gamely Friday night, but the second inning was a tough one for the Detroit outfield.
Sanchez's deep drive went for a double when right fielder Nicholas Castellanos ducked awkwardly as the ball went past him.
"There's no concern," manager Ron Gardenhire said after the game. "He's our right fielder, and he will be all season."
Moments after Sanchez's double, center fielder Leonys Martin missed a carom off the wall, allowing Hicks to circle the bases for an inside-the-park home run.