Verlander Goes 7, Tigers beat Rays 3-2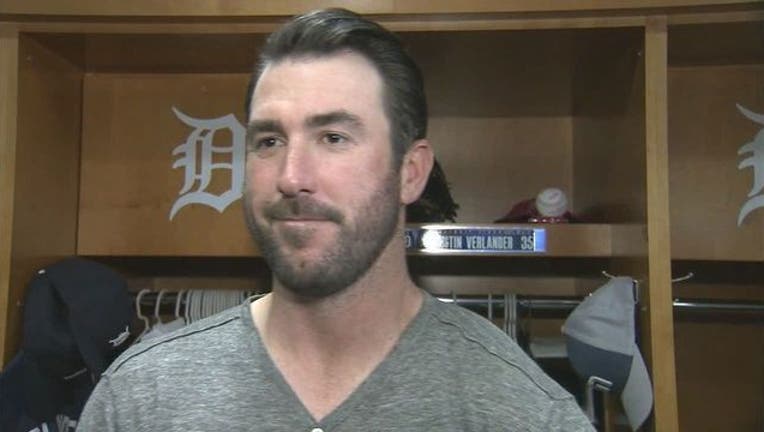 article
ST. PETERSBURG, Fla. (AP) - Justin Verlander and the Detroit Tigers keep on winning and also added to the Tampa Bay Rays' woes.
He allowed two runs and four hits in seven innings, and the Tigers won their fifth consecutive game by beating the Rays 3-2 on Saturday.
Verlander (8-6) struck out eight and walked one as he improved to 5-2 in eight starts at Tropicana Field. The right-hander was coming off a start Sunday in which he gave up eight runs in 4 2-3 innings of a 9-3 loss to Cleveland.
"We got beat by a really good pitcher that had really good stuff," Tampa Bay manager Kevin Cash said. "He attacked. He definitely made it tough."
Justin Wilson pitched the eighth before Francisco Rodriguez got the final three out to get his 23rd save.
"We made pitches when we needed to and we were able to come away with a win," Verlander said.
The Tigers look to complete a four-game sweep Sunday against the reeling Rays, who lost for the 15th time in 17 games.
Detroit (43-38),9-3 since June 20, is five-games over .500 for the first time since May 30, 2015.
"We're just going to keep going, keep going forward, no rear-view mirror," Tigers manager Brad Ausmus said.
Tampa Bay rookie Blake Snell (1-3) gave up three runs, four hits, four walks and had four strikeouts over 5 1-3 innings in his fifth start.
"We've still yet to see really best of Blake," Cash said. "He's giving us a chance to win, there's no doubt."
After Ian Kinsler had a fifth-inning solo homer, Detroit took a 3-1 lead on Jarrod Saltalamacchia sacrifice fly in the sixth.
Logan Morrison pulled the Rays within 3-2 with a sacrifice fly in the bottom of the sixth.
Jose Iglesias put the Tigers ahead 1-0 on an RBI single in the second. Snell avoided further damage by getting a comeback from the hot-hitting Cameron Maybin with the bases loaded and two outs.
Maybin, who entered on a seven-game hitting streak (14 for 28), was hitless in three at-bats.
The Rays tied it at 1 in the fourth when Logan Forsythe singled, went to third on an errant pick-off throw by Verlander and scored on a sacrifice fly by Evan Longoria.
Tampa Bay's Steven Souza Jr. returned after missing 17 games due to a strained left hip and went 1 for 3. He was picked off first base by Verlander after a second-inning infield single.
TRAINER'S ROOM
Tigers: 1B Miguel Cabrera was rested. It was his first time out of the lineup since May 10.
Rays: A decision on whether RHP Alex Cobb (Tommy John surgery) will start a rehab assignment or have one additional simulated game is expected to be announced after his bullpen session Sunday. ... LHP Jonny Venters, attempting to comeback from three Tommy John surgeries, has been placed on the disabled list at Class A Charlotte with an UCL injury and is talking with doctors about the next step. . CF Kevin Kiermaier (fractured left hand) hit off a tee.
FOCUS ON FULMER
Tigers rookie RHP Michael Fulmer became just one of six pitchers since 1913 Friday night to have eight straight starts with one or fewer runs allowed after throwing seven shutout innings in a 10- 2 win over the Rays. He joins Bob Gibson (11 in 1968), Josh Johnson (eight in 2010), Derek Lowe (eight in 2008-09), Johan Santana (eight in 2004) and J.R. Richard (eight in 1979).
UP NEXT
Rays RHP Chris Archer (4-11), who leads the majors in losses, looks to end a four-start losing streak Sunday against Tigers RHP Mike Pelfrey (2-7).