Verlander Goes Distance; Iglesias Hits Game Winner in 3-2 Victory over Astros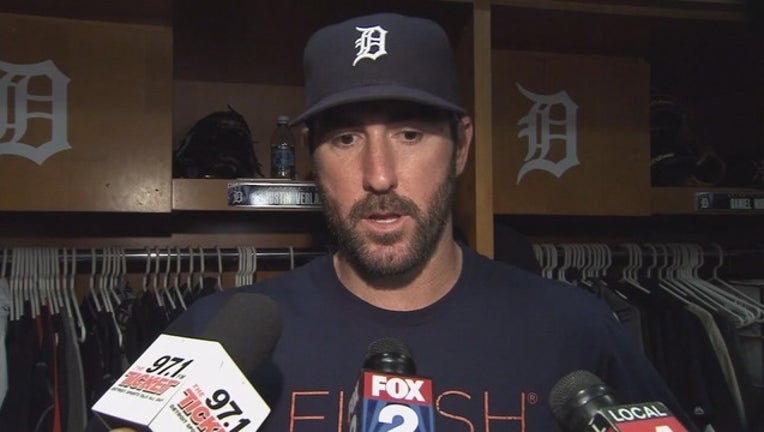 article
DETROIT (AP) - The Detroit Tigers and Houston Astros matched two-run ninth-inning comebacks Saturday night. Luckily for the Tigers, they had the last one.
Jose Iglesias capped a two-out rally with an infield single to score Tyler Collins, and the Tigers won their fifth straight game with a 3-2 victory over the Astros.
Detroit is now a half-game ahead of Houston as both teams chase Boston for the second AL wild-card spot.
"This is when you have to start to make your move," said James McCann, who drove in the tying run before Iglesias won it. "When August and September roll around, you have to be ready to make a run at the playoffs."
With the Astros up 2-1, Houston closer Will Harris (1-2) retired the first two batters in the ninth but then walked Justin Upton. Collins singled and McCann drove him in with another single.
Iglesias then hit a grounder between first and second base. First baseman Jason Castro ranged to his right to field it, but Iglesias beat Harris to the bag while Collins scored.
"I should have found the bag and then caught the ball, but I tried to catch the ball and then find the bag," Harris said. "It's just a bonehead play by me. There's no other way to put it."
Detroit led 1-0 going into the ninth, but Houston rallied to take the lead in the top of the inning.
George Springer led off the ninth with a single — just the third hit allowed by starter Justin Verlander — and took second on Jose Altuve's one-out infield single.
Carlos Correa then looped a base hit into shallow center, scoring Springer and moving Altuve to third. Colby Rasmus hit a soft grounder into the hole, and while shortstop Iglesias was able to get the force at second, Altuve easily scored from third.
"That was tough, because I thought we were going to lose, and I was going to be shouldering the blame," Verlander said. "I felt like I made some really good pitches, but they put them in play and got hits out of them."
Tigers manager Brad Ausmus said he never seriously considered taking out his ace, who had thrown 96 pitches through eight innings.
"There wasn't any discussion," Ausmus said. "He knew that was his kind of inning. I might have taken him out at the end if they had gone ahead on a hard hit, but it was a groundball."
Verlander (11-6) got his first complete game of the season. He struck out 11 while allowing two runs and five hits.
Houston starter Mike Fiers gave up one run, four hits and two walks in 6 1/3 innings.
The Tigers threatened in the second, putting runners on first and second with no one out, but Altuve fielded Upton's grounder, stepped on second and threw to third in time to retire Victor Martinez. That saved a run when Collins followed with a single, and Fiers got out of the inning.
In the meantime, Verlander allowed two hits in the first inning but didn't allow another baserunner until he walked Altuve to start the seventh.
By that point, the Tigers had taken a 1-0 lead on a fluke play in the sixth. With two out and Cameron Maybin on first, Miguel Cabrera lifted a high pop fly behind second base. Altuve appeared ready to make the catch but took a false step at the last second and dropped the ball for an error. Maybin, who was running hard with two outs, slid just past a tag at home after starting at first.
"I think the ball was so high that I got a little dizzy," Altuve said. "I saw it, but it got so high that I was having trouble staying under it. I just stumbled a little, and that's when I lost it."
The Tigers almost added a run in the seventh, but Springer made a lunging catch of Iglesias' sinking liner to right.
TRAINER'S ROOM
Astros: INF Marwin Gonzalez (hand) and OF Carlos Gomez (hamstring) were both out of the lineup with minor injuries, leaving C Evan Gattis as the only healthy player on Houston's bench.
Tigers: OF J.D. Martinez (elbow) and RHP Jordan Zimmermann (neck) both got clean bills of health after playing on a rehab assignment Friday for Triple-A Toledo. Ausmus is hoping to have both of them back within a week.
REUNION TOUR
Former closer Todd Jones was the latest member of the 2006 Tigers to be honored, ten years after they ended Detroit's 19-year postseason drought by winning the pennant. Verlander, the sole remaining player from that team, has been catching each player's ceremonial first pitch, but he was busy warming up on Saturday. Ausmus, who caught Jones during Tiger Stadium's last season in 1999, filled in, handling a strike on the inside corner.
UP NEXT
The teams finish their weekend series Sunday afternoon, with Detroit's Mike Pelfrey (3-9, 4.98) facing Dallas Keuchel (6-10, 4.57). Keuchel has won his last three starts against the Tigers, including throwing eight scoreless innings in Houston on April 15.