Wings Win In OT Again, Beat Canes 4-3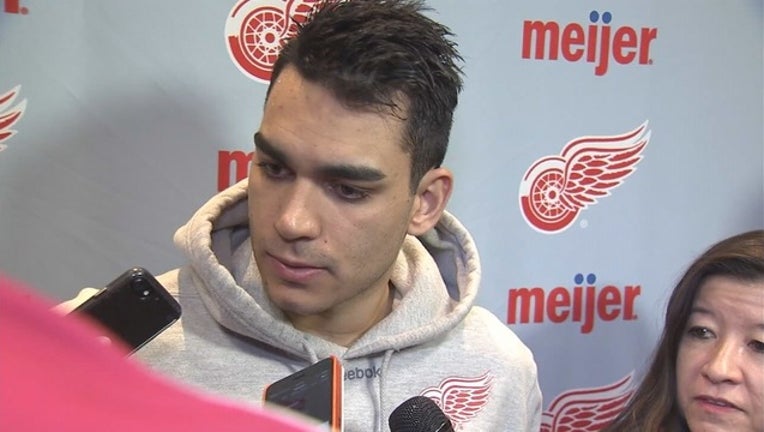 article
RALEIGH, N.C. (AP) - Andreas Athanasiou chased down the puck in overtime and skated hard toward Carolina goalie Eddie Lack.
As Athanasiou scored the winning goal , he crashed into the goaltender - and Lack didn't get up.
In a frightening end to the Detroit Red Wings' 4-3 victory over Carolina on Monday night, Lack remained down on the ice for several minutes before he was taken off on a stretcher.
Both teams remained on the ice and formed a semicircle to watch him . Lack flashed a thumbs-up as he was wheeled away, and the team released a statement saying Lack has "full feeling in his extremities."
Lack's father said on Twitter that the goalie thanked everyone "for your love and prayers" from the hospital.
"We're not going to try to regroup. We are going to regroup," Peters said. "We're going to come back with the right answer tomorrow, and right now, I think everyone's thinking about their teammate, and that's kind of where our thoughts are.
"And then we'll come in (Tuesday) and we'll know more about that situation and we'll refocus on hockey."
An official review determined that the puck was in the net before Athanasiou made contact with Lack. Replays indicated that Carolina's Victor Rask hit Athanasiou just before the Detroit center collided with Lack.
"I had no idea I hit him," Athanasiou said. "I just tried driving the net, and I felt (Rask's) stick on my back. He hit me pretty hard. I just tried to put the puck in the net, and even after, I had no idea I came in contact with him. I didn't know if it was me or (Rask)."
Lack finished with 23 saves for Carolina.
Athanasiou's goal was his second OT winner in as many days. He beat Minnesota's Devan Dubnyk on Sunday.
"Sometimes the puck just kind of finds you and gets you in the right spot," Athanasiou said.
This game originally was scheduled for Dec. 19, but was postponed when a Freon leak at the arena made for unplayable ice.
The two teams play their normally scheduled game on Tuesday night in Raleigh and it'll be the Red Wings' third game in three days.
Anthony Mantha scored two goals 70 seconds apart in the second period, and Tomas Tatar added a power-play goal in the third to help the Red Wings win their fifth in seven games. They're 5-1-1 in that stretch.
"We just need to keep battling hard," Mantha said. "We're playing pretty good hockey. ... We have confidence that we know even if we allow a late goal that we can get the two points."
Justin Faulk scored two goals, including one that tied it with 51.1 seconds left in the third period, and Jeff Skinner scored for the sixth straight game. The Hurricanes have earned points in 11 straight games.
They trail the Bruins by four points for the final playoff spot in the Eastern Conference with eight games remaining in their push for their first playoff berth since 2009.
Athanasiou's winner came after a flurry of activity in which Petr Mrazek stopped Skinner. Mrazek stopped 39 shots for the Red Wings.
Tatar had given Detroit a 3-2 lead midway through the third when he slipped free in the circle and snapped the puck past Lack. Faulk tied it in the final minute of regulation with a hard blast from the circle that got past Mrazek.
"It's a great point, boy," Peters said. "To get a point out of that is huge. We need to learn from the way we played today to be better tomorrow."
NOTES: Skinner has 174 goals, tying former captain and current assistant Rod Brind'Amour for third on the Hurricanes' list since the club relocated from Hartford in 1997. ... Detroit C Luke Glendening did not return after suffering a lower-body injury during the first period. ... Detroit C Darren Helm was back after missing four games with a leg injury.
UP NEXT
The Red Wings and Hurricanes play their regularly scheduled rematch Tuesday night in Raleigh. It will be the Red Wings' third game in three days.