Detroit Jet Ski Rental: a unique view of the D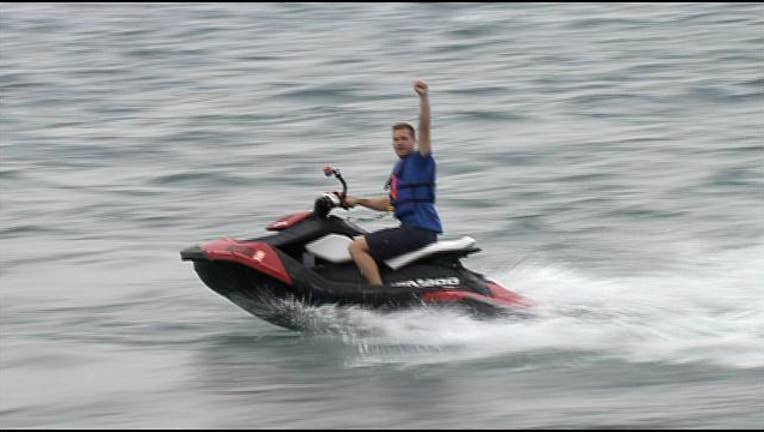 article
(WJBK) - Sure, you've driven across the Ambassador Bridge. But have you ever driven underneath it? Thanks to Detroit Jet Ski Rental, FOX 2's Derek Kevra did!
The new company Detroit Jet Ski Rental opened this Memorial Day and gives visitors or locals the chance to hop on a jet ski and see the city in a way you probably haven't before.
"Seeing the sights of Canada and Detroit from the actual river. Many people have gone to COBO, many people have gone to Joe Louis but seeing it from the river on a jet ski is such a different experience," says Detroit Jet Ski Rental co-owner Khalilah Turner.
Khalilah and her husband started the business after overhearing people talk about how fun it looks to jet ski the river but  the no where to rent jet skis. They even offer city tours, from the river.
"On the jet ski we'll show them each monument along the river, so like COBO Hall, Joe Louis, the Renaissance Center," says Khalilah. "And we just go all the way down the river walk."
Detroit Jet Ski Rental makes sure customers are aware of safety guidelines and how to avoid freighters.
"We have people watch the safety video. It lets you know to veer to the right for on-coming traffic and to give the other person the right of way," says Khalilah. "As long as you drive with discretion, we really haven't had any safety issues."
Khalilah says Detroit Jet Ski Rental is a great way to help make Detroit a tourist attraction.
"It makes us feel like we're part of Detroit's comeback," says Khalilah. "There's more of a comradery feeling going on and we just want to be a part of it."
The prices at Detroit Jet Ski Rental range from $45 to $80 but discounts are offered if you work in Detroit, or simply like them on Facebook.
For more information you can check out their website www.Detroitjetskirental.Com or call them at 313-624-5488.