Part of Detroit many have never seen: Detroit's Black Bottom in 1960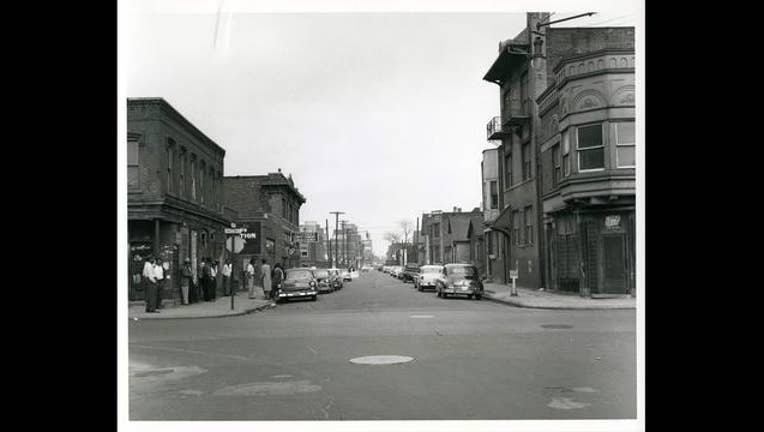 article
Before there were Chevrolets and Fords and Toyotas and Chryslers on the Chrysler Freeway, a neighborhood near what is now the interchange with 375 was famous across the country for its vibrant music scene.
In honor of Black HIstory Month, we're looking back at the neighborhood called Detroit's Black Bottom in 1960. The area was originally the source of the River Savoyard which was buried as a sewer in 1827. It's "bottom" and rich marsh soils were the reason for the name "Black Bottom."
Before World War I, it was the center for Eastern European Jewish trade. During WWII, both the economic activity and the physical decay of Black Bottom rapidly increased.
Then migration in the 1950s transformed the area into one of the city's major African American communities of black owned business.
It became nationally famous for its music scene.  Artists such as Duke Ellington, Billy Eckstine, Pearl Bailey, Ella Fitzgerald, and Count Basie performed regularly in the clubs of Paradise Valley entertainment district. Aretha Franklin's father Reverend C.L Franklin opened his New Bethel Baptist Church on Hastings Street.
In the 1960's, Detroit enacted an Urban Renewal program to combat blight in the city. The program destroyed the Black Bottom District and put the Chrysler Freeway and Lafayettte Park. 
Many residents of the area were relocated to large public housing projects like Brewster-Douglass Housing Projects Homes and Jeffries Homes.
FOX 2 thanks the Detroit Historical Society for this and all of our Throwback Thursday posts. Click here for more details.