11 legislators sue state of Michigan for changing election laws, violating constitution
FOX 2 (WJBK) - A group of Republican lawmakers are suing the state, alleging their constitutional rights were infringed upon during recent elections.
Eleven state legislators have taken their fight to federal court claiming in 2018 and 2022 amendments to the state constitution went around the legislature and stepped on their right to be involved in the process.
"For years leftist activists had tried to get the Michigan legislature to pass laws making our Michigan elections more vulnerable," said State Sen. Jonathan Lindsey (R-17th District). "Failing, they tried to use an end-around unconstitutional process."
The lawsuit says that enacting measures like no-excuse absentee voting and same-day voter registration should have involved state lawmakers.
"We want to protect things like photo ID," said State Rep. Steve Carra (R-36th District). "We don't want the people of Michigan to be tricked with deceptive tactics and millions of dollars used from out of state."
"I've been suing the government practically my whole life, and I've been suing the government to improve the government," said Erick Kaardal.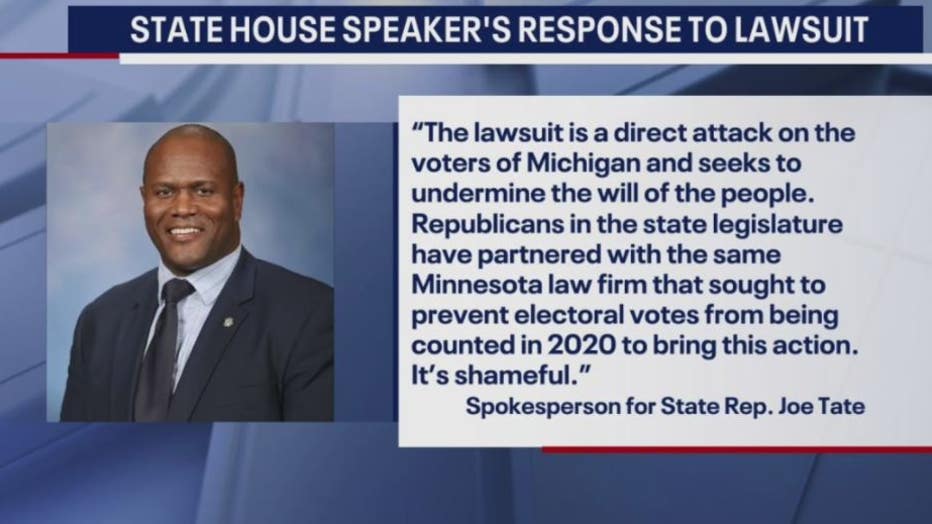 Kaardal, an attorney out of Minnesota, has joined the effort, and made a name for himself pursuing election cases against the government.
"We've elected these legislators to have the power, under the elections clause, to participate in lawmaking to regulate time, place, and manner of federal elections," he said.
Democrats feel very differently.
House Speaker Joe Tate's spokesperson wrote a statement saying: "The lawsuit is a direct attack on the voters of Michigan and seeks to undermine the will of the people. Republicans in the state legislature have partnered with the same Minnesota law firm that sought to prevent electoral votes from being counted in 2020 to bring this action. It's shameful."
Secretary of State Jocelyn Benson's office said it can't comment on pending litigation.