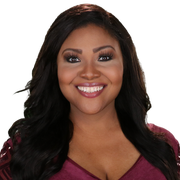 Hilary Golston
Anchor/Reporter
Hilary Golston is the 2023 winner of the Associated Press's best Reporter/Anchor in Michigan. She is also a six-time Emmy-winner, who returned to her hometown of Detroit after working in newsrooms across the country. She co-anchors FOX 2 News Weekend Evenings.
In her time at FOX 2, Golston has collected several Detroit Society of Professional Journalists awards including in the breaking spot news category for live on-set coverage of Detroit Firefighters trapped in a collapsed home. She also collected SPJ awards for her work moderating a Detroit Voice 2 Voice debate on guns and for producing and anchoring the "HD Show", a web-based program she produced with her co-anchor. She won a Michigan Association of Broadcasting merit award for an in-depth she did with Detroit Police Chief, James White.
Prior to FOX 2 Hilary worked at WKYC in Cleveland, where she collected three Cleveland Press Club awards and appeared on MSNBC for her expertise in the Tamir Rice case. Within months of arriving at Fox 2, she was nominated for 2 Emmys in Michigan. She served two years as Vice President on the Board of Governors of the Michigan Chapter of the National Academy for Television Arts & Sciences and previously served on the association's board.
Since arriving in Detroit, Golston has interviewed some of the nation's most high-profile politicians including President Joe Biden, RNC Chair Ronna McDaniel, White House Press Secretary Karine Jean-Pierre, House Speaker Nancy Pelosi, Governor Whitmer, Lt. Governor Garlin Gilchrist, Senators Debbie Stabenow and Gary Peters, Majority Whip Jim Clyburn, along with most members of Congress serving the Metro Detroit, area and many candidates running for Congress.
Golston is so honored and thrilled to be back home in Detroit. She grew up in the city and is a graduate of Detroit Country Day High School. "I come from a family committed to Detroit and the magic we know is here. I can't say how awesome it is to be back where I grew up and to be a part of telling the stories that matter and going to bat for the community of my birth."
She was honored to take home the Lower Great Lakes Regional Emmy for "General Assignment Reporting," including stories she did about an activist's heroic response to violence on the streets of Cleveland, protests in response to the election of President Donald Trump, human trafficking in northeast Ohio and a one on one in depth interview with a Black pastor making national headlines for his support of Trump.
Golston has reported on some of the biggest local and national stories of the day, including the Republican National Convention, and the Brelo verdict. She's nabbed exclusives and held public officials accountable.
Golston has covered some of the highest-profile police shootings in the nation, breaking stories that have held Cuyahoga County's Prosecutor accountable, while spurring a group of clergy to ask the prosecutor to recuse himself after the shooting of 12-year-old Tamir Rice. WKYC sent her to South Carolina to cover historic 1,000-year flooding, where she interviewed U-S Senator Tim Scott live and simultaneously reported on the damage he was surveying throughout a portion of the state. She also reported live from the command center where Governor Nikki Haley gave press briefings. Golston was also chosen to report on the Michael Brown case in Ferguson, Missouri, where she uncovered details about a $3.4 million request for emergency funds to pay police after being the first to interview a finance official in St. Louis County about the funding matter.
Before WKYC, Golston anchored the weekend evening shows for the NBC station in Birmingham, Alabama, where she won an Emmy for reporting in a special that marked the one-year anniversary of the worst tornado outbreak to strike Alabama.
Her degree in political science from the George Washington University in Washington, DC led her to ask for the fast-paced, and often gritty, Birmingham City Council beat, where she covered the body overseeing the largest city and municipal budget in the state for three years.
She's no stranger to a strong sports culture. For more than two years, she anchored NBC 13's sports coverage on the weekend evening shows, in addition to her other anchoring duties.
Before Golston even graduated from college, she made her mark in TV, appearing on Fox Sports Network Detroit as a reporter for High School Hammertime.
Also before graduation, Golston anchored and reported for an audience of more than 24,000 viewers as part of "The Source," a magazine news show produced by students. Golston's report on the inter-county connector aired in the 9th largest market at the time, Washington DC on the former WB Interloop show.
Golston began her career as a night-side reporter, web producer and later fill-in anchor for the CBS station in Green Bay, Wisconsin. While there, she was most proud of her reporting on a small child with a rare skin disease who had been denied the funds needed for a potentially life-saving treatment. Medicaid credited WFRV with bringing to light information, which led the agency to review the case.
She is a Suzuki-trained pianist, a craft she studied for 8 years.
The latest from Hilary Golston