3 teenagers accused of assaulting boy with autism, lighting his hair on fire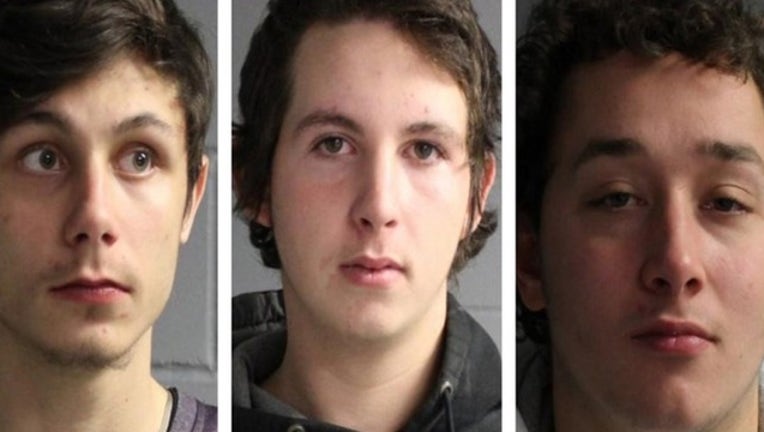 article
EABROOK, N.H. (AP) - Three teens have been charged with beating and burning the hair of another teen who is autistic.
Seacoastonline.com reports the 18-year-old told police in Seabrook that Paul Dustin, 18, Israel "Izzy" Junior Rivera, 18, and Brandon Lemieux, 19, all of Seabrook, restrained him last fall, punched him and spat at him.
He also said they flicked cigarette ash in his hair.
"The criminal restraint is essentially that he was held in a room for a period of two hours while individuals punched (and) kicked (him) and also lit his hair on fire," said Ryan Ollis, lead assistant Rockingham County Attorney in New Hampshire.
The victim told police he was left with sore ribs and stomach, and had reportedly showed an officer the bruising on his stomach and swelling on his torso when he went to report the assault. 
The alleged assault happened last fall. According to the victim, the teens were trying to coerce him into admitting to a crime he did not commit.
The teen said that he was 'dragged' along by Rivera during an attempted robbery of a home for prescription drugs when Rivera threw cinder blocks through a car window. 
According to an affidavit, about a week and a half later, the teen went to pick up his belongings at a home on South Main Street where the suspects were and was encouraged to hang out. That's when, he claims, the suspects assaulted him.
Police say the incident was recorded on video.
All three were indicted. Rivera faces criminal mischief, criminal restraint, and witness tampering charges. The others face one charge each of criminal restraint.
Police said the teen who made the accusations has low-level autism disorder.
The Associated Press contributed to this report.