5-year-old hit by Utica School district bus, witnesses say
SHELBY TOWNSHIP, Mich. - The video was taken from a Ring doorbell camera and was shared on Facebook. It shows a terrifying close call at the corner of Cypress and Culver Street in Shelby Township. 
"She gave birth a few days prior, and she fell off the stairs twice, running after her daughter. Screaming 'stop' stop the bus," said Erik Chatfield. 
Erik lives down the street from the bus stop. His kindergarten daughter Carolyn got off the bus first. 
"I was just standing there with my older sister and watching this," Carolyn said. "I was shocked, literally shocked." 
The Chatfield family says that's what happened. The kids including the 5-year-old girl and her 9-year-old brother were attempting to walk in front of the bus to cross the street. 
"Her backpack got stuck and her brother pulled it so she doesn't get ran over basically," Carolyn said.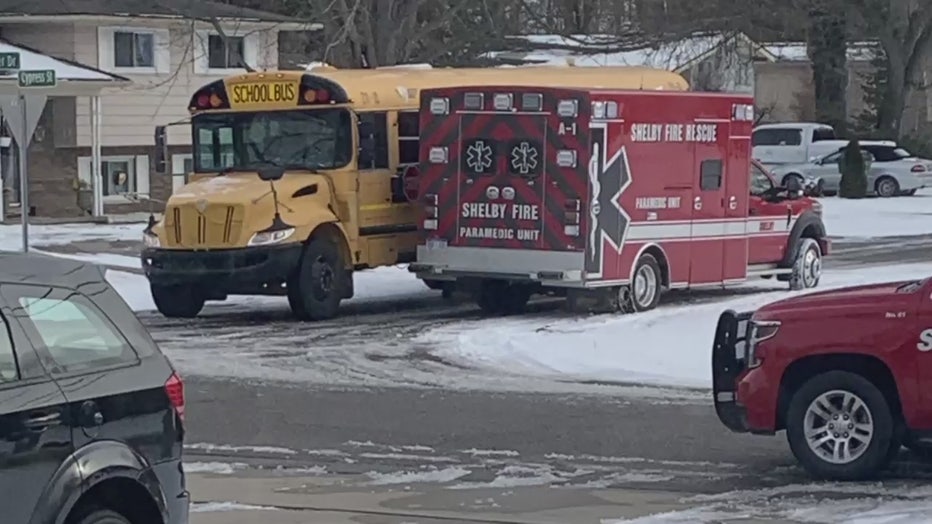 "I was screaming stop and waving my hands. My little sister Carolyn was doing that as well." 
Both the mother and Chatfield say the girl was knocked to the ground by the bus but didn't sustain any major injuries. 
"The first responders did a great job," Erik said. 
But Erik says he is still unsatisfied with a perceived lack of information from the Utica School district. 
"As a parent, I believe I'm owed answers," he said. 
Shelby Township Police did respond and said this is an open investigation. 
After speaking with the family who's seen on the Ring doorbell video, they say the 9-year-old is actually more shaken up than the 5-year-old. 
A spokesperson from the Utica School District says:
"We had an incident involving a bus Friday afternoon, the bus driver immediately contacted transportation dispatch which called emergency services to the location. Our primary concern is for students safety. The transportation supervisor contacted the family and spoke to someone who identified themselves as a parent. At the site of the incident an assistant superintendent and a 2nd transportation supervisor, were on scene to make sure the student was okay but were advised by police not to make contact with anyone. The driver of that bus is on paid administrative leave pending an investigation."