Woman IDs 4 of 7 Oklahoma bodies found as daughter, grandchildren
HENRYETTA, Okla. - As law enforcement officials went silent Tuesday while piecing together what led to the killing of seven people in rural Oklahoma, family members of those slain recalled the controlling nature of one of the dead, who was a registered sex offender.
Since the bodies were found early Monday, authorities have released scant information on who was killed, how they died and who killed them. But two relatives said all the victims were shot to death.
Janette Mayo, whose daughter and three teenage grandchildren were among the dead, said the controlling behavior of her son-in-law, Jesse McFadden, was concerning, but that the family didn't learn about his criminal history until a few months ago.
"He lied to my daughter, and he convinced her it was all just a huge mistake," Mayo, of Westville, told The Associated Press on Tuesday. "He was very standoffish, generally very quiet, but he kept my daughter and the kids basically under lock and key. He had to know where they were at all times, which sent red flags up."
Okmulgee County Sheriff Eddy Rice said the bodies were found on the property where McFadden lived near Henryetta, a town of about 6,000 about 90 miles (145 kilometers) east of Oklahoma City. Rice said the bodies included two missing teens, Ivy Webster, 14, and Brittany Brewer, 16, along with McFadden. Rice said the state medical examiner would have to confirm the victims' identities.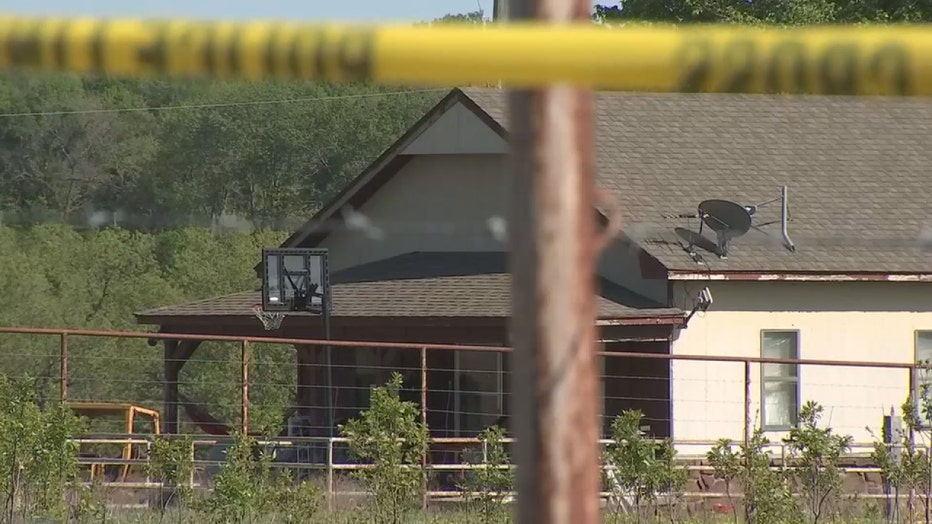 A screengrab from video shows a home on a rural property where the bodies were discovered near the town of Henryetta, Oklahoma. (Credit: KOKI-TV)
Mayo said the sheriff's office notified her late Monday that the other four victims were her daughter, Holly Guess, 35, and her grandchildren, Rylee Elizabeth Allen, 17; Michael James Mayo, 15; and Tiffany Dore Guess, 13. Mayo said Tiffany was close friends with Ivy and Brittany, who were spending the weekend with the family.
While Rice declined to provide details of how they died, Mayo, 59, said the sheriff's office told her that her daughter and grandchildren died from gunshot wounds.
Ivy's father filed a missing person report with the local sheriff's office when she didn't return home Sunday night after spending the weekend with McFadden, Guess and her children. Justin Webster said he thought the children went with McFadden to spend some time on a ranch where he was working near McAlester.
He said law enforcement officials also told him that all of the victims suffered gunshot wounds, that some had been lined up and were located across the property.
Webster echoed descriptions of McFadden as controlling and unusual, but said he had no idea about McFadden's criminal background.
"I would say he was weird," Webster said. "He was always getting into his kids' phones and reading all their snap messages and all that. It wasn't in a way of a concerned parent. It was more of keeping tabs on the kids."
The missing endangered person advisory issued early Monday said Webster and Brewer had been seen traveling with McFadden, who was on the state's sex offender registry. Oklahoma Department of Corrections prison records show he was convicted of first-degree rape in 2003 and released in October 2020.
McFadden had been scheduled to appear in court Monday for the start of a jury trial on charges of soliciting sexual conduct with a minor and possession of child pornography. Court records show he was communicating with a then-16-year-old girl using a contraband cellphone while he was incarcerated at a state prison near Muskogee. The teen's grandfather reported their communications to prison officials, according to an affidavit from a Department of Corrections investigator.
Justin Webster hopes this whole ordeal leads to harsher criminal penalties for sex offenders, especially those who target children.
"The sexual (offender) registry doesn't work," he said. "I think there needs to be action taken. There needs to be repercussions, and someone needs to be held accountable. They let a monster out. They did this."
McFadden's attorney in that case has not responded to a phone message left Monday evening.
The grim discovery in Oklahoma keeps the U.S. on a torrid pace for mass killings in 2023 and could push the number of people slain in mass killings past 100 for the year, according to a database maintained by The Associated Press and USA Today in a partnership with Northeastern University.
In speaking to reporters Monday, Rice acknowledged another gruesome homicide case last fall in in Oklmulgee County. The bodies of four men were found Oct. 14 in the Deep Fork River in Okmulgee, a small town about 15 miles (24 kilometers) north of Henryetta. Joseph Kennedy, 68, has been charged with four counts of first-degree murder.
"We've had our share of troubles and woes, but this one is pretty bad," the sheriff said.
Brittany Brewer's father told KOTV in Tulsa that one of the bodies discovered was his daughter.
"Brittany was an outgoing person. She was actually selected to be Miss Henryetta ... coming up in July for this Miss National Miss pageant in Tulsa. And now she ain't gonna make it because she's dead. She's gone," Nathan Brewer said.
At a Monday night vigil, Brewer told hundreds of people: "It's just a parent's worst nightmare, and I'm living it."
He said his daughter had aspired to be a teacher or a veterinarian.
"I am just lost," he said.
Ivy Webster's mother, Ashleigh, described her daughter as a great kid who loved animals.
"She loved softball. She loved people, animals. She was just a genuine good person. She really was," Ashleigh Webster said.
Mayo described her daughter, Holly Guess, as a doting parent.
"She was a fantastic mother. She loved her children beyond belief. She was overprotective," Mayo said. "She was supportive if they wanted to do something. She'd go out 100%."
Granddaughter Rylee Allen "had a talent with a paint brush," she said. "Rylee wanted to be an artist and wanted to be a doctor so she could help people."
RELATED: Parents, kids found dead in burning Oklahoma home were shot, autopsy reveals
Michael Mayo ran track and cross-country, and when he wanted to play football, his mother went out and bought the family T-shirts and sweatshirts to support the team, Mayo said. Tiffany Guess also ran cross-country, she performed in the choir and had just tried out for the cheerleading squad.
"She was the sweetest, most loving girl you'd ever met," Mayo said. "We called her 'Tiffasaurus' because when she'd get mad at you, she'd growl."
Henryetta Public Schools said the community is grieving the loss of several students.
"Our hearts are hurting, and we have considered what would be best for our students in the coming days," the district said in a message posted online.
___
Associated Press data journalist Larry Fenn and researcher Rhonda Shafner in New York contributed to this report.