7 inmates dead, 17 injured in South Carolina prison fighting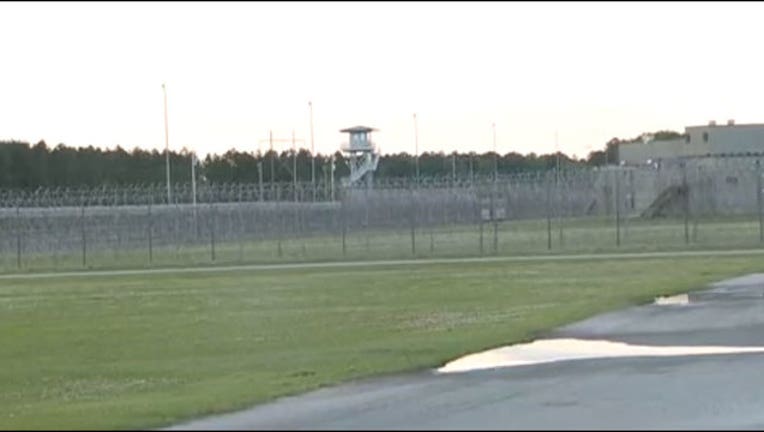 article
COLUMBIA, S.C. (AP) Prisoners armed with homemade knives rioted for more than seven hours inside a maximum-security facility, leaving seven inmates dead, and bodies were "literally stacked on top of each other," an inmate told The Associated on Monday.
At least 17 prisoners were seriously injured as inmates fought uninterrupted before authorities regained control of Lee Correctional Institution about 3 a.m. Monday, South Carolina prisons spokesman Jeff Taillon said.
Officials didn't immediately say what sparked the violence at the prison, which houses some of the state's worst and longest-serving offenders. No prison guards were hurt.
The prisoner who saw the riot exchanged messages with AP on the condition of anonymity because he is not allowed to have a cellphone and fears retribution from other inmates.
He also didn't say what started the riot but said most of the inmates at the prison are affiliated with gangs and he saw several attackers taunt a rival gang member who was badly injured.
"I just saw three dead on the sidewalk outside of my unit. One guy is still alive and breathing, but just barely," the inmate said.
The riot was the latest violence in the South Carolina prisons system, where at least 20 inmates have been killed by fellow prisoners since the start of 2017. At Lee Correctional, an inmate held a guard hostage for 90 minutes in March and another killed a fellow prisoner in February.
The inmate who spoke to AP said that many cell door locks were already broken before the riot and that he and other prisoners roamed around freely. Hours after the violence started, no correctional officers or medical personnel attended to the dead or dying, he said.
"It's been over two hours, but no COs (corrections officers) have responded to this unit, and no medical personnel have attempted to render any kind of aid," he wrote. "The COs never even attempted to render aid, nor quell the disturbance. They just sat in the control bubble, called the issue in, then sat on their collective asses."
Most of the slain inmates were stabbed with homemade knives or slashed, while the remainder appeared to have been beaten, Lee County Coroner Larry Logan told AP.
"How else are you going to die in prison? They don't have guns," Logan said by phone as he went to a hospital to finish identifying the dead.
The injured inmates required medical attention outside the prison, which is located 40 miles east of Columbia.
The South Carolina Department of Corrections tweeted that the deaths happened in multiple inmate-on-inmate fights in three housing units. It began at around 7:15 p.m. Sunday.
The coroner said when he arrived it was a chaotic scene of fighting everywhere. Logan said the state-run Lee Correctional Institution, like most other South Carolina prisons, is struggling to find enough workers, but he doesn't believe anything could be done once things got that far out of control.
"If everybody has an uprising, you are always going to be understaffed," Logan said.
The maximum-security facility in Bishopville houses about 1,500 inmates. Two officers were stabbed there in 2015.
The deaths at Lee are the most in any South Carolina prison in recent years. Four inmates were killed last year by a pair of prisoners at Kirkland Correctional Institution.
The riot was the latest violence in a system where 12 inmates were killed by other prisoners last year and 250 prisoners were assaulted so severely in 2016 and 2017 they had to be treated in outside hospitals, according to public records obtained by The Post and Courier of Charleston.
The 250 inmates taken to the hospital after assaults the past two years were nearly double the rate from the two years before, the newspaper reported.
Gov. Henry McMaster, meanwhile, expressed support for state prisons chief Bryan Stirling.
Authorities have released the names of the seven inmates killed by fellow prisoners during a riot at a South Carolina maximum-security prison.
The inmates were serving anywhere from 10 years to life in prison. Their crimes ranged from murder to burglary to trafficking crack cocaine.
The inmates are:
— 32-year-old Eddie Gaskins, who was serving 10 years for first-degree criminal domestic violence.
— 33-year-old Joshua Jenkins, who was serving 15 years for voluntary manslaughter.
— 33-year-old Corneilus McClary, who was serving 25 years for first-degree burglary.
— 44-year-old Michael Milledge, who was serving 25 years for trafficking crack cocaine.
— 24-year-old Damonte Rivera, who was serving life without parole for murder.
— 36-year-old Corey Scott, who was serving 22 years for kidnapping and armed robbery.
— 28-year-old Raymond Scott, who was serving 20 years for assault and battery of a high and aggravated nature.
Lee County Coroner Larry Logan says all the inmates were stabbed, slashed or beaten.