AP Explains: Congress shuts down the government. Now what?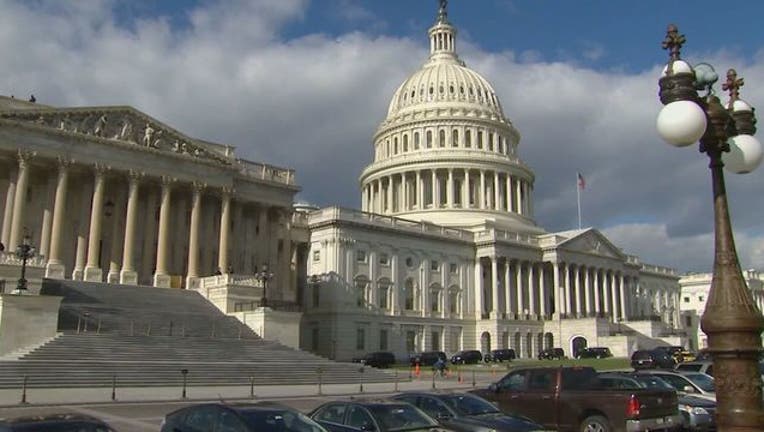 article
WASHINGTON (AP) - The U.S. government shutdown began at midnight Friday as Democrats and Republicans failed to resolve a standoff over immigration and spending. Here's a look at what the parties are fighting over and what it means to shut down the government.
___
WHAT ARE LAWMAKERS FIGHTING ABOUT?
Since the end of the fiscal year in September, the government has been operating on temporary funding measures. The current one expired at midnight. Republicans and Democrats have not been able to agree on spending levels for the rest of the year, so another short-term measure is the most likely solution. The House has passed a four-week bill Thursday that also extends funding for a children's health insurance program.
But Democrats have been saying for weeks they want a funding measure to be tied to an immigration deal that protects the thousands of young immigrants facing deportation. The Deferred Action for Childhood Arrivals program is set to expire March 5, and members of both parties have been working on an extension that would also beef up border protection.
That deal has not come together, and Democrats have decided to dig in. They blocked the House-passed bill. Both sides were still negotiating early Saturday.
____
THEY'VE BLOWN THE DEADLINE. NOW WHAT?
The government begins to shut down. But not all of the government.
The air traffic control system, food inspection, Medicare, veterans' health care and many other essential government programs will run as usual. The Social Security Administration will not only send out benefits but will also continue to take applications - though replacements for lost Social Security cards could have to wait. The U.S. Postal Service, which is self-funded, will keep delivering the mail. The Federal Emergency Management Agency will continue to respond to last year's spate of disasters.
The Interior Department says national parks and other public lands will remain as accessible as possible. The stance is a change from previous shutdowns when most parks were closed and became high-profile symbols.
Spokeswoman Heather Swifts says the American public - especially veterans who come to the nation's capital - should find war memorials and open-air parks open to visitors. Swift says many national parks and wildlife refuges nationwide will also be open with limited access when possible.
The Smithsonian museums and the National Zoo will stay open through the weekend but close Monday.
___
DO FEDERAL WORKERS GET PAID?
While they can be kept on the job, federal workers can't get paid for days worked during a lapse in funding. In the past, however, they have been repaid retroactively even if they were ordered to stay home.
Rush hour in downtown Washington, meanwhile, becomes a breeze. Tens of thousands of federal workers are off the roads.
___
HOW OFTEN DID THIS HAPPEN IN THE PAST?
Way back in the day, shutdowns usually weren't that big a deal. They happened every year when Jimmy Carter was president, averaging 11 days each. During Ronald Reagan's two terms, there were six shutdowns, typically just one or two days apiece. Deals got cut. Everybody moved on.
The last one was a 16-day partial shuttering of the government in 2013, which came as tea party conservatives, cheered on by outside groups like Heritage Action, demanded that language to block implementation of President Barack Obama's health care law be added to a must-do funding bill.
___
WHO WILL GET THE BLAME?
In a 1995-96 political battle, President Bill Clinton bested House Speaker Newt Gingrich and his band of budget-slashing conservatives, who were determined to use a shutdown to force Clinton to sign onto a balanced budget agreement. Republicans were saddled with the blame, but most Americans suffered relatively minor inconveniences like closed parks and delays in processing passport applications. The fight bolstered Clinton's popularity and he sailed to re-election that November.
In 2013, the tea party Republicans forced the shutdown over the better judgment of GOP leaders like then-Speaker John Boehner, R-Ohio. Republicans tried to fund the government piecemeal - for example, by forcing through legislation to ensure military service members got paid. But a broader effort faltered, and Republicans eventually backed down and supported a round of budget talks led by Paul Ryan, R-Wis., then chairman of the House Budget Committee.
Republicans are calling the current standoff the "Schumer Shutdown," arguing that there's nothing in the bill that Democrats oppose, while a short-term extension would give lawmakers time to work out differences on issues like protecting young immigrants and disaster assistance. Senate Minority Leader Chuck Schumer, D-N.Y., says the GOP's unwillingness to compromise has brought Congress to this point. A Washington Post-ABC News poll conducted earlier this week found 48 percent view Trump and congressional Republicans as mainly responsible for the situation while 28 percent fault Democrats. If the shutdown drags on for long, it could give voters another reason to turn away from incumbents of both parties in a midterm election.