A$AP Rocky must stand trial on charges he fired gun at former friend, judge rules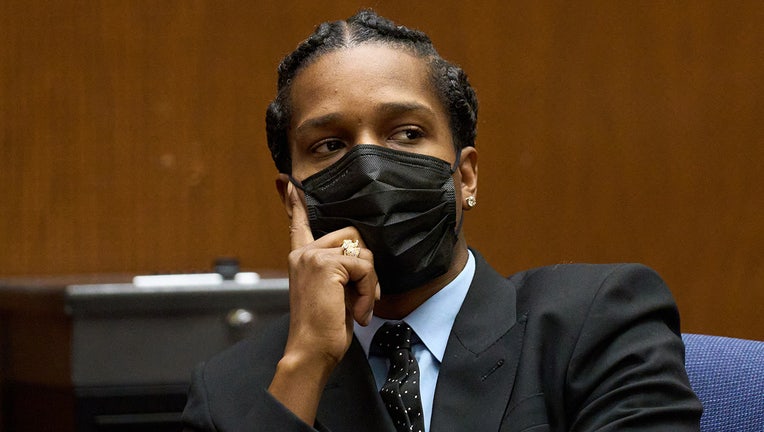 article
A Los Angeles judge found Monday that there is enough evidence for A$AP Rocky to stand trial on charges that he fired a gun at a former friend and collaborator outside a Hollywood hotel in 2021.
Superior Court Judge M.L. Villar made the ruling at at a preliminary hearing, after hearing roughly a day and a half of testimony. Rocky has pleaded not guilty to two felony counts of assault with a semiautomatic firearm. His attorney attempted to cast doubt on the case while questioning a police detective.
The 35-year-old hip-hop star, fashion mogul and two-time Grammy nominee is in a relationship with Rihanna, with whom he has two young sons.
RELATED: A$AP Rocky pleads not guilty to charges in 2021 Hollywood shooting
Villar said "the totality of the video and testimony" shows there is sufficient evidence for the defendant to go to trial. She emphasized that preliminary hearings have a much lower evidence standard than a trial, and she was only finding probable cause.
Rocky, sitting in the courtroom, showed no visible reaction.
At the first day of the hearing, which resumed Monday after a long delay, Terell Ephron testified that he and Rocky, a friend since childhood, had belonged to the same collective of musicians and artists at their New York high school.
He said their relationship had started to go sour and resulted in the standoff in Hollywood on Nov. 6, 2021, when he said Rocky first pulled a gun on him, and in a later confrontation fired shots that grazed Ephron's knuckles.
Rocky's attorney Joe Tacopina established while questioning a police detective that seven officers who searched a sidewalk and street about 20 minutes after the shots were allegedly fired found no evidence of the shooting, and that a pair of 9 mm shell casings in police possession were recovered by Ephron, who returned to the scene about an hour after the standoff.
Tacopina played body camera video of the officers, who searched the ground for about 10 minutes. Ephron, who first went to police to report the incident two days later, turned over the shell casings, which the detective said had no recoverable fingerprints on them.
Prosecutors showed a separate video from near the scene where no people are initially visible, but what sounds like two gunshots can be heard. Then a man comes running around a corner, then slows to a walk. The man's identity is not clear in the video, but Flores testified they have established it is Rocky.
LAPD Detective Frank Flores testified under Tacopina's questioning that no 9 mm pistol was recovered when a search warrant was served on Rocky.
Prosecutors showed a still from surveillance video showing a man in a hooded sweatshirt whose face is not visible holding what appears to be a gun, along with another image from the same video showing the face of the man in the sweatshirt, with no gun visible. Flores testified that the combined images led them to establish it was Rocky.
Tacopina, who is also representing Donald Trump in his New York criminal case and others, pressed the detective on the weapon, suggesting police had no way of knowing whether it was a loaded or even real gun.
"That gun or whatever it was was not tested, right?" Tacopina asked. "No, it was never recovered," Flores said.
Tacopina asked, "You're not sure if it's an operable gun or a non-operable gun or whatever?"
"Without having it, I can't tell you whether it's operable," the detective replied.
Tacopina tried to cast doubt on the minor injury to Ephron's hand, questioning why he waited until he returned to New York to seek medical treatment.
He showed the detective a photo of the scraped fingers and said, sarcastically, "It's a miracle he survived that shooting."
The judge admonished him, one of several times she told Tacopina to change his tone.
RELATED: Rapper A$AP Rocky arrested at LAX in connection to 2021 shooting: LAPD
Rocky was arrested at Los Angeles International Airport in the case in April, and charged in August. He arrived in the courtroom Monday morning wearing a dark suit, sunglasses and a face mask, after spending the weekend at the Formula One Las Vegas Grand Prix auto race, where he had a prominent role as Puma's creative director in the clothing brand's partnership with F1.
He has released little music in recent years, and has become better known as the romantic partner, fellow fashion influencer and co-parent of Rihanna, with whom he had a second son in May. His first two studio albums in 2013 and 2015 both went to No. 1 on the Billboard 200.
Rocky also became an unlikely cause for then-President Donald Trump, who said he was trying to get the rapper freed and returned to the U.S. when he was jailed after a brawl in Sweden in 2019. He was found guilty of assault at trial but was given a "conditional sentence" that meant no additional jail time.
In California courts, preliminary hearings like these are a sort of miniature version of a trial, with only a judge deciding whether sufficient evidence exists to move forward. The standard of proof for doing so is far lower than what's required for criminal guilt.