Beagles freed from lab test arrive at Michigan Humane Society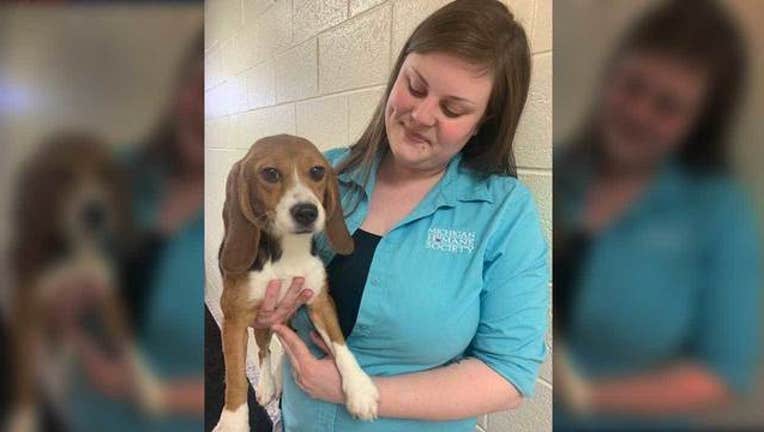 article
(FOX 2) - The beagles at the center of an undercover investigation about pesticide testing at a Michigan laboratory have been released to the care of the Michigan Humane Society.
The dogs are being prepared for adoption right now. 
In an undercover investigation, the Humane Society of the United States said it witnessed dogs being force-fed fungicides at the lab - and that the dogs would be euthanized this summer as part of the test. The society then pushed for the immediate release of the animals from the lab, which is in Mattawan, Mich., about 150 miles west of Detroit. 
In March, Corteva Agriscience, the agriculture division of DowDuPont, announced they were stopping the study and would make every effort to rehome the animals.
The beagles were raised for use in the laboratory and aren't used to walking on leashes or going outside. 
Kitty Block, CEO and president of the Humane Society of the United States says the team in Michigan will get a full behavioral assessment of each dog, as well as a veterinary assessment.
"The shelter will then use these assessments to determine next steps for the dogs, including possible placement of the dogs in their foster network. The HSUS will provide a grant to help assist with the care of the dogs prior to adoption," Block wrote. 
MHS says the evaluation process like likely take several weeks. 
According to the Humane Society's undercover investigation, the Michigan lab was hired to use 36 beagles in a yearlong pesticide test for a new product being developed by Corteva Agriscience. The society said their investigator saw beagles being force-fed fungicides, with some subjected to very high doses. The report alleges that in some cases up to four capsules were shoved down the dogs' throats.
The society also alleged the dogs being tested on who hadn't already died from the pesticides would be euthanized in July 2019 so their organs could be assessed for damage. 
Corteva Agriscience has also said they are working with the Brazilian test regulator team to amend animal test requirements. 
Fox 2 reported on this story from Southfield, Mich.