Best cities for bachelorette parties in 2023 revealed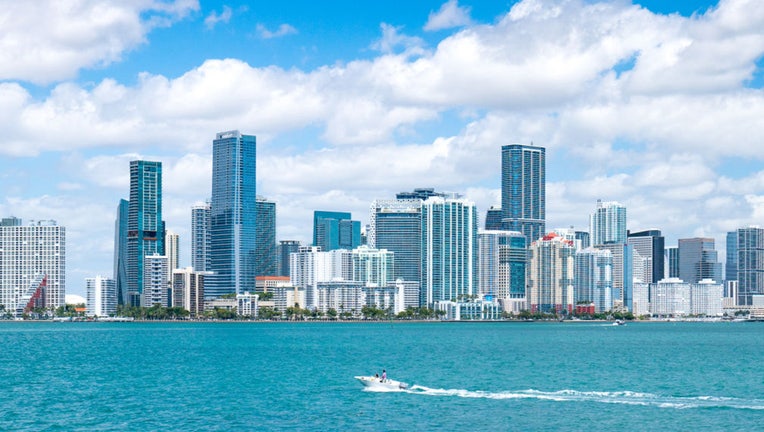 article
Planning to spend time (or party) with friends before tying the knot? 
To mark National Weddings Month, Lawn Love ranked 2023's Best Bachelorette Party Destinations. 
The lawn care company surveyed more than 500 U.S. adults about their bachelorette party experience — with statistics about trip attendance, budget and destination. They then compared the 200 of the biggest U.S. cities by looking at their attractions, restaurants, nightlife options and spas. The company also considered safety, cost, and transportation options, among 21 total metrics. 
Here is a list of the best and worst places to experience your bachelorette party, and no surprise, Miami and Las Vegas are still top choices. 
10 best cities for bachelorette parties 2023
Miami, FL
New York, NY
San Francisco, CA
Las Vegas, NV
Los Angeles, CA
Houston, TX
Portland, OR
Atlanta, GA
Seattle, WA
Chicago, IL
10 worst cities for bachelorette parties 2023
Montgomery, Alabama
Clarksville, TN
Fayetteville, NC
Thorton, CO
Mesquite, TX
Jackson, MS
Huntsville, AL
Waco, TX
West Valley City, UT
Hampton, VA
For the beachgoer
For those who are planning a trip to Miami, Lawn Love suggests Magic City for a lively and glamorous getaway. 
The area offers "plenty of nightlife options, bars, and liquor stores per square mile (proximity matters if you plan to barhop)," Lawn Love said. 
But if drinking and dancing aren't exactly your cup of tea when it comes to a girls' getaway, Miami also has a very lively art scene, luxurious spas and "the most restaurants per square mile." 
Fort Lauderdale, dubbed the "Venice of America" is just behind Miami in nightlife options and stands as its own luxurious getaway destination.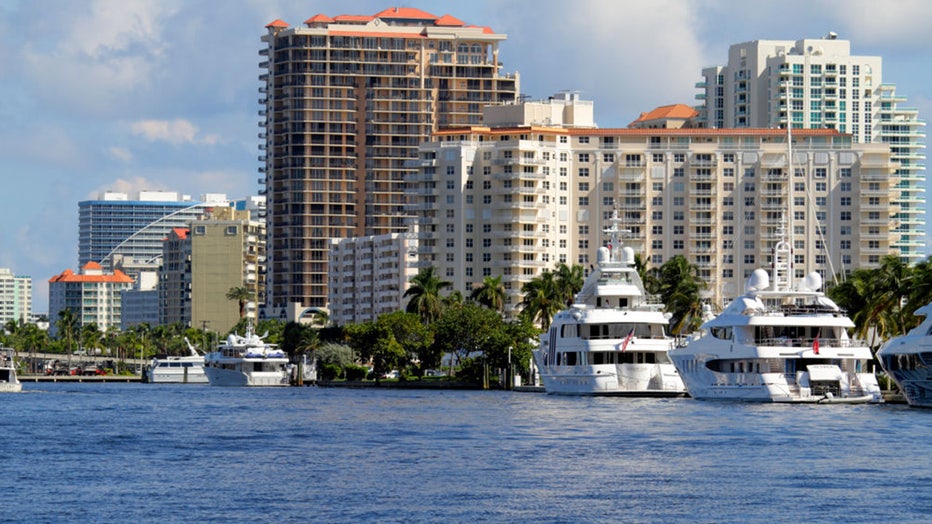 FILE - High-rise buildings next to the New River Sound at Fort Lauderdale.  (Jeff Greenberg/Universal Images Group via Getty Images)
For the foodie
If the bride loves food and considers herself a wine connoisseur, consider the West Coast for a pre-wedding getaway, according to data collected by Lawn Love. 
San Francisco (No. 3), Portland, Oregon (No. 7), or Seattle (No. 9) rank in the top 10 for best food destinations. 
San Francisco tops the list with "the second-highest number of restaurants per square mile and has great access to beer, too. The Golden City is known for its tasty treats, from pastries to sandwiches to chocolate and beyond."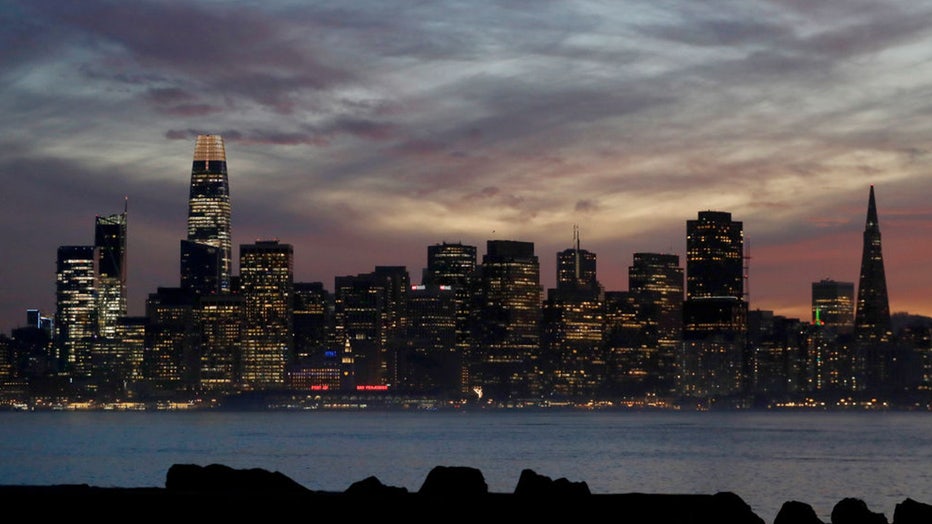 FILE - The San Francisco skyline is seen during sunset in this view from Treasure Island in San Francisco, Calif., on Jan. 12, 2022.  (Jane Tyska/Digital First Media/East Bay Times via Getty Images)
Seattle ranked just behind San Fransisco with the second-highest number of bars per square mile and placed third for number of wineries. And in Portland, you'll find so many places to indulge your thirst with plenty of bars and wineries to keep you and your buddies busy. 
As an added bonus, all three destinations also have great brunch options. 
For the party bride
For the brides who really like to party and want to sing and dance their hearts out before their nuptials, consider these locations. 
New Orleans, Louisiana, and Nashville, Tennessee, have been famously known for hosting many raucous bachelorette parties. 
New Orleans offers plenty of bars and clubs and was ranked as the second-best city for brunch, you know, to nurse your inevitable hangover. 
And if you like to sing, Nashville boasts many karaoke bars and you can even rent a bike bar to pedal you and your friends down the "Honky Tonk Highway."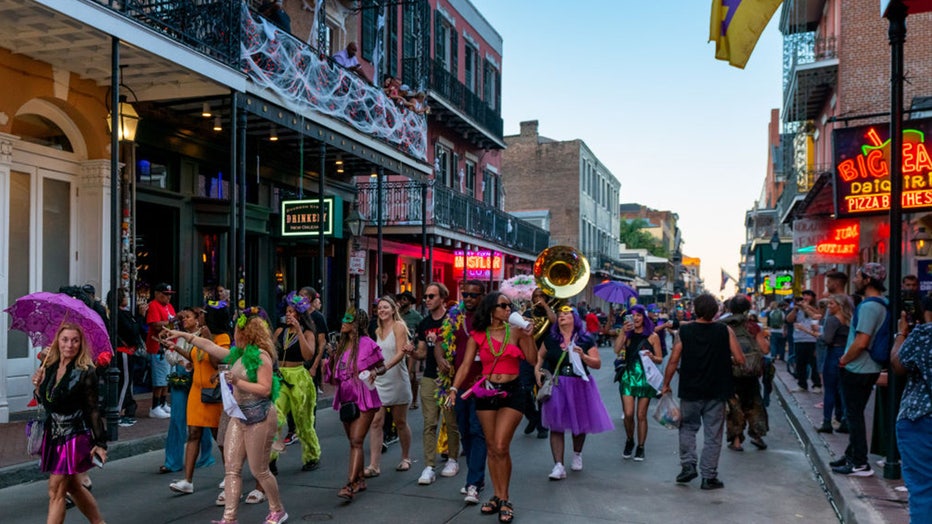 FILE - General views of an impromptu parade down Bourbon Street in the French Quarter on Oct.15, 2022, in New Orleans, Louisiana. (AaronP/Bauer-Griffin/GC Images)
Other fun cities to consider are Savannah, Georgia, and Scottsdale, Arizona, Lawn Lover data suggests. 
With a lot of partying comes some safety concerns to consider, Lawn Lover suggests.  
While fun, destinations such as Nashville, Scottsdale and New Orleans can pose somewhat of an unsafe environment to partygoers as they ranked low on the "walk score," according to Lawn Lover. The walk score basically means, visitors may find it difficult to find their way to back to their hotels after a long night of merriment. 
For the low-key bride
If you're not the type to stay out all night long and drink till you drop, consider some smaller cities for a quaint getaway with your friends. 
While they rank low on the top destinations for a bachelorette getaway, places like Waco, Texas, and Charleston, South Carolina, are actually beautiful and some of the most laid-back places to celebrate when you're dealing with stressful wedding day planning. 
Locations like Huntsville, Alabama, offer fun options for group outings such as the Botanical Gardens, museums and there are even a few wineries. 
And maybe even consider Thornton, Colorado, where you and your friends can go out and about and have a shopping spree at the Thornton Denver Premium Outlets. 
Remember to have fun but to do so responsibly. 
Catherine Stoddard contributed to this report. This story was reported from Los Angeles.