Biden and Harris to address nation tonight at 8 p.m.
DETROIT. - Tonight at 8:00 p.m. President Elect Joe Biden and Vice President Elect Kamala Harris are expected to address the nation.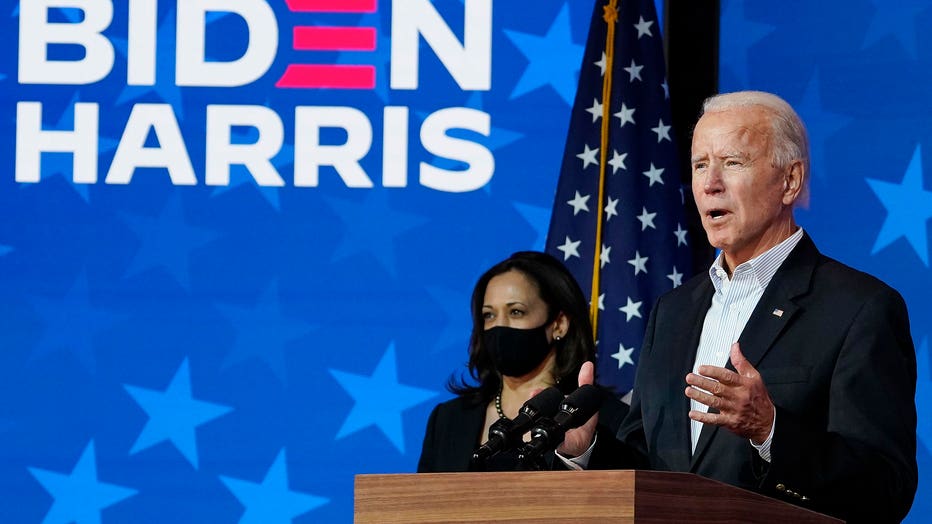 A file image taken Nov. 5, 2020 shows the now President-elect, Joe Biden, speaking while flanked by Vice President-elect Kamala Harris at The Queen theater in Wilmington, Delaware. (Photo by Drew Angerer/Getty Images)
Four days after Election Day, Biden and Harris were named the projected winners of the 2020 Presidential Race earlier in the day on Saturday.
Biden won the battleground state of Pennsylvania by a thin margin after a protracted vote count, according to projections by the news outlets, flipping another key state that voted for Trump in the 2016 election. 
The win netted Biden 20 more electoral votes, pushing his total to 284 — crossing the 270 Electoral Vote vote threshold needed to become the 46th president of the United States.
FOX 2 will be Live-streaming the speech on our Facebook Page. 
The president-elect is expected to address the nation Saturday at 8 p.m. ET and deliver a victory speech. Biden, in a statement, said he was humbled by the victory and it was time for the battered nation to set aside its differences.
"I am honored and humbled by the trust the American people have placed in me and in Vice President-elect Harris," the statement said. "In the face of unprecedented obstacles, a record number of Americans voted. Proving once again, that democracy beats deep in the heart of America. With the campaign over, it's time to put the anger and the harsh rhetoric behind us and come together as a nation. It's time for America to unite. And to heal. We are the United States of America. And there's nothing we can't do, if we do it together."