President Biden and Brazil's Lula meeting in New York to discuss labor, climate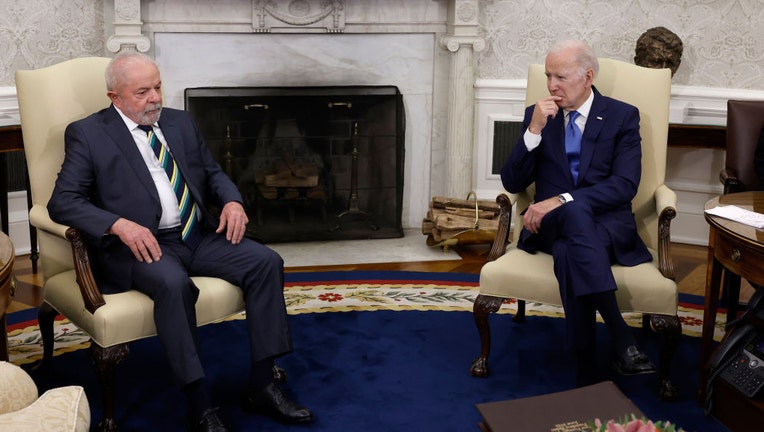 article
NEW YORK - President Joe Biden will meet his Brazilian counterpart, Luiz Inácio Lula da Silva, on Wednesday in New York as the leaders of the Western Hemisphere's largest democracies seek areas of common ground despite some recent differences on Russia's war in Ukraine and other matters.
The two are expected to discuss labor and the environment. And senior U.S. administration officials who previewed the meeting said the two nations are rolling out a partnership on workers' rights.
Initial hopes that Lula would prove a staunch ally for Biden have been tempered in recent months, with the Brazilian leader voicing opposition on some issues and at times even seeming to thumb his nose at Washington.
That has included dismissing allegations of Venezuela's authoritarianism, calling for decreased dependence on the dollar for global trade, and accusing the U.S. of fueling bloodshed in Ukraine by providing military aid. In his speech at the U.N. General Assembly on Tuesday, Lula criticized the U.S. embargo and sanctions targeting Cuba.
RELATED: Biden urges world leaders at UN to stand up to Russia, warns not to let Ukraine 'be carved up'
"What Lula expects is not to be lectured by the U.S. and the White House, but treated as a partner who they will sometimes disagree with, but who they do respect," said Thomas Traumann, a Brazilian political analyst. "Not an enemy, not an opponent, someone who is on your side, but not always on your side."
Biden had frosty relations with Lula's predecessor. Far-right former President Jair Bolsonaro, an open admirer of Donald Trump, waited weeks before recognizing Biden's 2020 election victory. Over a year passed before a bilateral meeting took place in the context of U.S. concerns that Bolsonaro, who had been casting doubt on Brazil's election system, could reject its results.
After Bolsonaro's defeat, his supporters stormed the capital in an attempt to oust Lula from power. The circumstances bore a clear resemblance to Trump and the Jan. 6 Capitol riot. Lula quickly traveled to Washington, where he and Biden bonded over the challenges to democracy they had both overcome.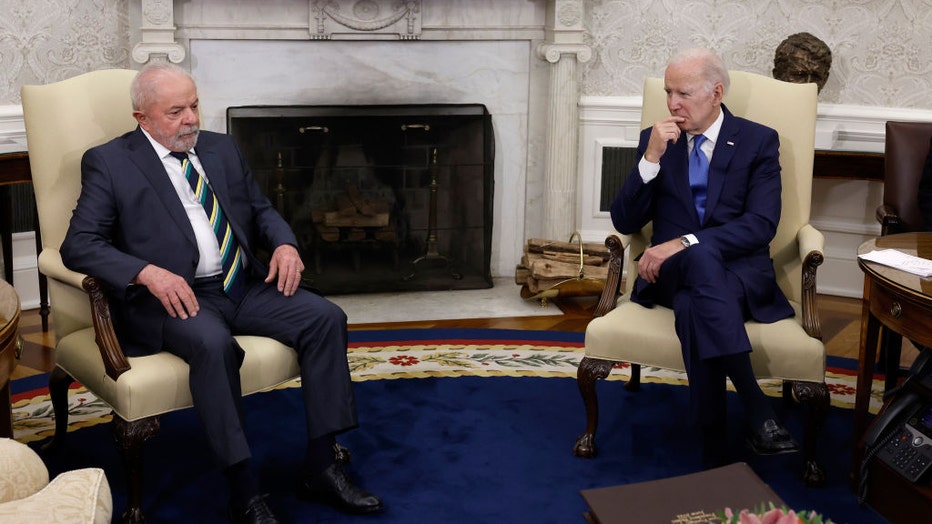 President Joe Biden (R) and Brazil President Luiz Inácio Lula da Silva speak to the press before a bilateral meeting in the Oval Office of the White House on February 10, 2023 in Washington, D.C. (Photo by Anna Moneymaker/Getty Images)
Despite the shared experience and apparent bonhomie, the trip disgruntled Brazilian officials, who viewed the White House's reception of the newly sworn-in president as historically underwhelming, said Traumann, who worked in the prior administration of Dilma Rousseff, Lula's protege.
The meeting Wednesday will be their second. Their planned labor partnership will be a vehicle for stopping the exploitation of workers, forced and child labor as well as workplace discrimination, according to U.S. officials. They spoke on condition of anonymity to preview the announcement.
The focus on labor overlaps with major strikes by autoworkers as well as screenwriters and actors — with all three groups seeking greater protections in a fast-changing economy. Biden tried Wednesday to signal his sympathies by wearing a red tie to show solidarity with the United Auto Workers, according to the White House.
The U.S. president delivers many of his speeches from union halls. Biden sees support from organized labor as an essential part of his 2024 reelection efforts, stressing that his policies will create factory and construction jobs that do not require a college degree.
Labor is also an issue dear to Lula, who got his start in politics as leader of a powerful metalworkers' union.
The two are also likely to discuss environmental preservation, with Lula aiming to lure financial contributions for the Amazon rainforest, said Paulo Peres, a political scientist at the Federal University of Rio Grande do Sul. Lula has been presenting himself as an environmental leader, and his administration has already recorded significant progress in the Amazon.
Deforestation of the Amazon had soared to a 15-year high under Bolsonaro, who called for the development of the rainforest, emboldening loggers and miners to invade protected areas, while defanging environmental authorities. Lula began rebuilding those agencies, created eight protected areas for Indigenous people, and expelled thousands of miners from the massive Yanomami Indigenous territory. Deforestation dropped by nearly half in his first eight months.
He has sought international contributions for Brazil's Amazon Fund, but donations have been small and symbolic. In February, the U.S. committed to a $50 million donation to the initiative, though it has yet to be provided. Biden later announced he would ask Congress for an additional $500 million, which has yet to be committed.
The U.S. officials who spoke to reporters sought to play down Lula's recent criticism of the U.S. embargo and sanctioning of Cuba. They noted that the Biden administration has lifted travel restrictions to Cuba imposed by the prior administration and is also in the process of restarting remittances to that country.
Lula also visited Venezuela's Nicolás Maduro in May and said allegations of the country's authoritarianism stem from a false narrative — despite widespread political arrests and election interference as well as threats to journalists.
The U.S. is ready to provide sanctions relief if Venezuela meets milestones toward credible elections, national security adviser Jake Sullivan told reporters Friday. He declined to say whether Biden would broach the subject of Venezuela in their bilateral meeting.
Boak reported from Washington. AP writer Eléonore Hughes in Rio de Janeiro contributed to this report.