Casino strike causes temporary closures, revenue losses at Detroit's three entertainment centers
DETROIT, Mich. (FOX 2) - While Detroit's three casinos remain open as striking workers demand a better contract, several temporary closures have taken place.
Valet parking services are unavailable at MGM Grand Detroit, MotorCity Casino, and Hollywood Casino at Greektown; self-parking garages are currently the only way for customers to enter.
In addition to valets, the following are also unavailable at MotorCity Casino: 
The high limit table games, first floor slots, and poker room.
The D.TOUR Spa and Lacquer Gift Shop.
The radio bar.
"They're trying their best to keep the place running, but without us – we make the company millions every day," said Deon Kennedy, a MotorCity Casino employee. "They see that we are not happy. …We just got to stay strong and be positive."
On Tuesday, the Michigan Gaming Control Board revealed revenue losses at all three Detroit gaming centers for October, which is when the strike began. The losses of each casino range from around $5 million to $7 million.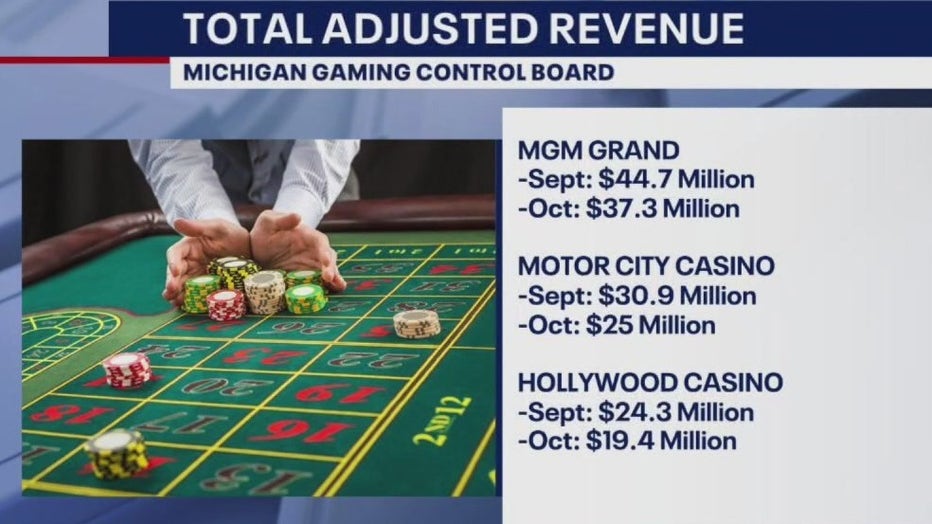 According to the board, the October market shares were:
46% for MGM
31% for MotorCity
23% for Hollywood Casino at Greektown
Hollywood Casino at Greektown has reduced its restaurant hours, which used to be available 24/7. Beverage services have also been impacted. 
"Although our restaurant hours may be limited, our restaurant partners will continue to operate," according to Hollywood Casino at Greektown. "Self-serve beverage stations will continue to remain open and Trappers Bar will be open daily (from) noon - 2 a.m."
While revenues are down, morale along the picket line remain high.
"We feel appreciated out here because we don't feel appreciated in there," said Kimberly Rector, another MotorCity worker. "So that's why we're out here."
Represented by five different unions, 3,700 Detroit Casino Council members have been fighting for healthcare, better wages, job security, and fair workload. They are standing firm despite the wear and tear of a month-long strike taking its toll.
"I'm out here walking, and I'm tired," said 72-year-old Mary, who has worked at MotorCity for over 20 years. "I'm hurting at night when I go home. …So I'm tired out here. They need to come up with a settlement because we're getting tired, and we're not playing. We're not going back in there until we get what we want."