Chair built for Pope Francis for his Mass in NYC is unveiled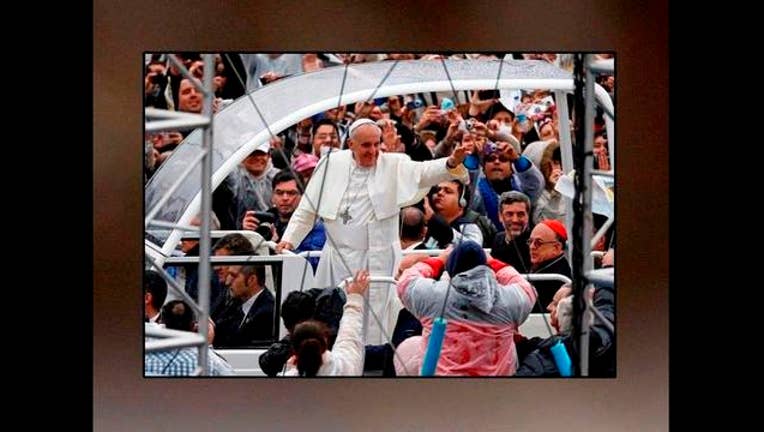 article
NEW YORK (AP) — A wooden chair that will be used by Pope Francis when he celebrates Mass at Madison Square Garden was unveiled Wednesday, with church officials saying its simple design reflects the pontiff's wishes.
The chair has a light brown finish with a darker mahogany trim and a white cushioned seat, back and arms. Cardinal Timothy Dolan said the symbolism of a chair was "very important in Catholic imagination."
"A chair represents unity and a chair represents teaching authority," Dolan said, adding that the pope wanted something simple and wooden without any designs.
The chair was constructed by a group of immigrant day laborers in a garage in Port Chester. The Archdiocese of New York said immigrants were specifically chosen because of Francis' concern over those who are marginalized and for his desire for justice in the world.
Inmates at a Philadelphia prison also are constructing a chair for the pope's visit there.
In New York City, Francis will wear green vestments for the Sept. 25 Mass that 20,000 people are expected to attend. About 200 deacons and 150 volunteers will assist him in giving out communion. The readings will be said in English and Spanish, and other prayers will be in Gaelic, Polish, German and other languages.
"It's going to a joyful occasion. It's going to be filled with enthusiasm and exuberance, but it's also going to be a very prayerful, reverential occasion," Dolan said.
Before Mass begins, Francis will circle the crowd inside the Garden while standing in a vehicle that resembles a golf cart. "He wants to do that so he can see the people," Dolan said.
Francis added a trip through parts of Central Park to his schedule as another opportunity for people to see him, and Dolan said there could be even more additions to his itinerary.
"Surprises are kept to a minimum because this has to be carefully choreographed and we have to pay special attention to the legitimate requests of the pros at security, but balance that out with the fact that we have a pope of surprises," he said. "So stay tuned because I think we will probably see some."
During his visit to the United States, Francis will also travel to Washington, D.C.