Child's drawing of pig called 'inappropriate' by school, mom says in viral TikTok
HORTON, Mich. - A mother in Michigan says her daughter's drawing of a pig was taken by school officials after it was deemed "inappropriate."
In a now viral TikTok video, Sierra Carter explains that she got a call from her 11-year-old daughter's art teacher after she drew a colorful picture of a pig wearing a bow tie. The drawing was titled "Piggie" and showed the pig waving and wagging its tail while saying "Hi." 
While it seems innocent enough, Carter says the concern from the teacher was that the bow tie resembled male genitalia.
"I can't make this crap up," Carter captioned her TikTok video. 
She goes on to explain that "a little boy had come up to her (the teacher) and made her aware that he thought my daughter drew boy parts on her pig project."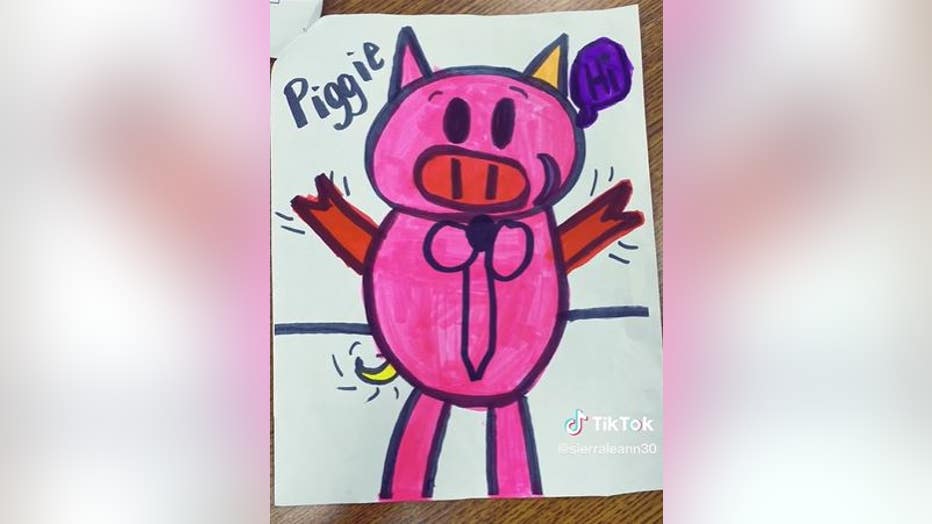 Carter says the teacher took all her daughter's papers, even though her daughter explained that it was just a bow tie. 
TRENDING: Budweiser announces birth of 4 new Clydesdales — here's how you can meet them
After the holiday weekend, Carter went to meet with the teacher and the school's social worker and was handed the "offensive" pig drawing. 
"Are you freaking kidding me?" Carter says in the clip. "It's a freaking bow tie!"
According to Carter, the principal recommended her daughter be written up, so when she met with him to explain that it was just a bow tie, he reportedly replied, "A bow tie is a bow."
"I'm like 'I'm sorry my daughter is no Monet, but to her a bow tie is a bow and a tie.' And if another kid happened to look at it and think it was something else, that sounds more like a 'he' problem, not a 'she' problem."
The principal reportedly told her that her daughter wouldn't get a write-up this time, but that the drawing would be put into a folder in case any "future incidents come up where she's inappropriate."
TRENDING: Some riders report issues fitting into TRON Lightcycle Run vehicles at Disney World
At the end of the video, Carter shares a photo of the pig drawing that's causing such a stir. 
The clip has racked up over 820,000 views and lots of support. 
"I would frame it and give it to the teacher and principal as a gift," wrote one person. 
"Glad you stood up for your daughter," another wrote. "That's 100% a bow tie and she is so innocent. Sad this happened."
Carter tells FOX 35 that the school has not reached out to them at all and that the superintendent denies ever putting anything in her daughter's file.