Corona beer recall due to particles of glass risk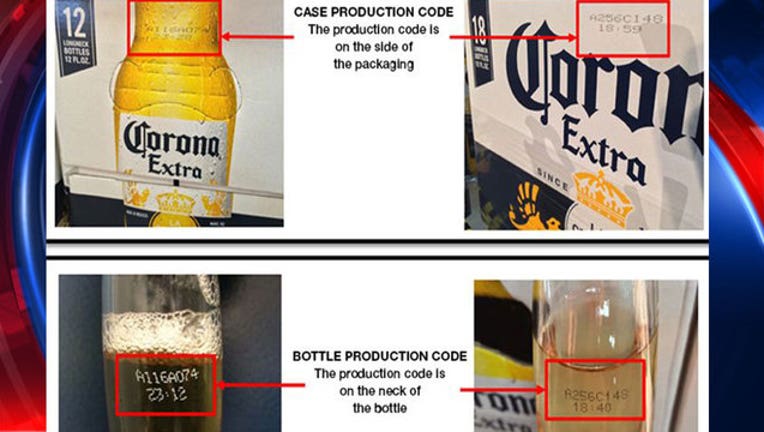 article
A recall has been issued for some Corona Extra 12 and 18 bottle packs due to a risk of particles of glass.
The products which could be affected have a case production code of  A256C148 at the top and underneath 18 : 59.
Production codes to look for on the bottle are A116A074 with 23 : 12 underneath.
A second production code on the bottle to look for is A256C148 with 18 : 40 underneath.
Constellation Brands issued the recall notice today on the website. It reads:
"Constellation Brands Beer Division announced today a voluntary recall of select Corona Extra 12- packs and 18-packs with deposit labels in the U.S. that may contain small particles of glass. This recall is very limited in scope, as potentially affected bottles represent less than one-tenth of one percent of Corona Extra 12-ounce clear bottles in the marketplace. Production codes for the potentially impacted bottles are listed here.
Consumers can determine whether they have affected product by checking for the 8-digit alphanumeric code printed on the side panels of the cardboard cartons of 12-packs and 18-packs, and on the necks of Corona Extra 12-ounce bottles.
There is  immediate voluntary recall of Corona Extra 12-packs and 18-packs with deposit labels in the U.S. that may contain small particles of glass. This recall is very limited in scope, as potentially affected bottles represent less than one-tenth of one percent of Corona Extra 12-ounce clear bottles in the marketplace (we estimate this to be approximately 1 in every 5,000 bottles). While the number of potentially impacted bottles is relatively small, we're initiating this recall as a precaution to ensure the safety of consumers."